In the late 19th century, the coastline from Bergen to Kirkenes was a busy route for transportation of both people and goods. Though popular, services were unreliable and infrequent, making a journey between north Norway and south Norway a long and arduous one.
Locals wanted the situation to be improved. So, the authorities invited shipping companies to submit tenders for operating an express route between Trondheim and Tromsø or Hammerfest (depending on the time of year). The owner of a newly formed company, Richard With, showed an interest in the route.
From Stokmarknes in northern Norway, Captain Richard With brought his steamer, DS Vesteraalen, into service along the Norwegian coast. A regular sea link was established, with weekly departures offered at first from Trondheim to Hammerfest and later from Bergen to Kirkenes. Hurtigruten (meaning the fast route) was born.
See below for a timeline of Hutrigruten's history:
A timeline of Hurtigruten's history:
1893: On 2nd July 1893, DS Vesteraalen sailed her maiden voyage from Trondheim to Hammerfest in 67 hours. Today, Hurtigruten sail the same route in just 41 hours.
1896: Richard With, Hurtigruten's founder, opened a hotel on Spitsbergen and the Hurtigruten "Sportman's Route" was put into operation between Hammerfest and Svalbard with DS Lofoten.
1898: Hurtigruten extended the route along the Norwegian coast to the south to include Bergen with one weekly departure.
1908: Kirkenes, near the Russian border, became the northern turning point of the coastal voyage.
1925: DS Dronning Maud was introduced to the fleet. She was the first ship with cabins that had running water and a separate ventilation system.
1936: Daily sailings from Bergen were introduced, with more than 230,000 passengers travelling on board Hurtigruten's fleet of 14 ships each year.
1937: Each ship was equipped with a radio transmitter.
1939: By 1939, more than 300,000 passengers were travelling on board Hurtigruten's fleet of 15 steamships each year.
1952: For the three years before 1952, seven new ships were introduced to the Hurtigruten fleet, which by this point, transported 500,000 passengers each year.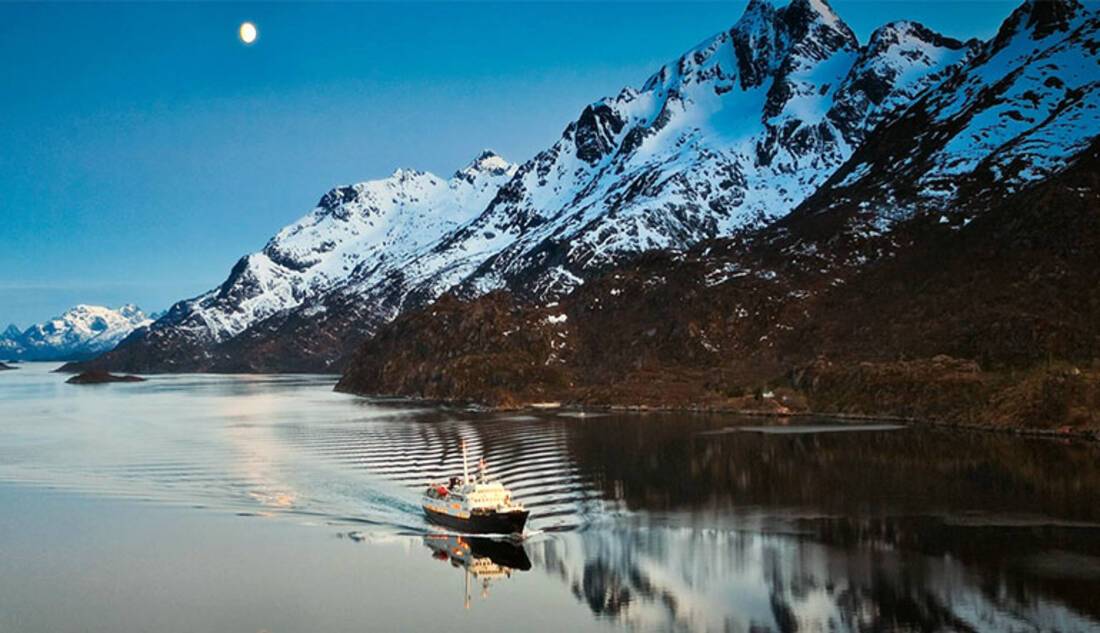 1964: MS Lofoten set sail on her maiden voyage. Today, she is the oldest ship still operating the coastal route in the Hurtigruten fleet. In 2015 she was refurbished back to her classic style from the sixties and is acknowledged as the pearl of the fleet.
1968: Hurtigruten started an express route to Spitsbergen in the summer months.
1982/1983: MS Vesterålen, MS Midnatsol and MS Narvik replaced older ships in the fleet. MS Midnatsol was the first ship to have a side hatch, making loading and unloading much easier.
1993: 100 years of Hurtigruten.
2001: MS Lofoten was given protected status by the Norwegian Directorate of Cultural Heritage.
2002: For the very first time MS Nordnorge sailed to the Antarctic Peninsula. Two new ships, MS Trollfjord and MS Finnmarken, made their maiden voyages along the Norwegian coast.
2003: The new 970 passenger vessel MS Midnatsol was christened in Hamburg.
2007: Christened by Her Royal Highness Crown Princess Mette-Marit in Oslo, MS Fram, the new Hurtigruten expedition ship.
2011: MS Nordnorge was the star of the world's longest uninterrupted TV documentary as she journeyed from Bergen to Kirkenes between 15th and 22nd June. At 134 hours, 42 minutes and 45 seconds in length, the documentary made it into the Guinness Book of World Records.
2013: 120 years of Hurtigruten.
2018: 125 years of Hurtigruten. Hurtigruten celebrated by announcing the ban of unnecessary single-use plastic on all ships, restaurants and hotels. What started as a local transportation company in 1893 now operates as a fleet of custom built expedition cruise ships, exploring over 200 destinations in 30 countries worldwide.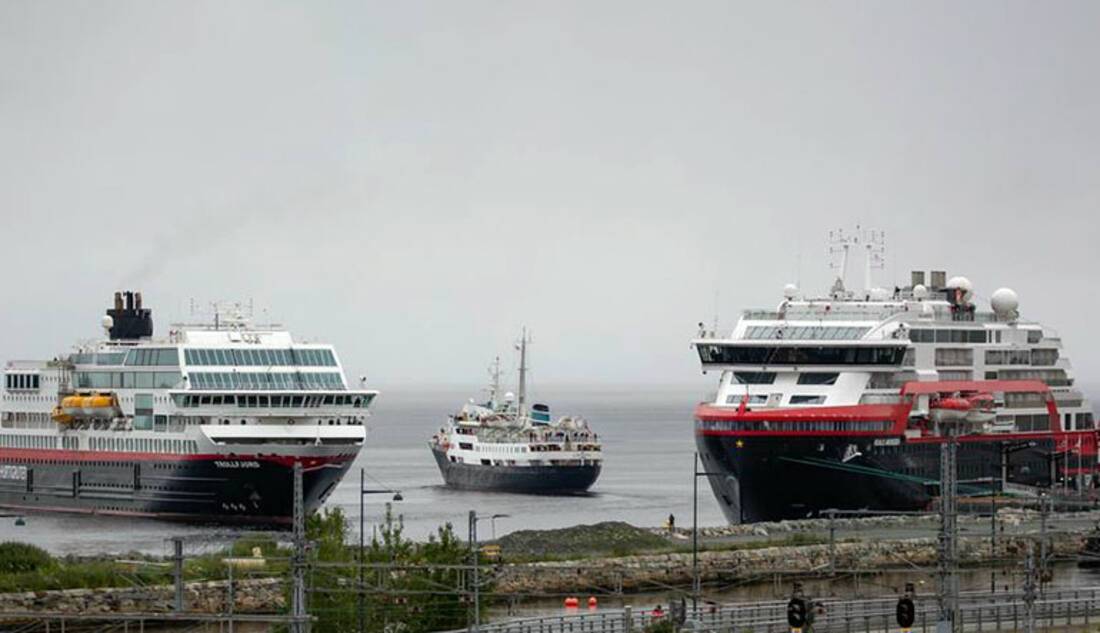 2019: On 3rd July 2019, MS Roald Amundsen, the world's first hybrid powered cruise ship, was launched. Emissions are cut by sailing with electrical propulsion while innovative sustainable technology reduces fuel consumption and CO2 emissions on the ships by 20 percent.
On 16th July 2019, MS Roald Amundsen met MS Lofoten and MS Trollfjord.
Future: Hurtigruten recently announced that nine of their vessels will be transformed to premium, hybrid powered expedition ships. Having signed a letter of intent alongside Rolls-Royce, Hurtigruten will retrofit nine existing ships to run on LNG and battery power.