Blessed with an abundance of coastline and fresh water, Iceland has long been famous for its seafood. But there's so much more to Icelandic cuisine for meat-lovers, vegetarians and vegans too. The country prides itself on making delicious bread, decadent pastries and the finest lamb dishes you'll ever try, and local chefs work hard to create exciting contemporary dishes alongside traditional restaurants and fish houses.
Nick and Laura of food and travel blog Savored Journeys, have been eating their way around the world for nearly 10 years. The duo seeks out 'the best affordable luxury food and wine experiences' to share with their followers, and their mission led them to Iceland.
"Icelandic cuisine is quite unique," said Laura. "Not only does Iceland have foods that many of us have never tried, like reindeer, shark and minke whale, but Icelandic cuisine goes beyond just exciting ingredients. The cuisine showcases the products and their origin, making them the true star of the dish. We loved getting to know the foods as well as local producers and chefs."
We asked Nick and Laura for their top 3 food highlights of Iceland: "One of the dishes you can find throughout Iceland is a basic fish soup, which turned out to be one of our favourite things to eat. We tried it in many different restaurants, and while it was slightly different in each, it was always delicious and satisfying, especially when made with the succulent local langoustine.
"We loved the dining experiences available in Reykjavik. We ordered a plate of grilled langoustine at Grillmarkadurinn that remains one of the best plates of food we've had anywhere. Chef tasting menus are still very popular in Iceland and one of our favourite meals was the 9-course tasting menu at Fiskmarkadurrin. It's full of surprises and the freshest fish you'll get anywhere."
What to eat in Iceland
Traditional fish stew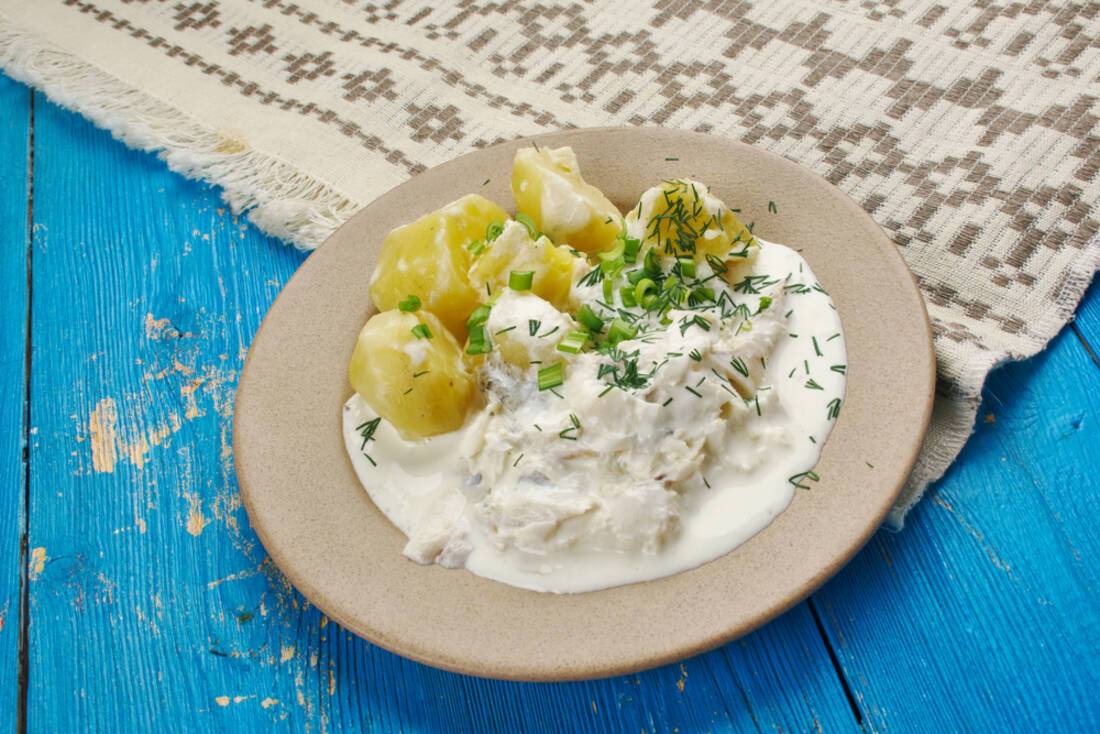 The traditional Icelandic fish stew, plokkfiskur, is made with fish, potatoes, onions and a creamy bechamel sauce. You'll find this firm favourite throughout Iceland. Directly translated as 'plucked fish', plokkfiskur is a guaranteed crowd-pleaser for any fish-eaters, and is well worth a try during your cruise holiday to Iceland.
The most famous hot dog in Europe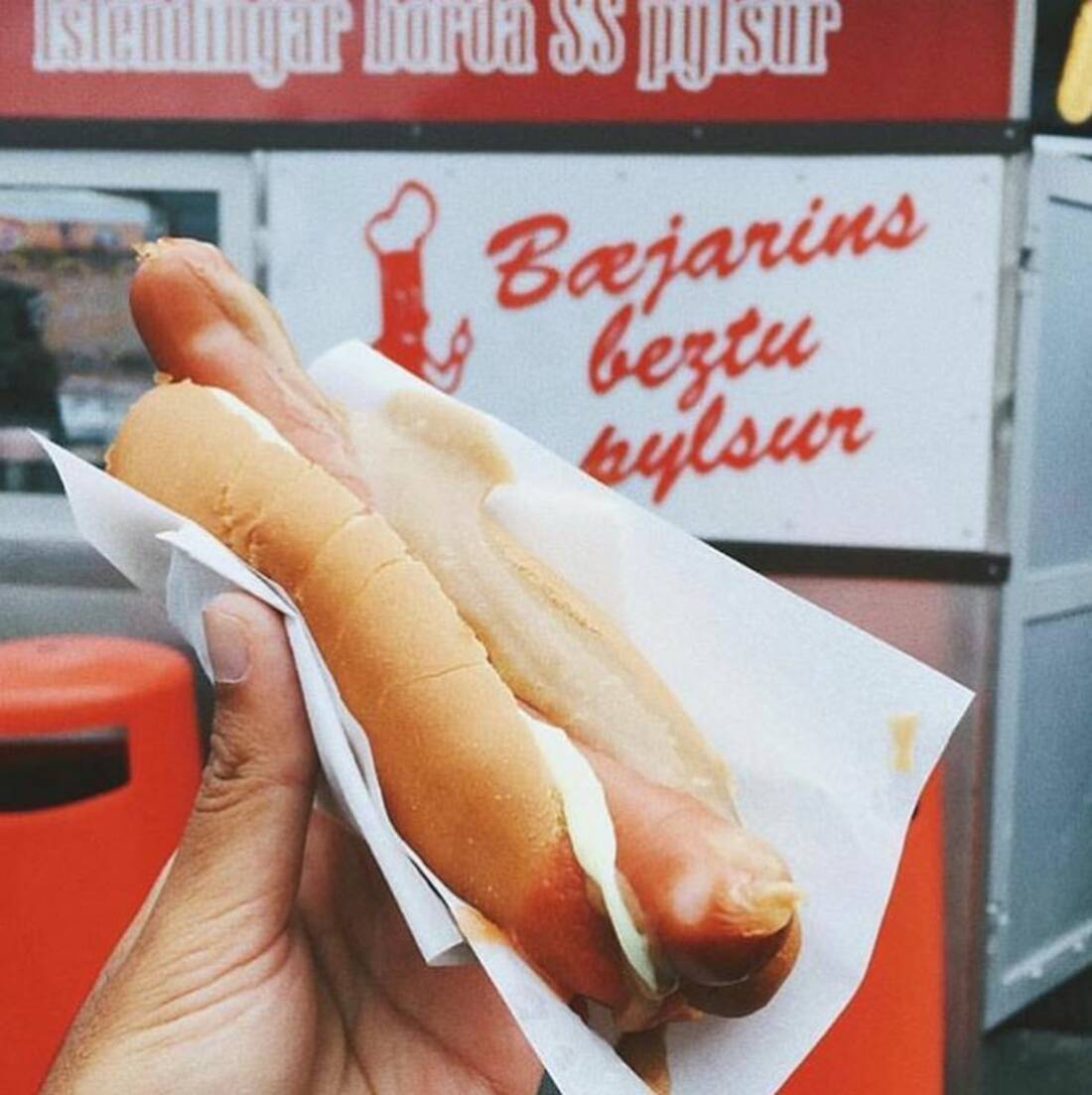 Image: Reykjavik Food
When cruising to Iceland to sample its traditional cuisine, perhaps a hot dog isn't quite what you'd expect. But at Bæjarins Beztu Pylsur, a small chain of hot dog stands in Reykjavik, this classic dish has become iconic. The hot dog stand on Tryggvagata has been open for almost 80 years and is always busy. The hot dog is made with lamb meat and topped with crispy onions, sweet mustard, raw onion, ketchup and remoulade, or however you like it. Famous patrons include Bill Clinton, Metallica frontman James Hetfield and Charlie Sheen.
Icelandic fish and chips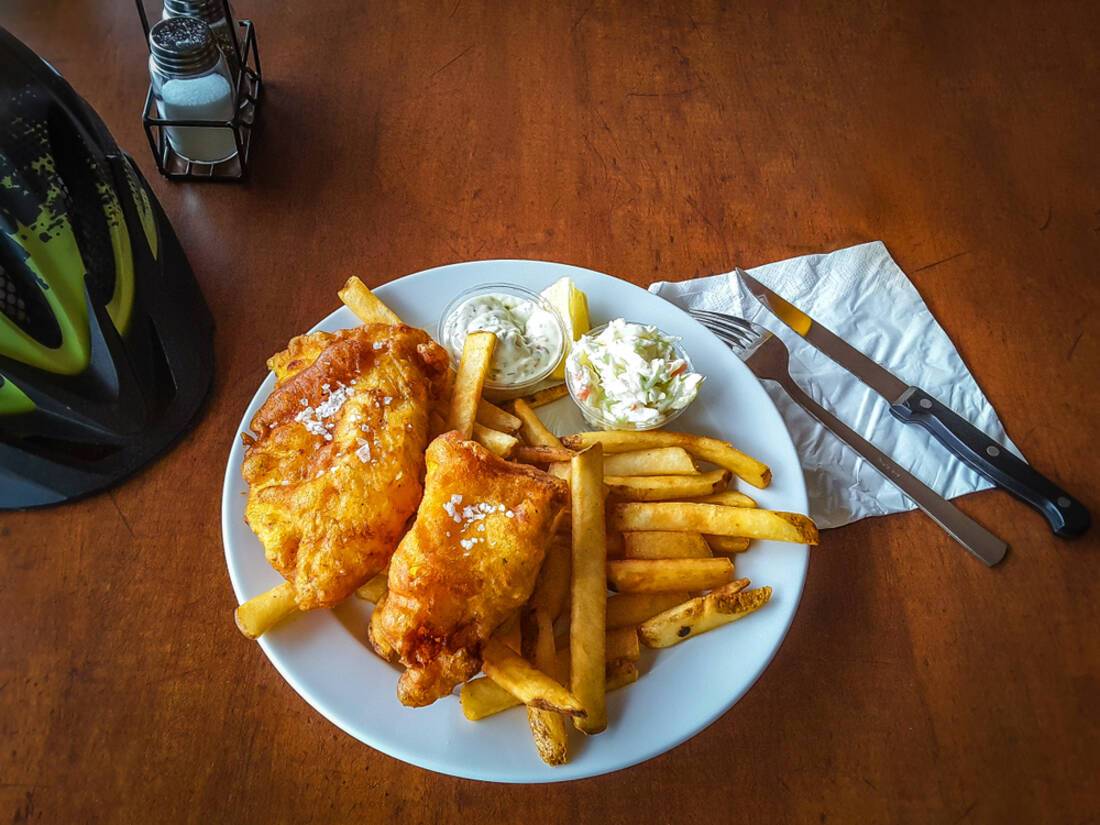 With an abundance of fish in its oceans, Iceland knows a thing or two about cooking fish, with the country even boasting its very own version of fish and chips. At Icelandic Fish & Chips in Reykjavik, traditional batter is made with organic spelt and a few other 'secret ingredients'. As spelt is a more complicated carbohydrate than refined wheat, it absorbs less oil during the frying process, leaving a light, delicate coating, likened to Japanese tempura. Paired with wedge-style roasted chips coated in parsley and artisanal salt and a selection of skyr-based dips, you've got a mouth-watering meal.
Lamb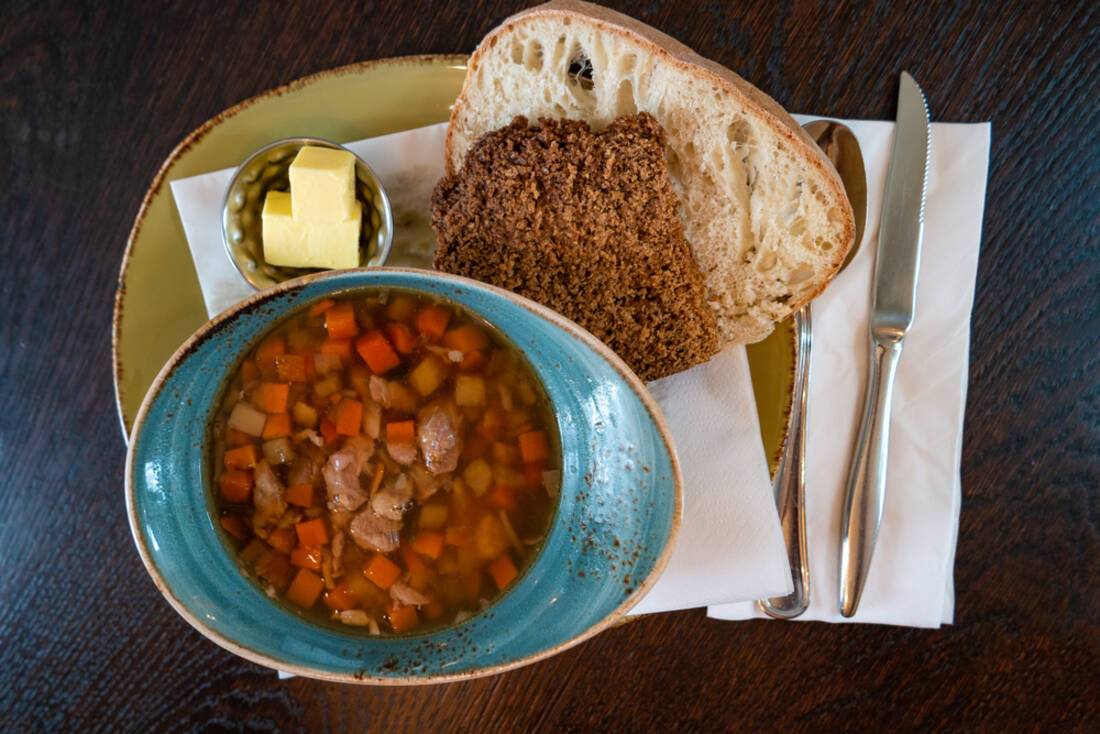 Traditional lamb stew is very popular in Iceland, made with potatoes, swede, lamb, carrots, garlic, onion and thyme. While the recipe varies from place to place, the concept of this hearty, warming stew translates no matter where in Iceland you're eating.
Rye bread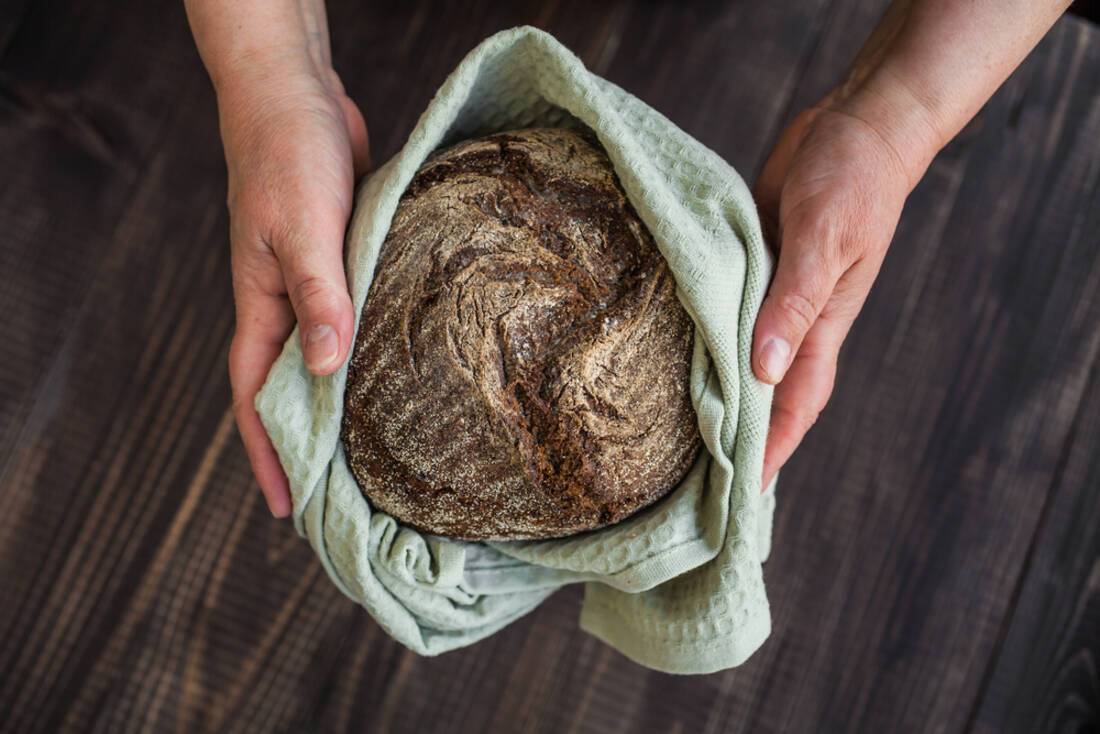 Icelandic rye bread, or rúgbrauð, is traditionally baked in a pot or steamed in special wooden casks buried near a hot spring. The bread is crustless, dense and sweet, and typically served with butter, mutton pâté or pickled herring. If you stop for lunch, look out for rúgbrauð on the menu.
Salted liquorice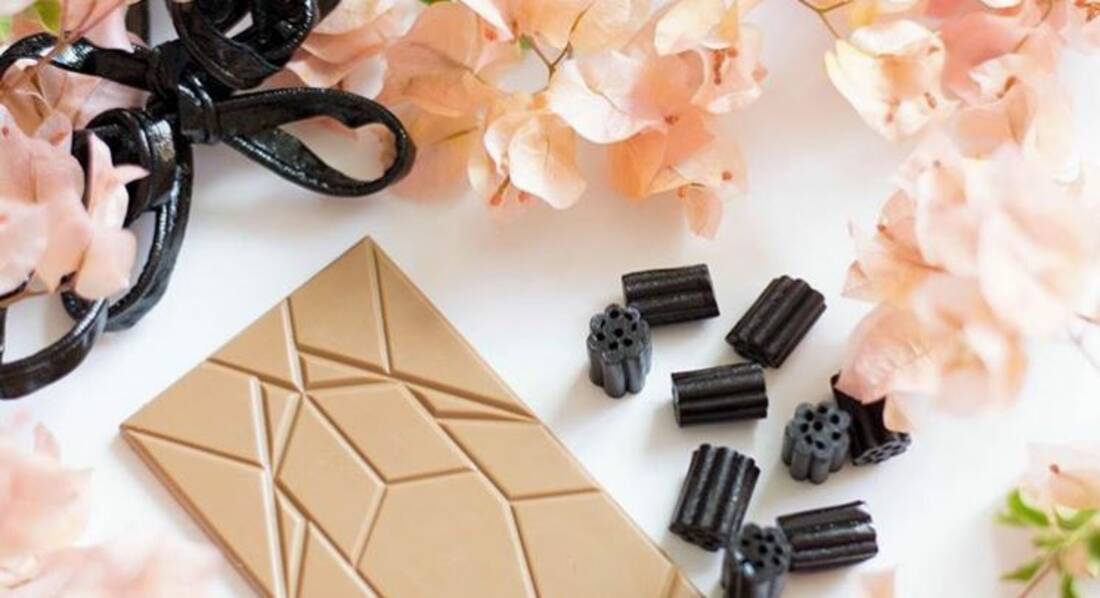 Image: Omnom
Liquorice is a firm favourite among the people of Iceland, particularly salted liquorice. As well as buying liquorice on its own, it is also incorporated into many of the country's chocolate bars! Liquorice is also regularly used in cooking and is a common ice cream flavour. In Reykjavik, artisan chocolatier Omnom has created a liquorice chocolate bar – perfect for taking home as a gift.
Cinnamon bun

Image: Reykjavik Food
Throughout Iceland you'll be able to find Kanilsnúðar, affectionately known as 'cinnamon snails'. These moreish pastries are simple yet wonderfully tasty, and the perfect accompaniment to a warming cup of coffee during your visit. Another sweet treat to look out for is kleina, one of Iceland's oldest pastries, which could be likened to a doughnut.
Vegetarian and vegan picks in Reykjavik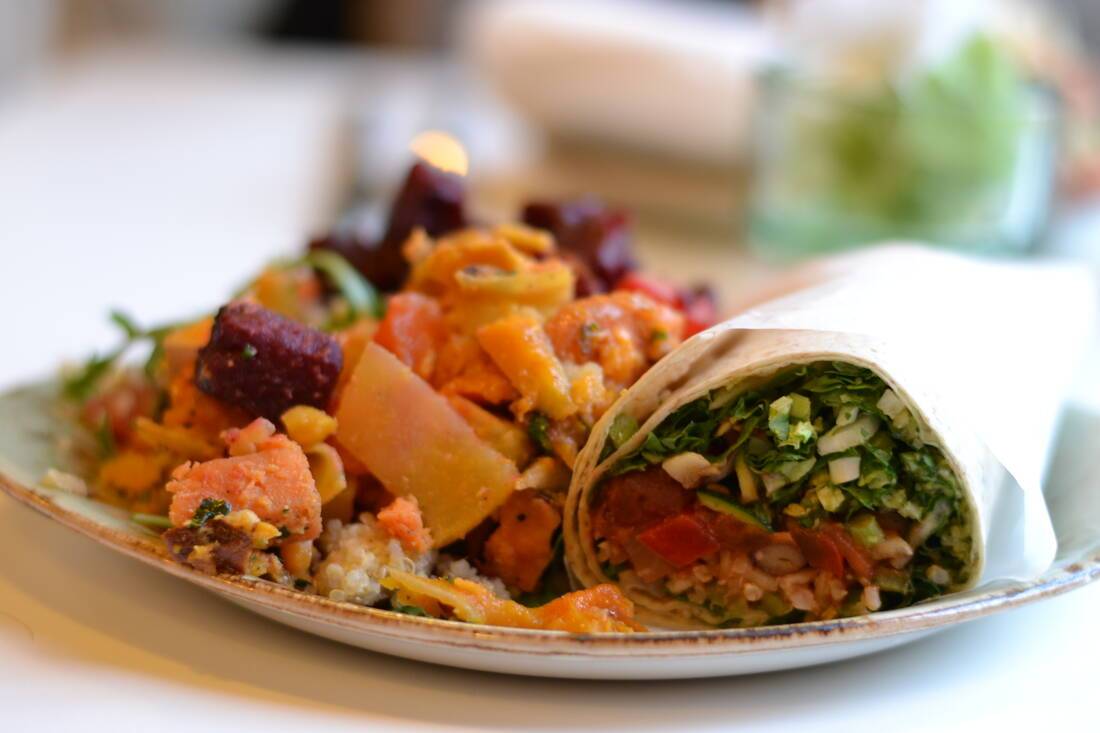 Image: Anne Travel Foodie
While much of Icelandic cuisine is focused on meat and fish, there are lots of restaurants catering to vegetarians and vegans with inspiring dishes. Anne, food and travel blogger at Anne Travel Foodie, has visited more than 60 countries in search of new experiences. One of her favourite countries to visit is Iceland. "With its volcanoes, waterfalls, lava fields and geysers, it's a geographical wonderland!" said Anne. "Whether Iceland is your destination or you're paying it a short visit, there's a lot you can explore in a short amount of time. The best food options can be found in Reykjavik. Here are my top 3 food spots in Reykjavik: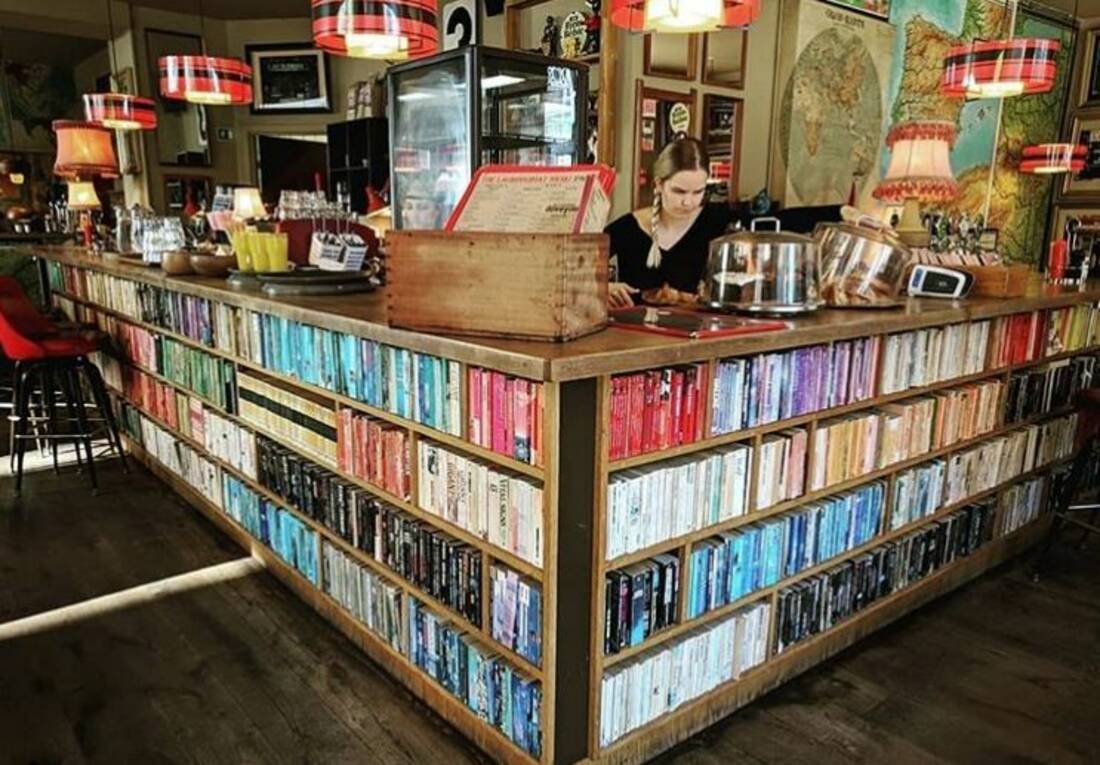 Image: The Laundromat Cafe
"For dinner, Glo is a heaven for health lovers (like myself). You can choose 1 item from the menu on the board and your choice of three side salads at the buffet-style counter. Many options are vegetarian, vegan, gluten-free or all of the above. I had a delicious vegan wrap packed with veggies and red beets, quinoa and sweet potato as side dishes. The menu changes every day, but they'll always have similar options.
Looking for a nice café for a drink or a small bite? Visit Laundromat Café. With a great interior: some walls are covered with big maps of the world, others with pictures of American laundromats. The bar double functions as a big bookcase, with books assorted by colour, making it a rainbow of books. They have meat, fish and veggie options on the menu and actual washers and dryers downstairs. Free Wi-Fi is available, as in most bars in Reykjavik.
Eldur og Ís, an ice cream parlour that also serves crepes. They have wholegrain spelt crepes and vegan, gluten-free crepes. You can choose your own toppings and they have both sweet and savoury options. I went for the banana and dark chocolate. Yum!"
Amelie, Montreal native and founder of green travel and lifestyle blog Mostly Amelie, writes about health-minded vegan travel. Currently based in Berlin, Amelie has discovered many exciting vegan eateries on her travels, including in Iceland. "As a vegan visiting Iceland, you have to brace for some strange facts," said Amelie. "You know these cute puffins that you can see on postcards and as stuffed animals? They eat them too. How about shark and whale? Yeah, that too. Fortunately, the vegan scene in Reykjavik is vibrant and exciting and you'll be hard-pressed to find a restaurant that doesn't have at least one vegan option. For such a small capital, Reykjavik boasts more vegan-friendly restaurant options that I could visit in a 10-day trip.
"The culinary highlight in Reykjavik (who also caters to an omnivore diet) is Aalto, a classy restaurant located in a gorgeous Nordic House. Celebrity chef Sveinn Kjartansson showcases local ingredients in an artful, creative and extremely delicious way. For some great greasy fast food, make sure you visit the friendly people at Bike Cave, and for the best vegan cake, Glo is where it's at!"
Tempted to try Iceland's cuisine for yourself? Browse our cruises to Iceland with Cruise and Maritime to start planning your Nordic getaway.