The city of Los Angeles has long attracted visitors hoping to catch a glimpse of celebrities, bask in the sunshine and hit the beach. Home of Hollywood and the rich and famous, LA is a premier holiday destination, and is even a popular choice for cruise holidays. The ports of San Pedro and Long Beach are located roughly 20 miles south of Los Angeles, so your best bet is to hop in a taxi to reach the heart of LA.
As well as seeking out famous faces, many visit LA for its varied and exciting cuisine. From Beverly Hills to downtown Los Angeles, the city streets are lined with bars and restaurants, serving international cuisines and fusion dishes. If you need some help deciding on where to eat in Los Angeles on your next cruise holiday, read our ultimate guide below.
LA institutions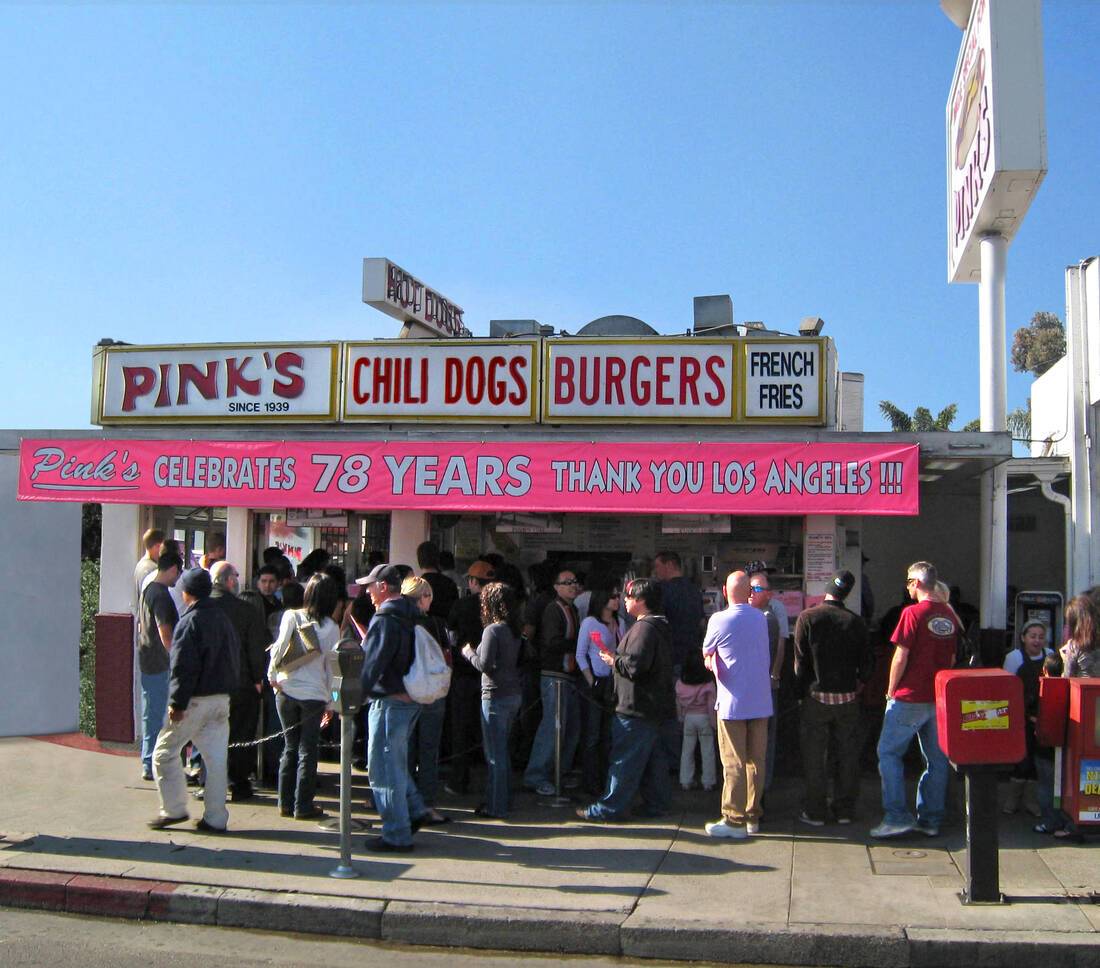 Top 5 LA institutions
Many of LA's restaurants date back at least a century, and continue to serve their most iconic dishes to locals and visitors. We simply can't talk about LA institutions without mentioning Pink's Hot Dogs. Pink's, a Hollywood legend since 1939, was opened by Betty and Paul Pink 78 years ago with a hot dog cart they bought for $50. To find out more about this classic eatery, we caught up with company president, Richard Pink: "The cart was located on the same site where Pink's stands today," said Richard. "Betty and Paul borrowed $50 from Betty's mother. They rented the property for $15 per month and sold hot dogs for 10 cents and cokes for a nickel."
In the beginning, running the hot dog cart was a struggle for Betty and Paul. With no electricity on site in 1939, and the landlord hiking up rent prices, the couple were forced to borrow money to buy the property or face going out of business. "In 1941, after buying the property, they put a canvas awning over the cart and continued selling hot dogs until 1946 when the building that houses Pink's was built," said Richard.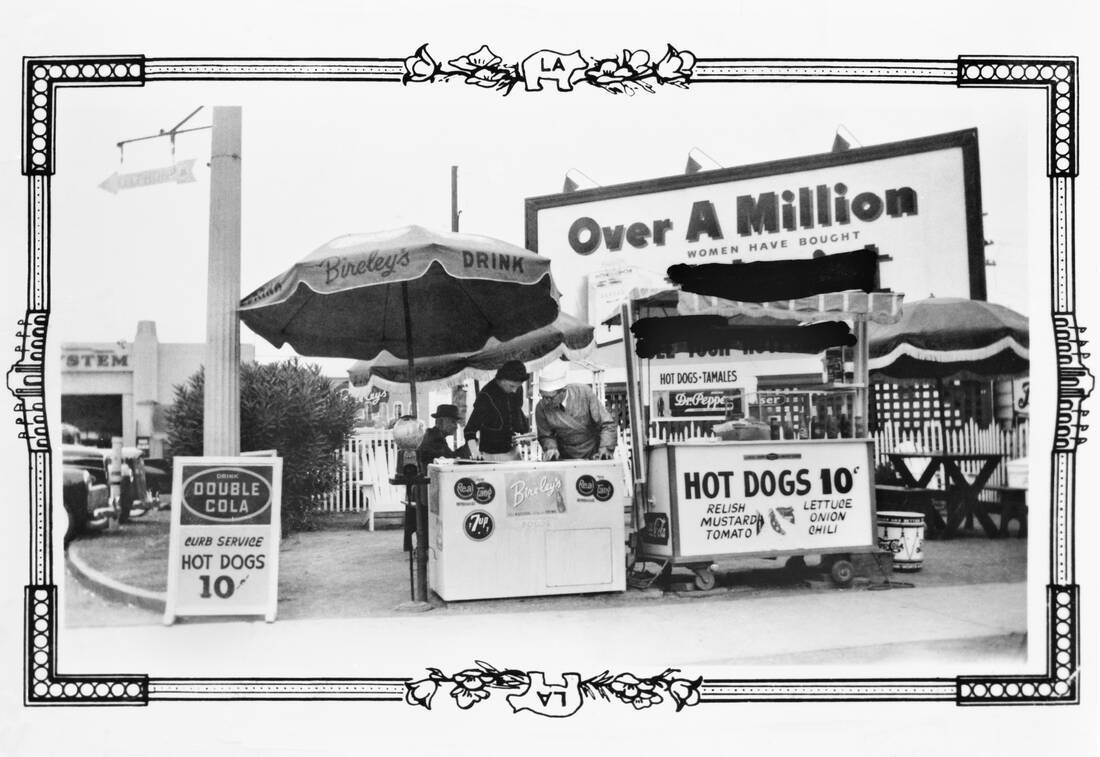 "Pink's started with a simple hot dog and chili recipe. The menu remained limited until Betty and Paul's children took over the business in the 1990s. Today, we have over 35 varieties of hot dogs on the menu and 12 varieties of hamburgers. Pink's today sells over 1,500 hot dogs a day, far more than the 100 hot dogs that Betty and Paul sold back in the 1940s."
The business has gone from strength to strength and now has a presence in 8 states, and the Philippines. "One of the unique aspects of Pink's is the number of celebrities who have dined here," said Richard. "We have over 200 photos of movie and TV stars on our celebrity wall of fame who have enjoyed Pink's through the years."
So, what makes the perfect hot dog? "Pink's hot dogs are all beef and encased in a natural casing. When Pink's hot dogs are steamed to a temperature of 145 degrees, the hot dog snaps when you bite into it. Therefore, for Pink's we steam all our hot dogs and sausages. The key is the natural casing that creates Pink's famous 'snap'."
We were curious to find out which restaurants the team at Pink's would recommend to first-time visitors to Los Angeles. Here's what Richard Pink told us: "There are many iconic restaurants of LA, and here are 10:
Food trucks in front of the LA County Museum on Wilshire Boulevard
Philippe in downtown LA – famous for French dipped beef sandwiches
Otium next to the Broad Museum in downtown LA
Gjelina – Abbot Kinney in Venice
The Ivy – Robertson Boulevard
Catch – Melrose Avenue"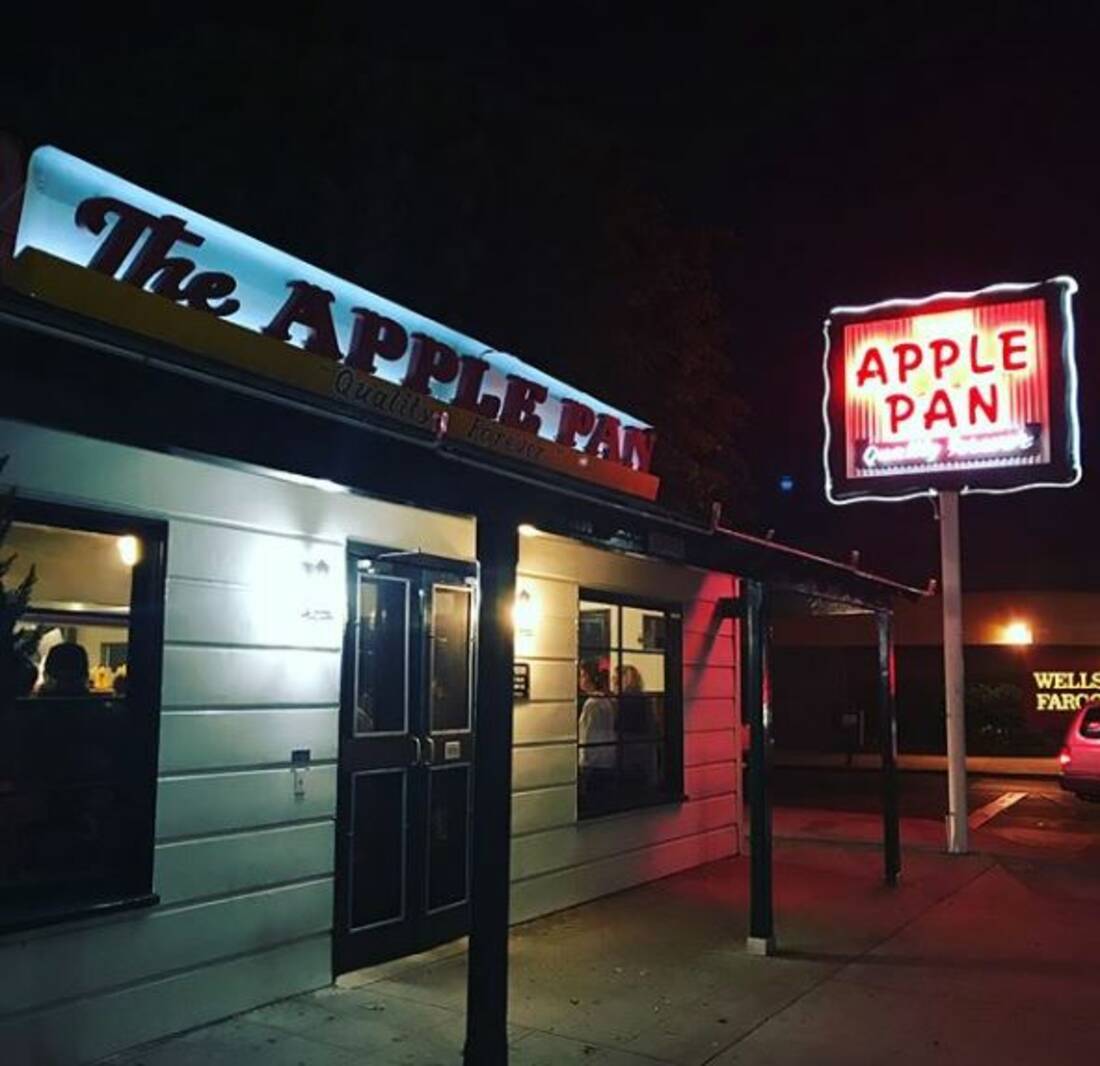 Image: Hugh Thomas
Another of LA's classic eateries is The Apple Pan. Since opening in 1947, this restaurant has been famous for its deliciously simple hamburgers, apple pies and banana cream pies. Located just over a mile from the 20th Century Fox studios, celebrities can occasionally be spotted eating here. Don't forget to bring cash, as this old-school eatery doesn't accept cards. Over on Hollywood Boulevard, Musso & Frank's Grill is also serving a slice of the past. Opened in 1919 by entrepreneur Frank Toulet, restaurateur Joseph Musso and French chef Jean Rue, the restaurant quickly gained a reputation for its exquisite food and classy setting. Grab a booth, peruse the 90-year-old menu and enjoy a taste of Hollywood history.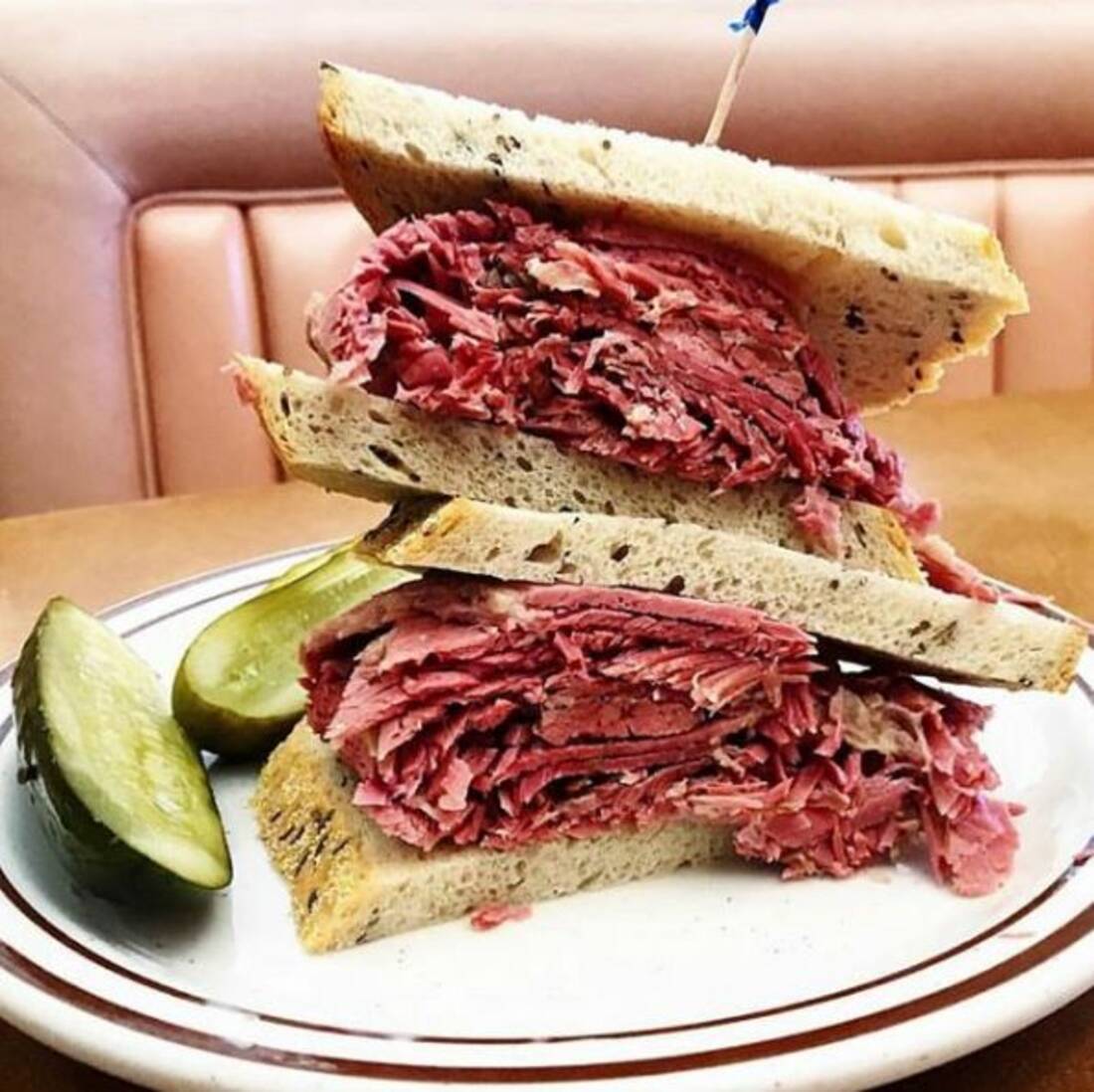 Image: Canter's Deli
If Musso & Frank's Grill sounds like your cup of tea, you're likely to love Dan Tana's. This West Hollywood institution has welcomed John Wayne, Cary Grant and Fred Astaire, and its retro Italian menu continues to lure in customers today. Choose from its roster of dishes named after famous regulars, such as the Penne Arabiata, a la Michael Kane, or Fettucini Alfredo, a la Mark Singer.
The final restaurant to form our top 5 LA institutions is Canter's Deli. Situated on North Fairfax Avenue, this family-owned deli has been serving its classic pastrami on rye sandwiches and matzo ball soup since 1931. Come here for the great food and people-watching opportunities.
Food trucks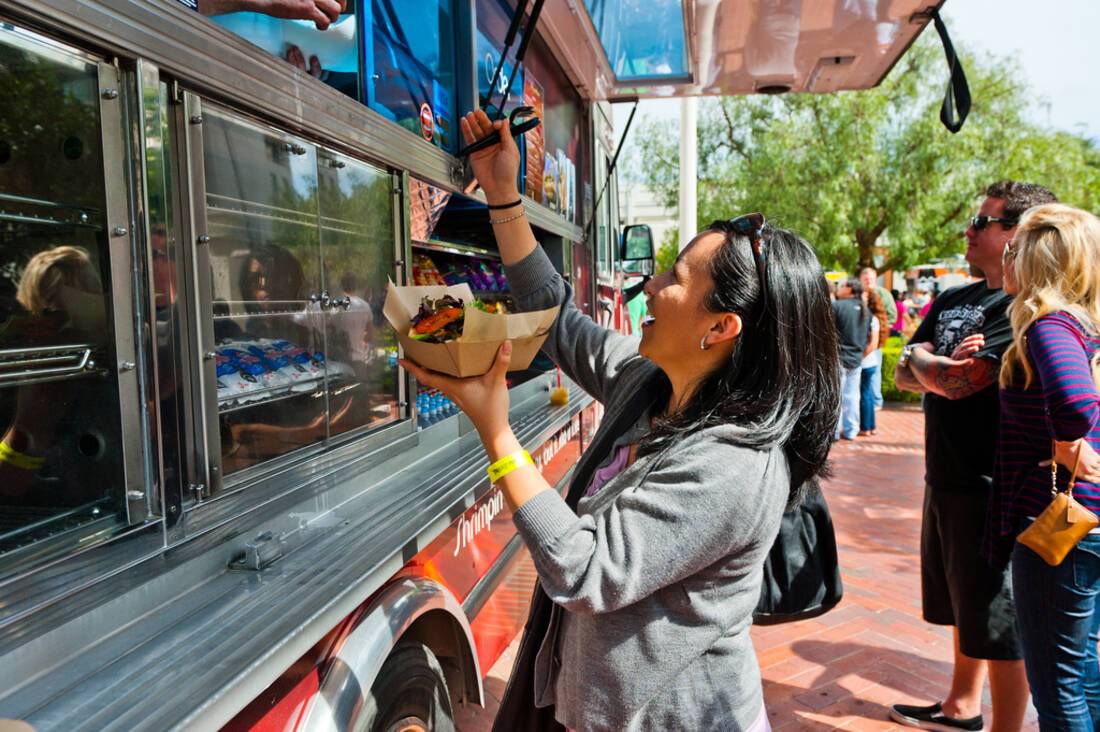 Food trucks are an essential part of the Los Angeles scene, serving creative hybrids of California's most popular cuisines. While they're generally spread out throughout the city, each business has a food truck schedule on its website and provides regular Facebook updates, so you won't miss out during your cruise stopover.
Top 5 LA food trucks
One of LA's most famous trucks has to be Kogi BBQ. It's no secret that the city is obsessed with Korean barbecue, but this innovative eatery has taken it to the next level. Kogi BBQ serves Korean barbecue tacos that, according to locals, are out of this world.
If you're craving authentic Mexican cuisine, there's no shortage of incredible food trucks to satisfy your cravings. Leo's Tacos Truck has been serving hungry locals for more than 5 years, and their famous tacos al pastor (pork tacos) have long been its most popular dish. You can't argue with the prices either – dishes at Leo's Tacos Truck start from $1.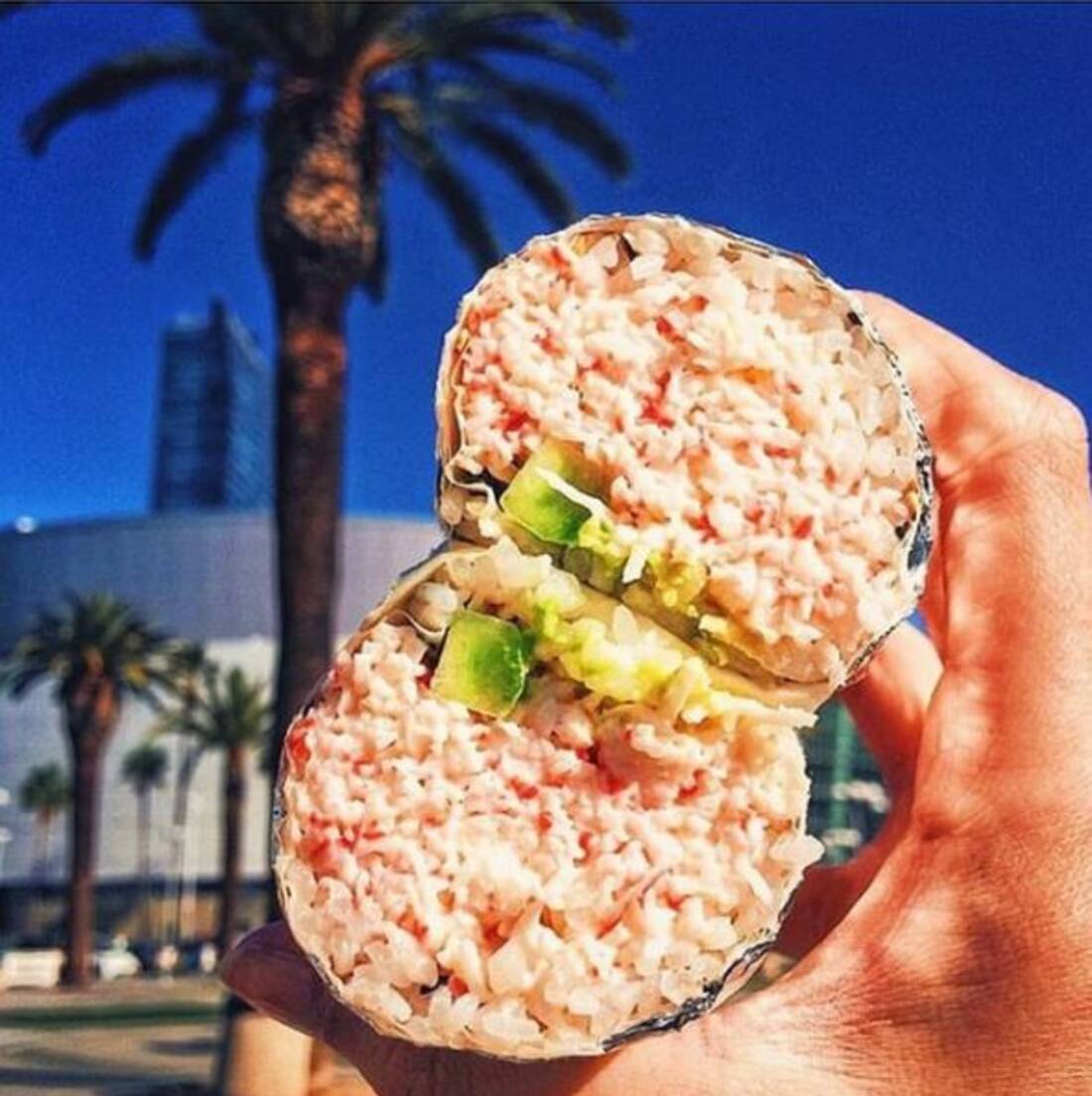 Image: Jogasaki Sushi Burrito
For a unique twist on American comfort food, try a plate of wachos from The Lobos Truck. What is a wacho, we hear you ask? The word 'wacho' comes from waffle fry and nacho. The creative team behind this food truck use criss-cut potato fries and load them with tasty nacho toppings. For those seeking fusion food with fishy twist, head to Jogasaki Sushi Burrito. Choose from a range of delicious seafood sushi burritos including spicy tuna, salmon ceviche, crab and lobster, and enjoy this unique Californian dish.
If you're craving something sweet, try an authentic New Orleans snack at The Beignet Truck. Beignets are made with deep-fried choux pastry and powdered sugar. Born from the owners' love of delicious food and The Big Easy, The Beignet Truck specialises in this authentic sweet treat, bringing a taste of the Deep South to California. If these food trucks aren't enough to tempt you on a last-minute cruise to The Golden State, we don't know what will.
L.A's most popular foods and cuisines
Los Angeles is a melting pot of cultures, though due to its large flow of Asian immigrants, Asian food is extremely popular in the city. However the dominant cuisine is undoubtedly Mexican, or a Californian interpretation of Mexican cuisine. By simply wandering around the city you'll spot hundreds of taquerias and taco stands, as well as Korean barbecue joints and Japanese restaurants. Read on to discover some of LA's most popular foods and cuisines.
French dip sandwiches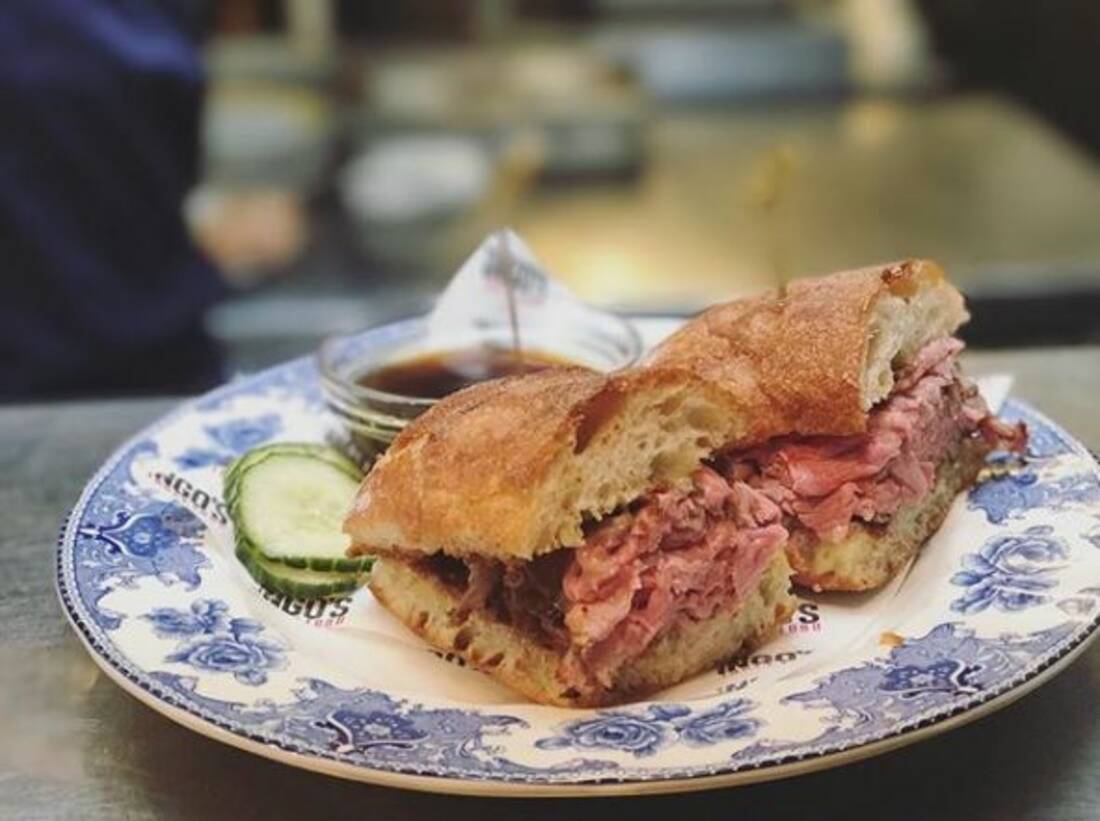 Image: Ingo's Tasty Diner
Top 5 French dip sandwiches
The French dip sandwich was invented in Los Angeles by Philippe The Original. As the story goes, in 1918, while in the process of making a customer a sandwich, owner Mathieu accidentally dropped the sliced French roll into the roasting pan, which was filled with hot meat juices. The customer (a policeman) said he'd take the sandwich anyway, and left. The next day, he returned with friends asking for more of the accidentally dipped sandwiches. The restaurant has been in the same location since 1951 and still serves exquisite French dip sandwiches.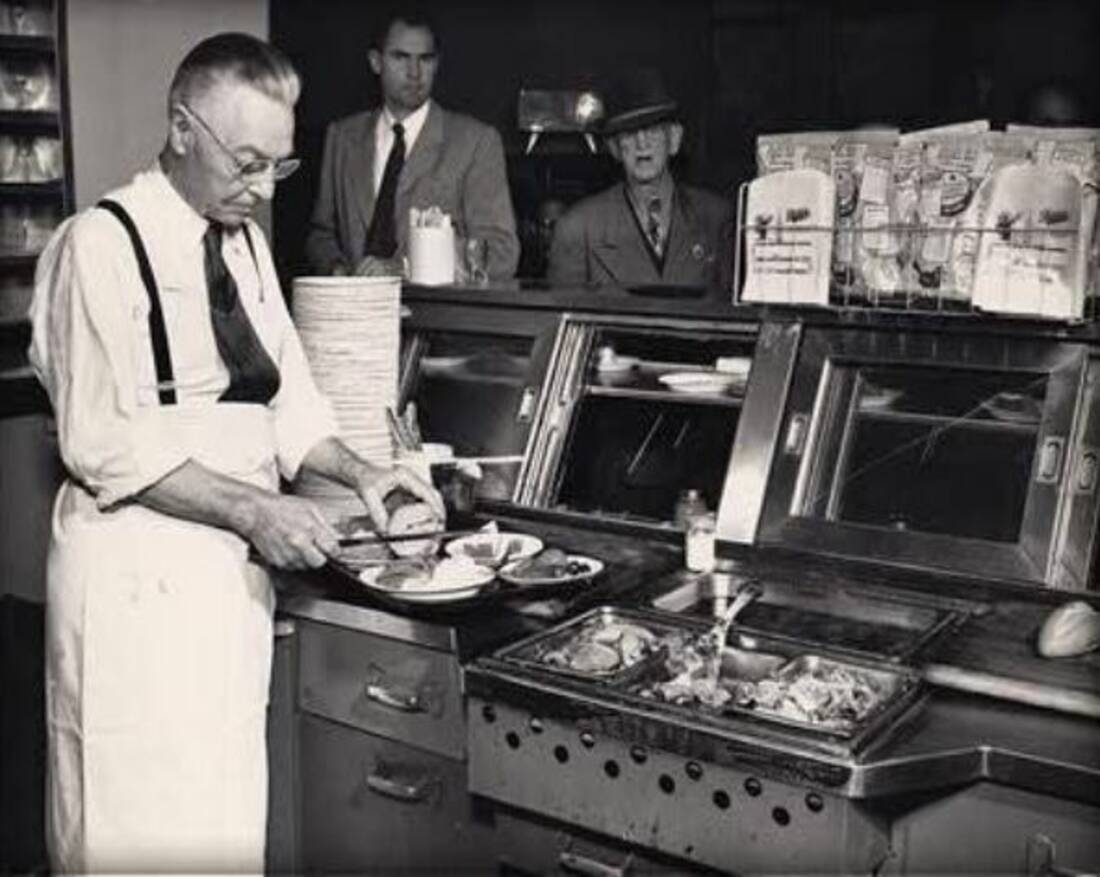 Image: Philippe The Original
Over at Koreatown gastropub Beer Belly, the French dip sandwich is done a little differently. Giving a signature twist to this classic LA dish, the restaurant serves sage-roasted duck breast sandwiches with slice provolone and horseradish aioli on a crusty toasted French roll. Throw in a side of duck jus and pickled shallots, and you're good to go! Ingo's Tasty Diner is another top choice in the city, serving a prime rib French dip sandwich with aioli on toasted Bub & Grandma's ciabatta with horseradish and au jus.
For a classic taste, you'd be a fool not to try Johnnie's Pastrami (now closed). Originally a hot dog stand in 1952, Bob Bass took over the eatery and started serving tasty French dip sandwiches. Its most popular is undoubtedly the pastrami. Each sandwich is served with pickles and, if you'd like your lunch with a kick, fiery English mustard. In Oldtown Pasadena, Harlowe's French Dip are considered masters of the art. The restaurant was set up by one of the descendants of legendary nurse Clara Harlowe Barton, who founded the American Red Cross. Their slow-roasted pork, beer-infused mustard and perfectly toasted French roll make for a mouth-watering French dip sandwich.
Korean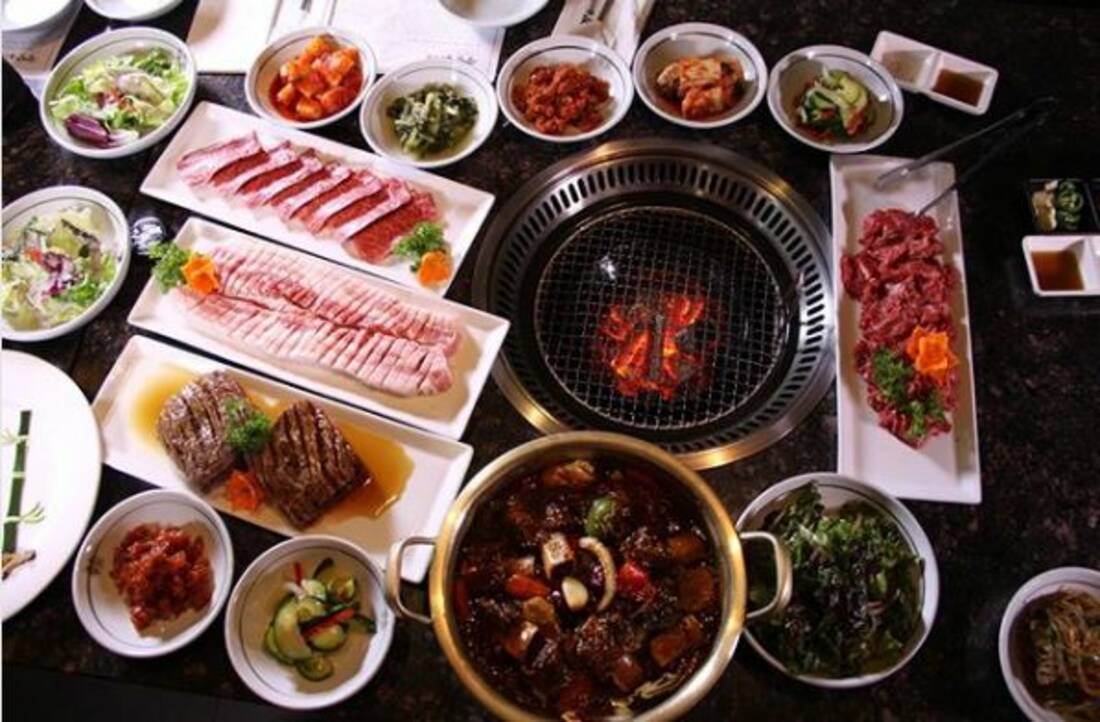 Image: Gwang Yang BBQ
Top 5 Korean restaurants
Koreans began immigrating to Los Angeles in large numbers in the 1960s and, as a result, the city now has a thriving Korean community with tonnes of great restaurants. Korean barbecue, which allows you to grill a selection of meats at your table, is perhaps one of the city's best-loved delicacies and at Gwang Yang BBQ, you can get your fix of this delicious food. Using secret family recipes, the restaurant offers a mouth-watering range of prime, marinated meats and tempting sides.
Also in Koreatown, Mapo Galbi is most famous for one particular dish – its chicken dak galbi. People travel for miles to indulge in this spicy Korean stir-fried chicken dish, so don't miss out during your stopover. Another old-school Korean restaurant is Dan Sung Sa, where you can try adventurous dishes such as frog legs and intestines, as well as spicy Korean chicken wings and more conventional delicacies.
If you're vegetarian, fear not. Beverly Soon Tofu. Established in 1986, this was the first Korean restaurant of its kind in LA, serving delicious tofu soups and other vegetarian dishes. Try the tofu steak, with seasoned kimchi and a soy sauce vinaigrette. Over in Long Beach, close to the cruise port, Sura is one of the area's most revered Korean barbecue joints. Serving authentic Korean barbecue with a twist, the restaurant is famous for its delicately marinated meats and spicy tofu soup, as well as Mexican fusion favourites.
Burgers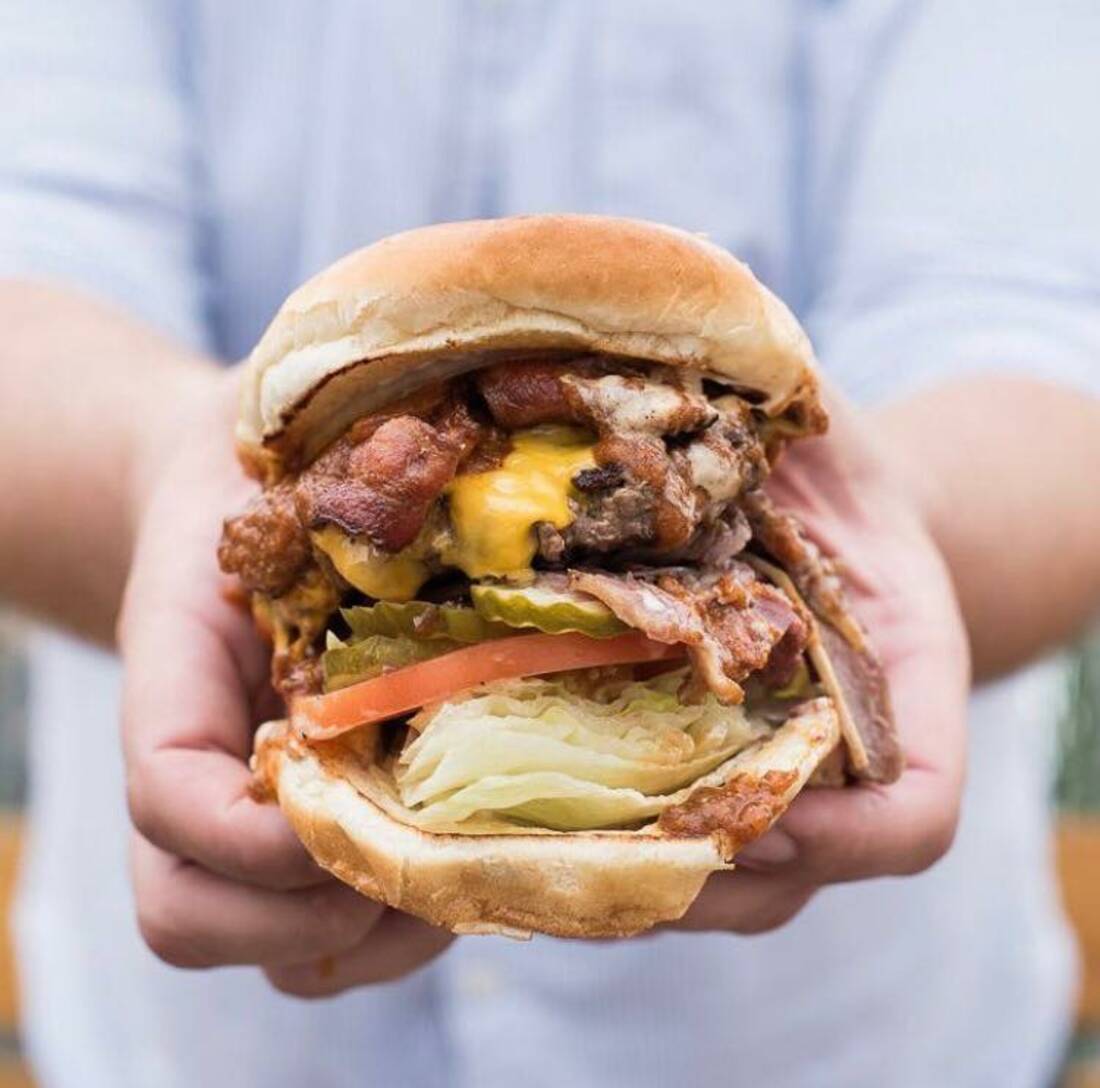 Image: The Oinkster
Top 5 LA burgers
Since opening just over 50 years ago, Capitol Burgers has become one of Los Angeles' most iconic burger joints. Locals can't get enough of Capitol Burgers' no-nonsense menu and original décor. Choose from classic hamburgers, pastrami sandwiches and milkshakes. If you're looking for a burger joint that takes its meat really seriously, visit The Oinkster. Specialising in succulent, flavoursome meat burgers and sandwiches, you're guaranteed to find something to tickle your taste buds here. The Royale comes with a Nebraska Angus Patty with bacon, chilli, pastrami, dill pickles, onions, tomato, lettuce and Thousand Island dressing. Top it with American or sharp cheddar.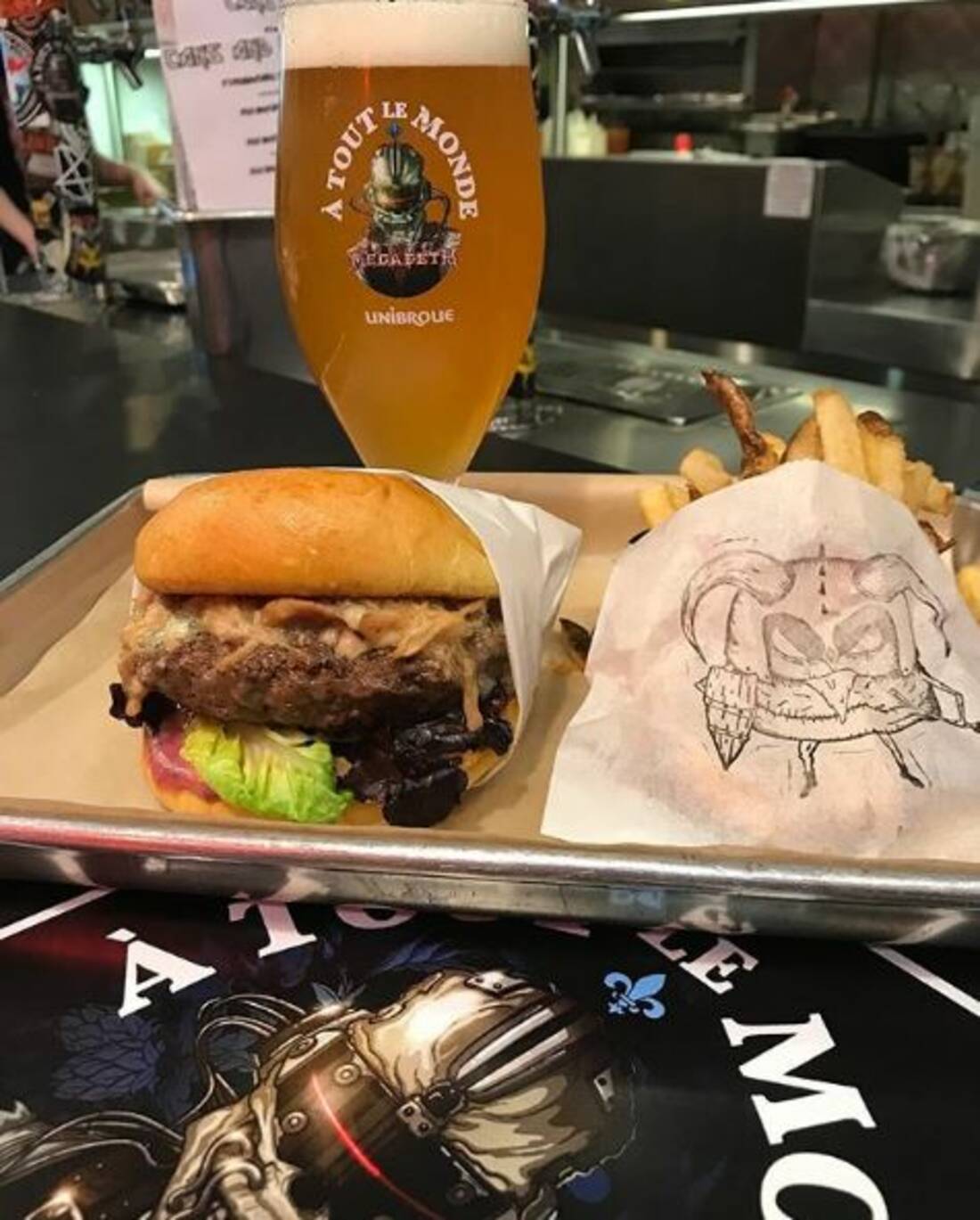 Image: Grill Em All
Since opening as a food truck in 2009, Grill 'Em All has triumphed and is considered to serve one of the best gourmet burgers in Los Angeles. Every item on the menu is named after rock and metal legends, so you can chow down on a Dee Snider burger with peanut butter, strawberry jam, bacon and sriracha, or the Metallica, with Swiss cheese, avocado and bacon. We caught up with the team to find out more about their legendary truck:
"After standing triumphant at the end of the Food Network's very first Great Food Truck Race and being featured on The Best Thing I Ever Ate, the demand for burgers grew strong enough that we opened the doors to our first brick and motor in 2013 and closed the trucks shortly after.
"We blend rock and roll attitude with gourmet concepts to create burgers that satiate the need for extreme burger terror and our most popular burgers are The Behemoth, Dee Snider and Metallica."
When we asked the team at Grill 'Em All to recommend their top LA eateries, they said: "We love our buddies at The Oinkster and recommend their brand of slow-cooked fast food."
For an indulgent burger experience, head to Petit Trois for the Big Mec. Made with two four-ounce patties, caramelised onions, garlic aioli, American cheese and a red wine bordelaise sauce with foie gras. The delicious prime beef really is the star of the show. If you're seeking farm-to-table produce, Belcampo is the place for you. Raising animals on its farm near Mount Shasta, California, Belcampo offers a range of fresh burgers, such as the 100 day dry-aged burger with raclette cheese, caramelised onions and Dijon aioli, or their classic Belcampo burger made with their tasty house sauce. The small farm and butchery chain has restaurants dotted around LA and California.
Doughnuts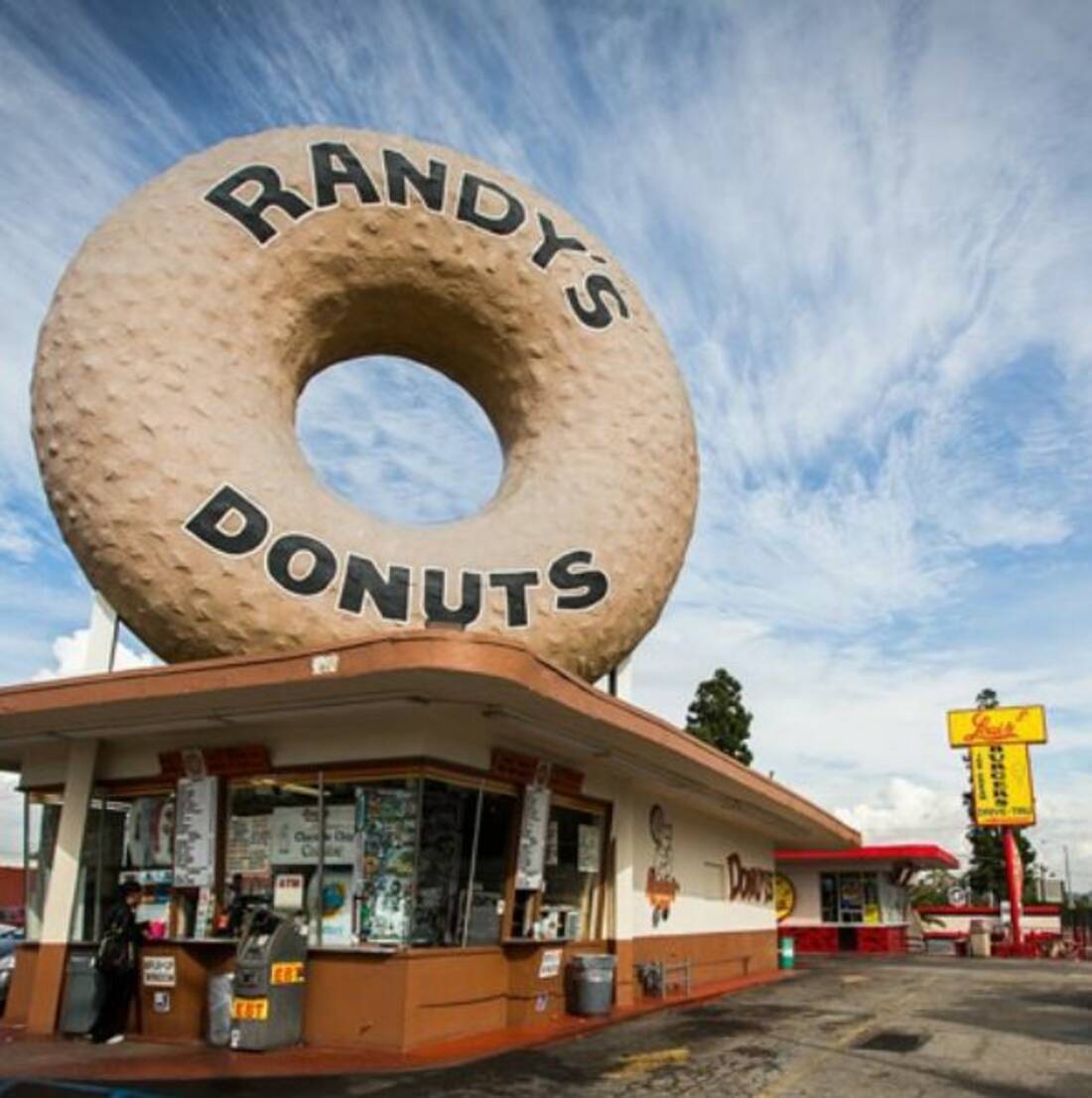 Image: Randy's Donuts
Top 5 LA doughnuts
Since opening its doors in 1953, Randy's Donuts has often been praised as one of California's finest doughnut shops. Drawing visitors from all over the globe (partly because of its delicious doughnuts, and partly because of the giant doughnut on top of the shop), you'd be a fool not to stop by for one of their delicious sweet treats. Get your doughnut with maple icing, chocolate sprinkles, honey, coconut, and just about everything else. Elsewhere in LA, Café Dulce, a sleek Tokyo-Downtown eatery, has its own dedicated doughnut menu featuring 'seasonal doughnuts'. Choose from green tea, pumpkin spice, bacon, maple macadamia, hazelnut and many, many more.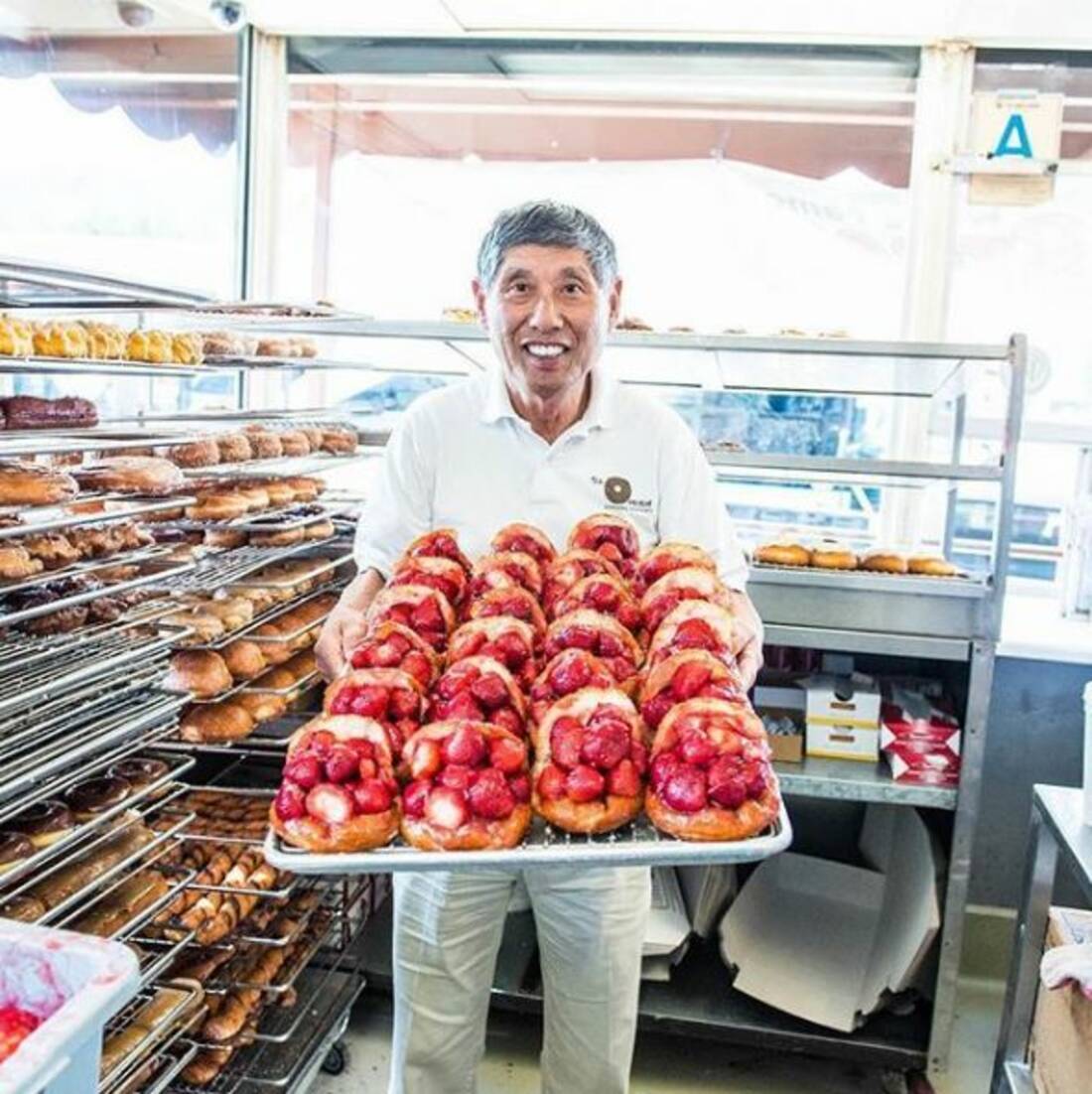 Image: The Donut Man
Over at The Donut Man, the classic fresh strawberry stuffed donut is their most popular menu item. The bakery was founded by Jim Nakano in 1972 and has continued to delight locals and visitors for decades. If decide to snub their best-loved doughnut, there's plenty to choose from, including raised peanut butter doughnuts, maple frosted, orange frosted, cream cheese and raspberry, cinnamon sugar, vanilla frosted and triple chocolate.
If you're seeking crazy flavour combinations, Donut Friend is your best bet. Specialising in signature and limited edition doughnuts such as the Bananaversary, a banana bread doughnut with a peanut butter glaze and candied walnuts, and the Javabreaker, a coffee-infused cake donut with an espresso bean glaze, you're sure to find a unique doughnut to suit you. For an exquisite doughnut and a perfectly-brewed coffee, California Donuts has got you covered. Open 24 hours, you can always stop by to get your sugar fix with a matcha green tea, buttermilk, apple fritter or Boston cream doughnut.
Sushi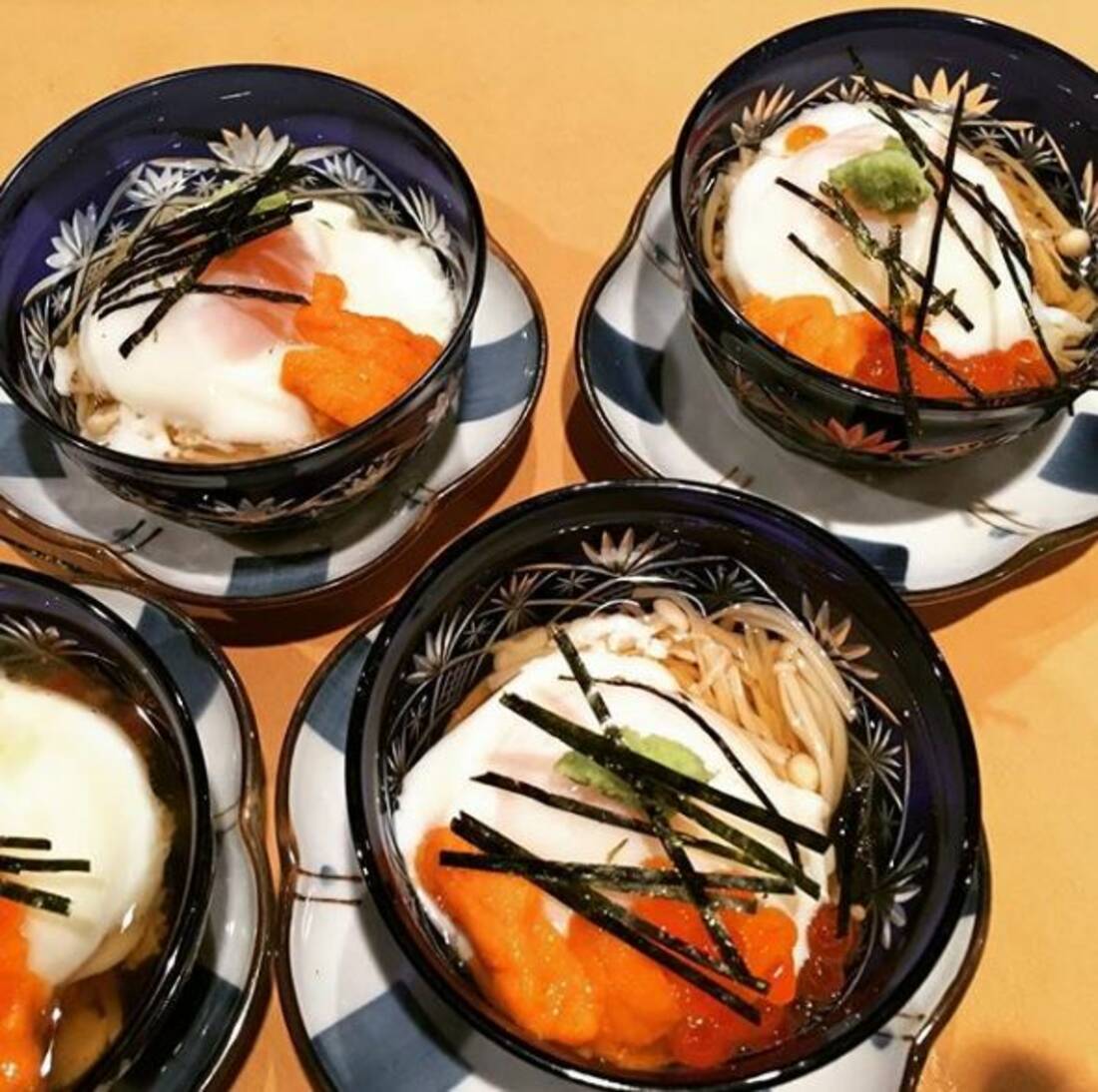 Image: Kiriko Sushi
Top 5 sushi restaurants
Sushi has become a huge part of the food culture in Los Angeles, so you won't struggle to find exceptional sushi on your cruise stopover. Kiriko Sushi serves a creative mix of Tokyo-style sushi and Japanese tapas-style dishes. Founded in 1999 by Chef Ken Namba, the restaurant serves an authentic taste of Japan with modern influences. If you're vegan but still want a traditional sushi experience, head to Shojin. With a focus on organic, natural, vegan Japanese cuisine, Shojin creates classic sushi dishes replacing seafood with vegan ingredients, such as tofu. Expect a full and exciting menu catered entirely for vegans, rather than choosing from limited options elsewhere.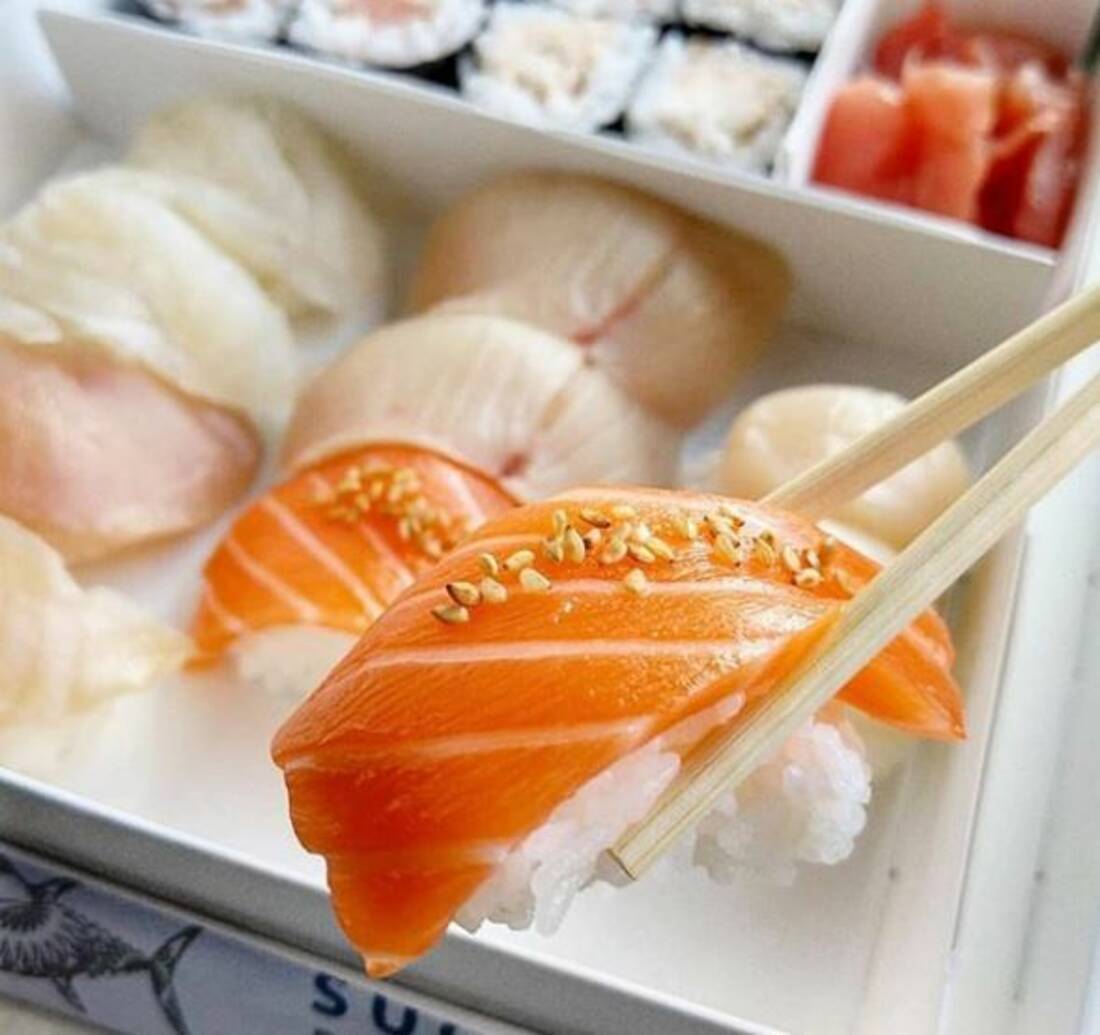 Image: Sugarfish
Established by celebrated chef Zaunori Nozawa, Sugarfish is famous for its extravagant fusion dishes. Forming part of a small chain, Sugarfish focuses on serving exquisite sushi at reasonable prices, so that everyone can enjoy some of the best sushi in Los Angeles. Another establishment serving high quality sushi is Sasabune with omakase (letting the chef choose your order) being the most popular option. If you love seafood and Japanese cuisine, Sasabune is a must-try. If you enjoyed the Netflix documentary Chef's Table, you may have seen n/naka. This premium sushi restaurant is owned by Chef Niki Nakayama, former protégé of legendary chef Morihiro Onodera. Focusing on kaiseki, a traditional form of Japanese cooking, n/naka offers a truly special experience with 13-course menus featuring sea urchin, diver-harvested scallops and okra.
Mexican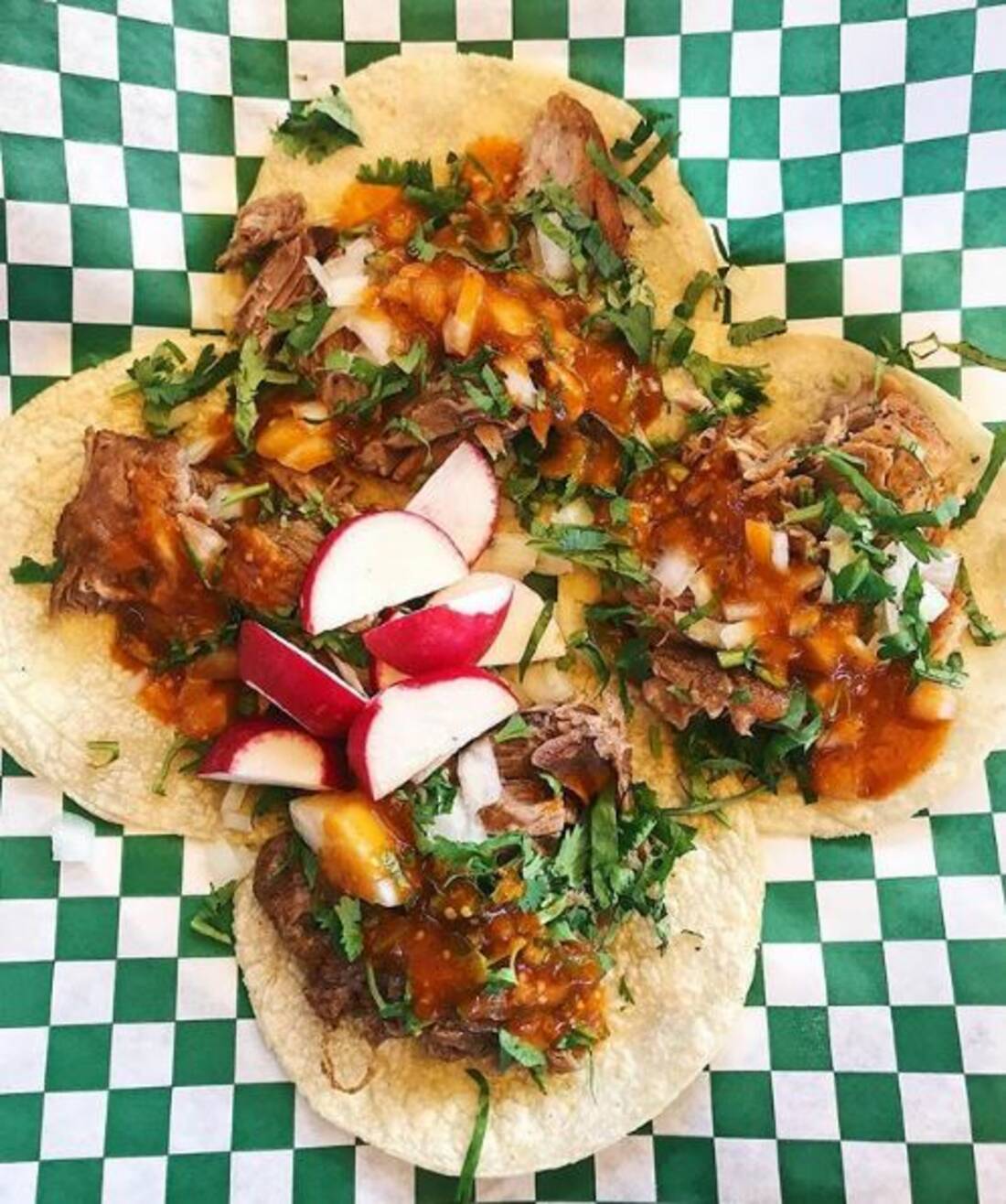 Image: Top Shelf Tacos
Top 5 Mexican restaurants
Closer to the cruise port in Long Beach, Lola's Mexican Cuisine is a family-run restaurant with a passion for authentic Mexican food. Growing up in Guadalajara, the grandchildren of the family inherited recipes from their grandmother and decided to share them with the world. Chef Luis Navarro has also dedicated his career to learning and travelling through Mexico, studying the craft of the local cuisine. Their green salsa is said to be a thing of beauty, but you won't be disappointed with any of the classic dishes on their menu. Also close to the cruise port, Top Shelf Tacos is worth a visit for any Mexican food fan. The menu is created using homemade tortillas, freshly-made salsas and quality ingredients. Build your dream taco with a delicious range of meats and grilled fajita vegetables.
Over in the city of Los Angeles itself, Petty Cash Taqueria is keeping locals happy with its delicious menu of ceviche, quesadillas and innovative tacos. Try the grilled shrimp tacos with achiote aioli, cabbage, citrus salsa and cilantro, or, for the vegetarians, rainbow cauliflower nachos with crema poblana, jack cheese, kale and pickled fresno. Describing itself as a 'semi-authentic taqueria', the restaurant was named after both Johnny Cash and Tom Petty.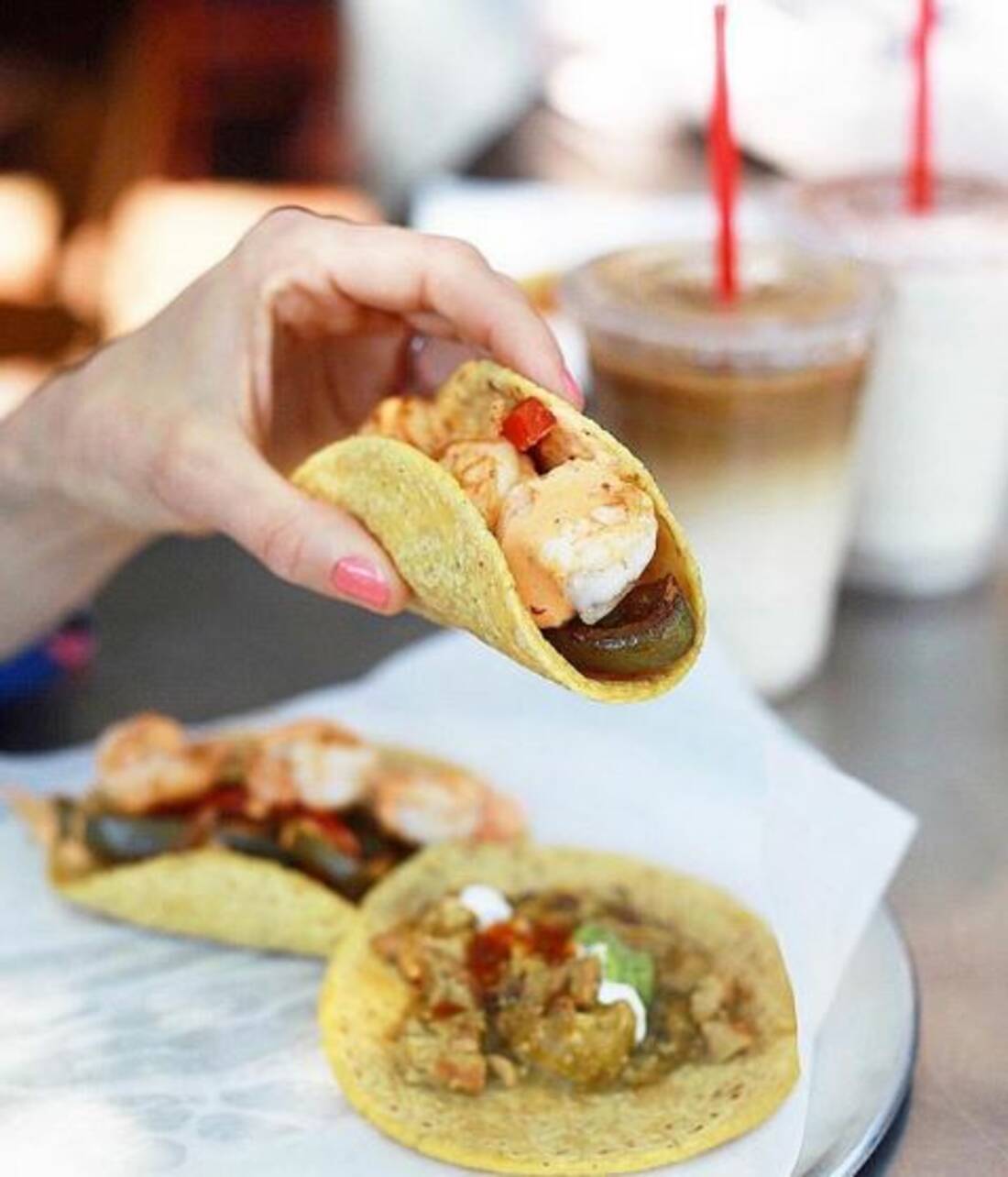 Guisados, which started out with a simple menu, specialises in home-style braised meats and handmade tortillas – a match made in heaven. Try the mole poblano, with shredded chicken, Poblano-style mole, sour cream, queso fresco, red onion and dried chile, or the Chicharron, with pork rinds simmered in chile verde, served with green serrano chile and black beans.
In Carson, close to the cruise terminal, Tacolipino is an exciting fusion restaurant serving a blend of Mexican and Filipino cuisine. Great for those seeking to experience Los Angeles' famously innovative cuisine, your best bet is to choose one of the Tacolipino house specials, or ask the staff for their recommendations.
If you're dying to dive into LA's exciting foodie scene on your next cruise holiday, take a look at our last-minute cruise deals to start planning your dream trip to the United States and beyond.