Food is an essential part of every holiday. Because food markets are often the hub of local communities, it has to be said that this is an excellent way to really get to know a city and its people. From lively early morning fish markets in the heart of Tokyo, to relaxed artisan fare in Copenhagen, we've listed the best markets in the world, for the best lunches in the world.
Tsukiji Fish Market, Tokyo
Must-try: Sashimi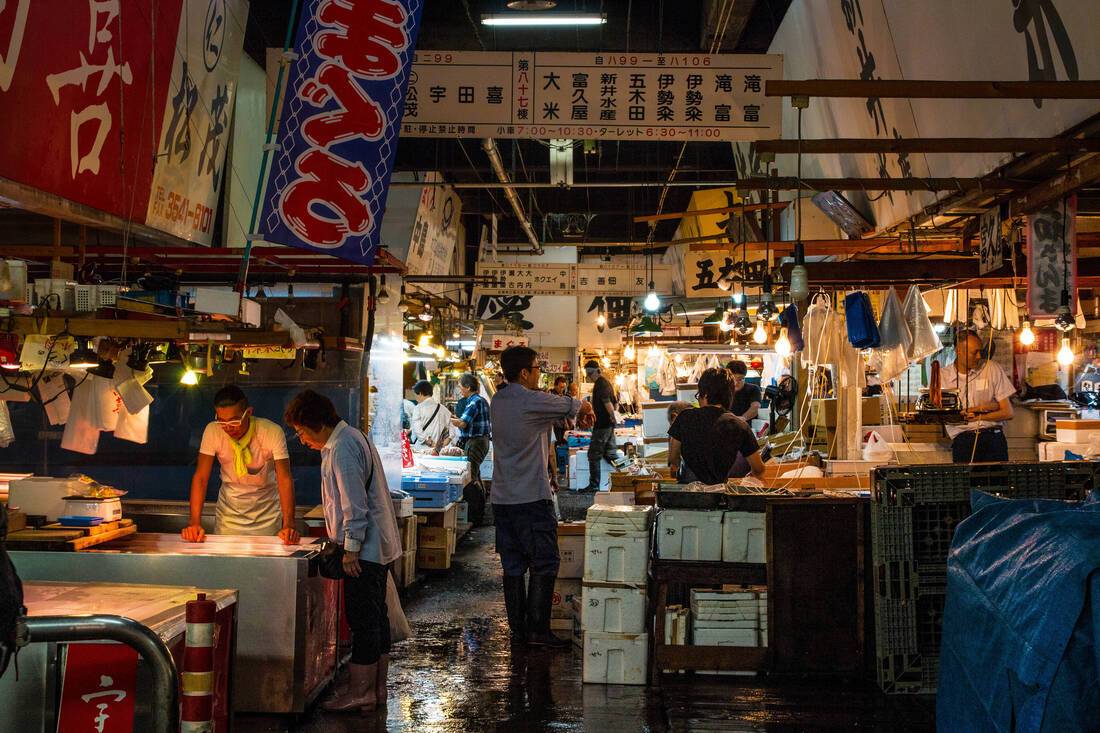 Tsujiki Fish Market is a large wholesale market for fish and fresh produce, in the heart of bustling Tokyo. It's undoubtedly the most famous of all of the city's markets, handling over 2,000 tonnes of fish and seafood each day. Lively auctions and restaurants are a huge draw for tourists, as well as watching local fisherman prepare gigantic tuna. Needless to say, it is the perfect spot for exquisite, fresh sushi for lunch during your cruise stopover.
"Tsukiji is hands-down the best fish market we've ever seen"
Drew and Julie, the couple behind travel blog Drive on the Left, followed their food cravings to Japan. Having lived in London for three years and exploring Europe when they could, the travelling duo packed up and set off for a new life in Shenzen, China, allowing them to explore new corners of the globe. "Japan is a food lover's paradise," said Drew and Julie. "We've read articles and watched TV programs extolling the quality of the food scene, but we wanted to experience it first-hand. Needless to say, it did not disappoint!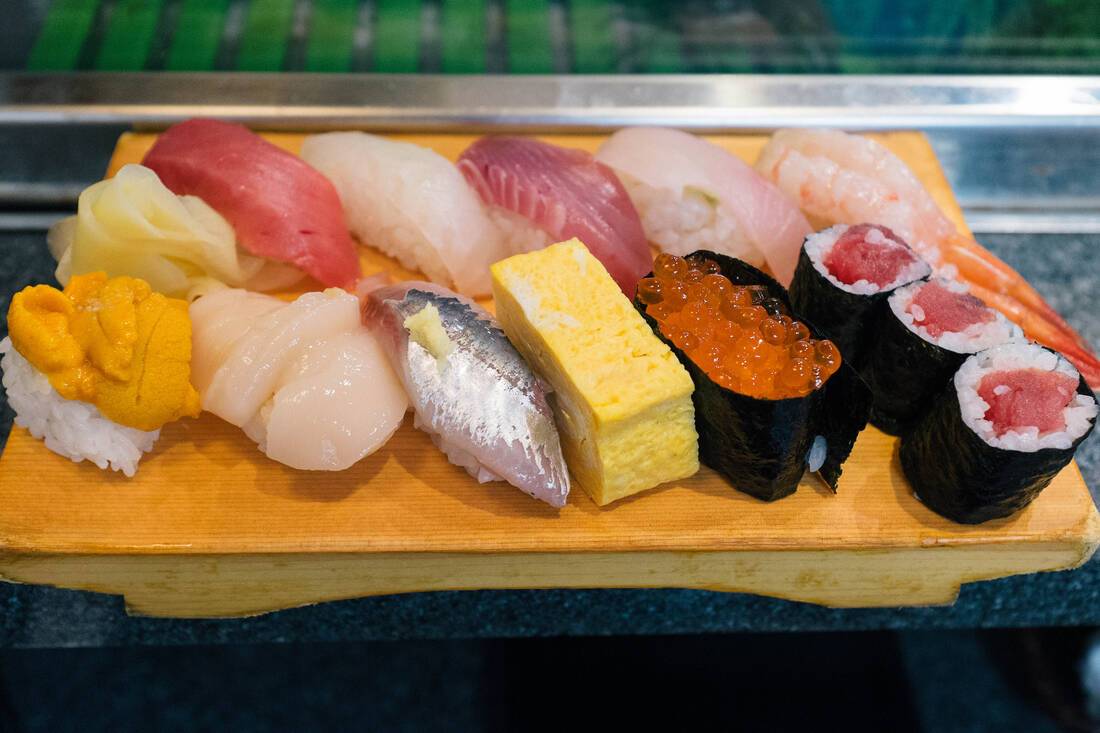 "Tsukiji is hands-down the best fish market we've ever seen. The sheer size and scale of the operation is impressive, but the quality is what really sets it apart. Perfect, tuna, beautiful uni and live shellfish that were just plucked from the sea that morning. And for a fish market the size of Tsukiji, the lack of any strong smell is a testament to the quality and cleanliness of the fishmongers."
Having travelled extensively through Asia, we wanted to find out what Drew and Julie's food highlight of Japan was:
"We dined at Yakitori Nanbantei in Roppongi (a district of Tokyo) and had the best meal of the trip. The tiny yakitori restaurant, down a dark side street from the chaos of Roppongi, expertly grilled skewers of chicken over a charcoal fire, imparting a smoky char while leaving the meat incredibly juicy. Glazed in a sweetened soy sauce, the skewers were simplistic, but the flavour was incredible."
"It's the best place in the world to get fresh tuna"

Image by Chris Travel Blog
Chris, the brains behind Chris Travel Blog, started writing about his travel experiences in order to share his advice with the world. "I visited Japan during the Christmas school holidays and it was the first choice of my kids," said Chris. "They love Japanese food and culture. The two-week Japan itinerary included Tokyo and most of the Kansai Region.
"Visiting the Tsukiji Fish Market is a unique experience, especially if you also go to the tuna auctions early morning. The market closes around 11am. If you visit the wholesale market make sure you do not get in the way of the sellers. They allow visitors but keep in mind they are just doing their job.
"Walking around the market you will see all kinds of fish and other seafood. Huge fish are cut into pieces and sold to the highest bidders. I enjoyed the market a lot as it gave me a good understanding as to how fish ends up in a restaurant."
We asked Chris to tell us about his food highlight: "The highlight at the Tsukiji Fish Market was for sure the tuna. I love raw tuna either as sashimi, in sushi or prepared as poke. The market is the best place in the world to get fresh tuna. It is possible to buy it from the sellers directly or one of the small restaurants. Be prepared to queue at the best ones."
"It was like the seafood nirvana"
Cory and G of You Could Travel were also blown away by the market. We spoke to the duo to get their thoughts: "Japan has long been on our bucket list. As a child, I used to buy books about Japan and read about its culture and tradition. I learned a lot about this incredible country and when we finally managed to afford Japan, we decided to go for the trip of our lifetime.
"Back when we first visited Tsukiji, we were not vegan so for us, it was like the seafood nirvana. We loved it a lot and indulged in so much fresh produce. We tried squid on a stick for the very first time. It was by far the best thing we've ever tasted. We also tried Japanese rolled omelette with roe on top and an array of freshly-prepared sashimi."
We asked Cory and G whether they'd recommend the market to other travellers: "Absolutely! Tsukiji should be on everyone's list, but please be mindful of local traditions. Keep quiet and don't touch anything. Don't be too demanding and never take pictures if the vendor doesn't allow it. When in Japan, be Japanese."
Admission to Tsukiji Fish Market is completely free, however opening hours vary depending on the busy schedules of stallholders and auctions. For full details, visit Japan Guide.
Pike Place Market, Seattle
Must-try: Pike Place Chowder, piroshky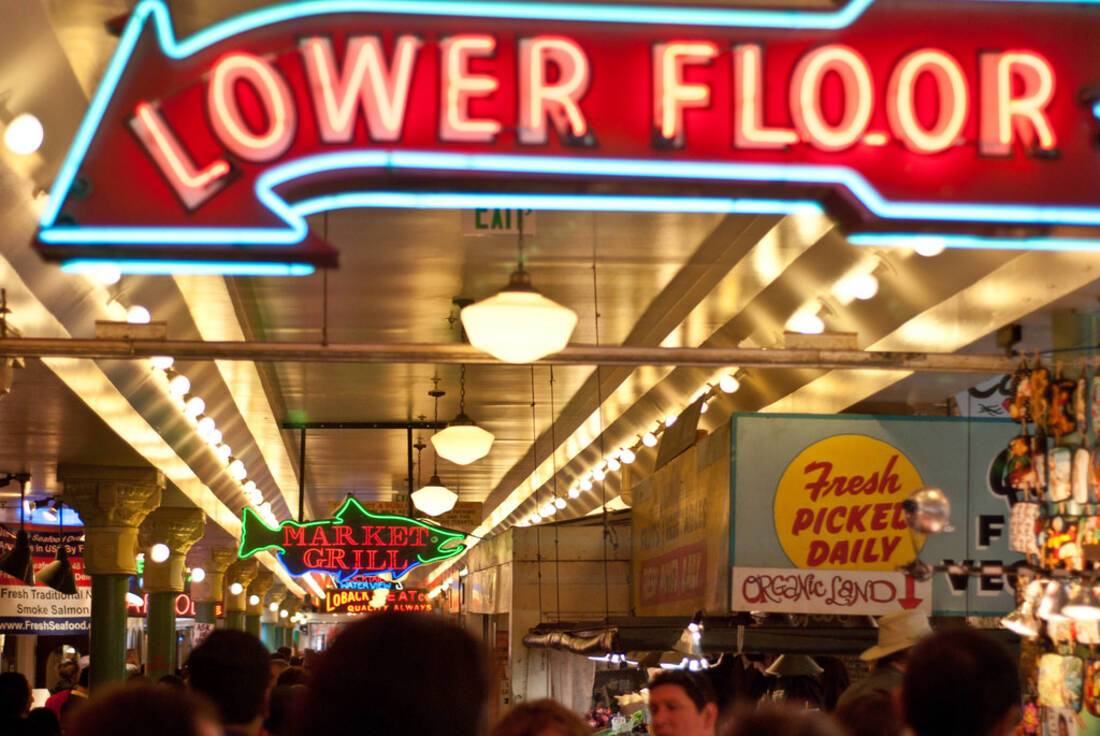 For the best lunch in Emerald City, head to Pike Place Market. With its vibrant neon signs and eclectic mix of eateries, the market is so inviting, and the friendly locals really make the experience worthwhile. If you're craving something unique, perhaps a Russian pastry, for example, check out Piroshky Piroshky. This iconic stall in Pike Place Market is one of the most recommended by locals and tourists, so don't miss out. Choose from a hearty savoury piroshky, with cheese, beef and potatoes, or a sweet option.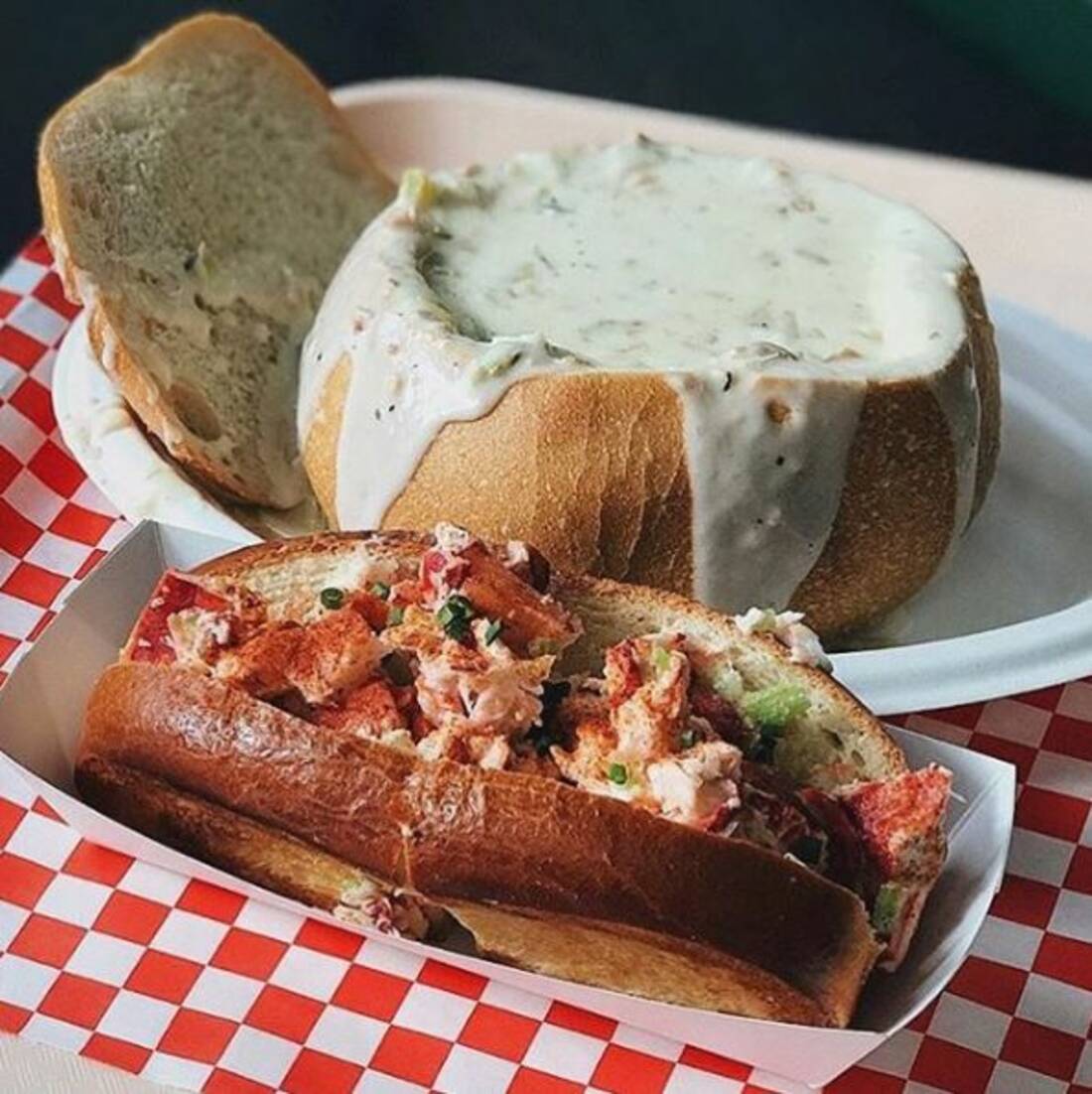 Image: Pike Place Chowder
Another firm favourite is Pike Place Chowder, which serves exquisite New England clam chowder and succulent lobster rolls. Seafood fanatics can opt for the classic clam chowder sourdough bread bowl, as well as crab rolls, salmon sandwiches and much more. For brave meat eaters, a visit to Chicken Valley is essential. Fried chicken gizzards are the star of the show here, and, although it might not be your first choice, locals believe the rich taste will convince you otherwise.
While you're visiting Pike Place Market, look out for its unofficial mascot – Rachel. She's a 550lb bronze piggy bank raising money for the market's low-income housing, food bank and senior centre. Rachel raises approximately $15,000 every year.
La Boqueria, Barcelona
Must-try: Jamon, squid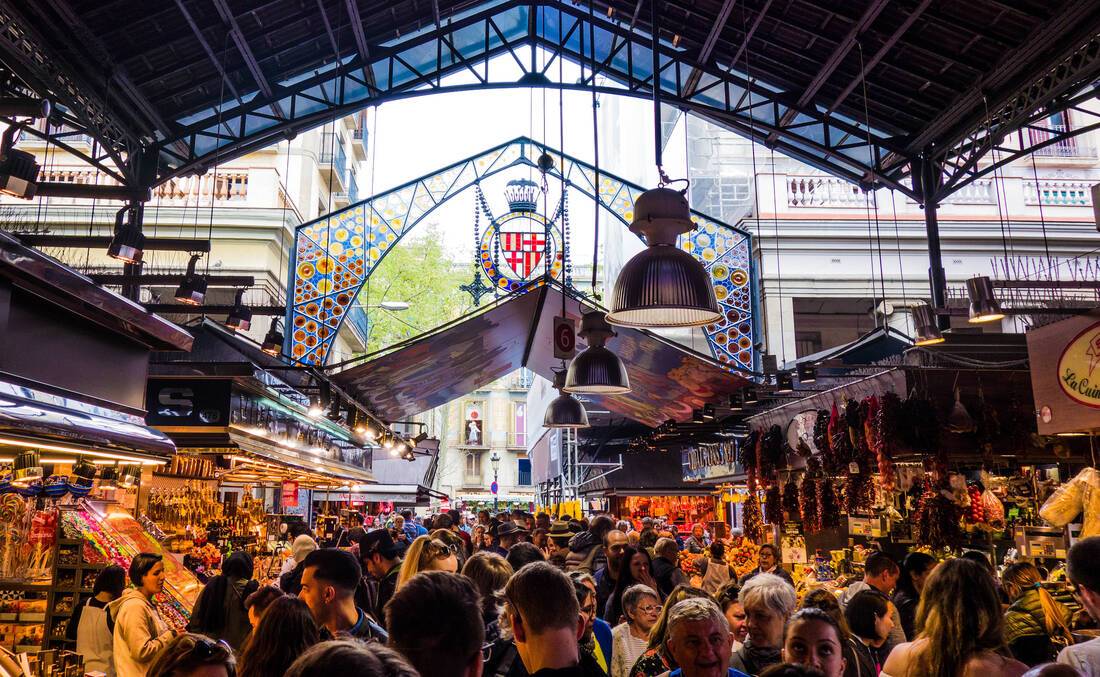 La Boqueria is always abuzz with locals doing their weekly shopping, and tourists looking to sample of some of Spain's finest produce. The lengthy build of this spectacular market took place from 1840 to 1914, and today it is considered one of La Rambla's prettiest buildings. Many of Barcelona's top restaurants order food from La Boqueria, which is a testament to its outstanding quality.
It must be said that while the market is well worth seeking out during your Mediterranean cruise, you will have to fight through the crowds somewhat. As such, it's advised that you arrive as early as possible. Look out for Iberico ham and local cheese, such as Asturias' queso de cabra, a mouth-watering goat's cheese.
Walking through La Boqueria is an assault on the senses, but in the best possible way. Legs of meat hang from the ceilings and fresh fish is prepared before your eyes. If you're stuck as to what to try/buy, look out for what the locals are choosing. After all, they know best! This iconic market is one of the best places for lunch in the world. And if you want to escape the hustle and bustle at a restaurant, there are plenty to choose from inside the market.
"You have not been to Barcelona if you have not visited La Boqueria"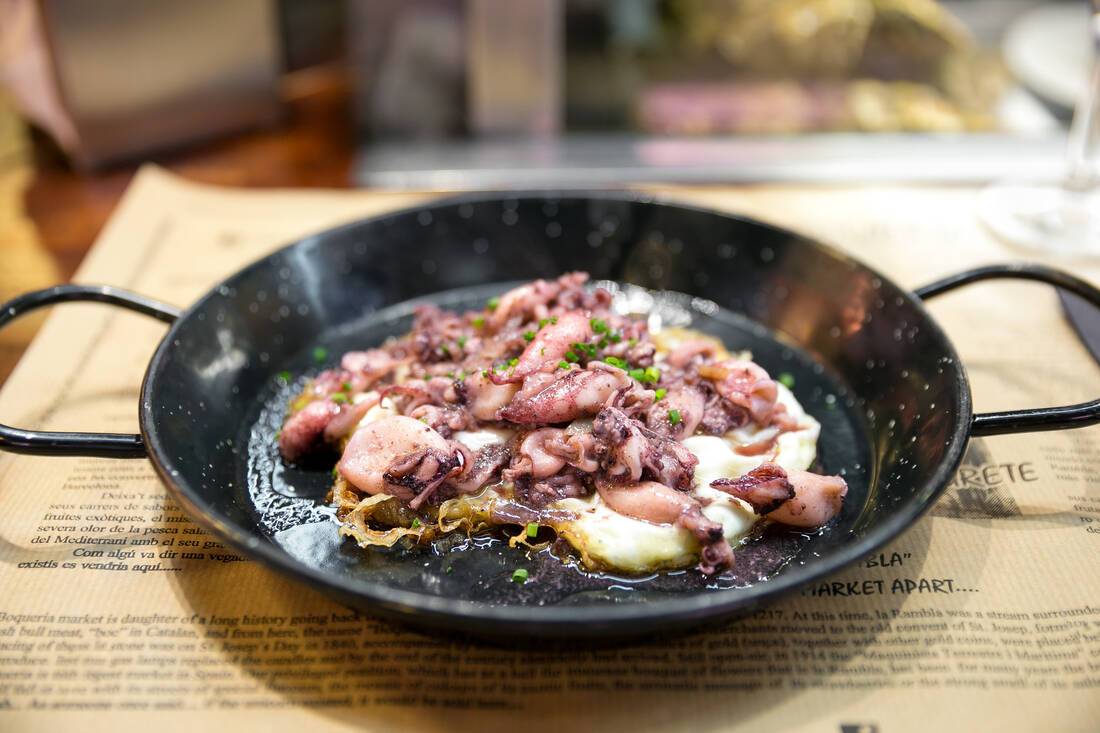 Jane and Duncan, Australian lifestyle travel writers behind To Travel Too, live by the two mantras: 'Age is no barrier when it comes to travel' and 'Chase time, not money'. The duo have dedicated their lives to exploring the world, including foodie hotspots like La Boqueria. "Barcelona was the start of our 18-month travels through Europe, Central America and Asia", said Jane. "We have visited Barcelona a couple of times and we return for the food, culture and the La Boqueria market.
"We love the vibe of the market, the quality and quantity of what's on offer. We have enjoyed breakfast, lunch and dinner over different times and it never disappoints. We say you have not been to Barcelona if you have not visited La Boqueria. I have a cousin who lives in Barcelona and he is there every day."
As Jane and Duncan have such high praise for La Boqueria, we were curious to find out what their food highlights are: "Tapas, tapas and more tapas! Nothing beats a chilled Spanish wine with different tapas for lunch. There is so much tapas on offer, whether you are a vegetarian or not, you are spoilt for choice. Take your time in the market and just wander."
Maxwell Food Centre, Singapore
Must-try: Satay, laksa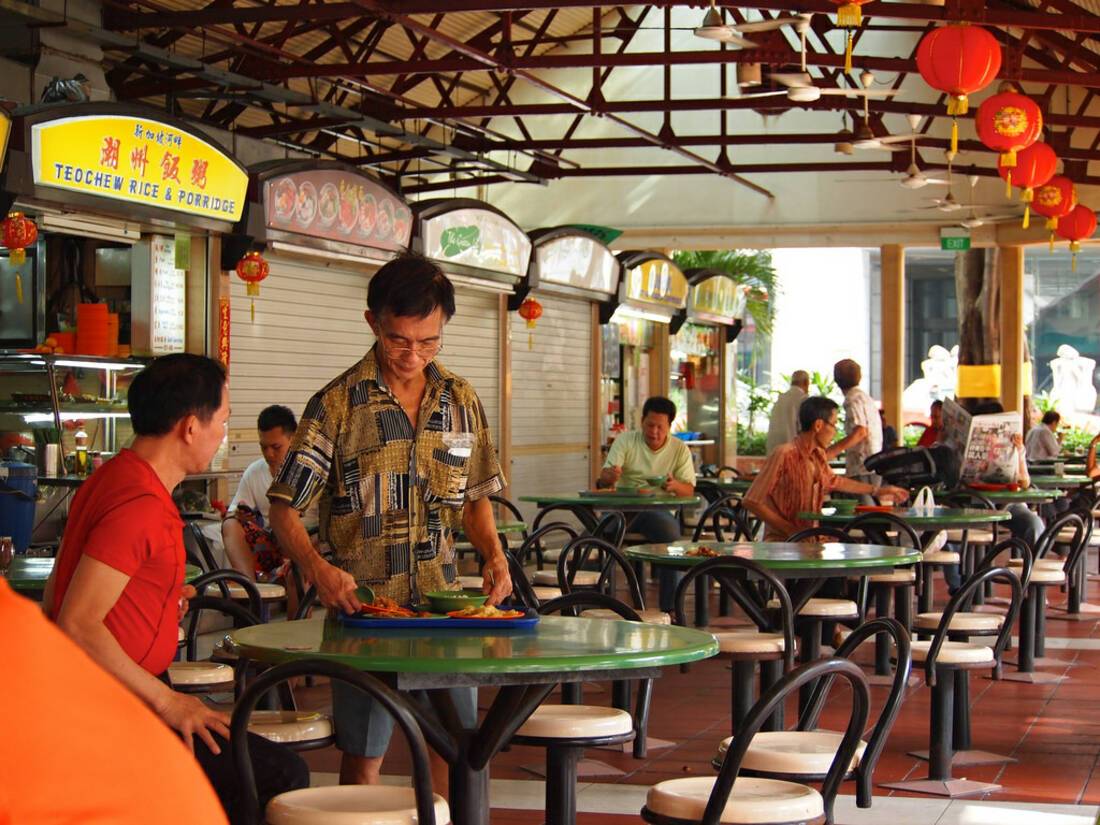 Singapore's food halls, also known as hawker centres, are the best place to seek out local food. With more than 100 stalls, Maxwell Food Centre is hugely popular among locals and tourists. The building is kept cool with powerful ceiling fans, whilst diners hustle to get their favourite dish. Some of the most popular stalls are Tian Tian Chicken Rice, Hum Jin Pang, which serves plain or red bean-filled dough fritters, and Zhen Zhen Fish Porridge. You'll be overwhelmed by the huge range of traditional Singaporean cuisine on offer.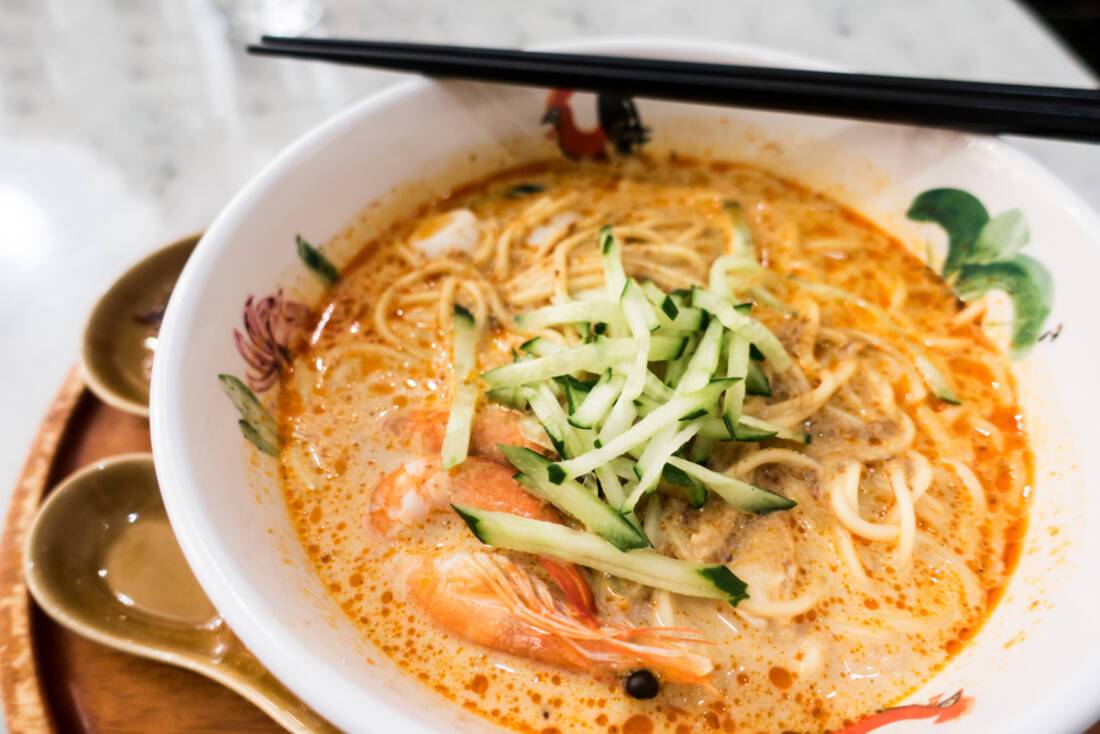 Laksa is one of Singapore's most popular dishes. It consists of rice noodles in a coconut curry soup with shrimp, egg and chicken, created as a fusion of Chinese and Malay cuisine. For those not so keen on seafood, satay is commonly found throughout Singapore. This succulent grilled meat is traditionally served with peanut sauce, cucumber-chilli relish and a rice cake. For more Singaporean dishes, check out the Singapore Guide.
Mercado Central, Santiago, Chile
Must-try: Seafood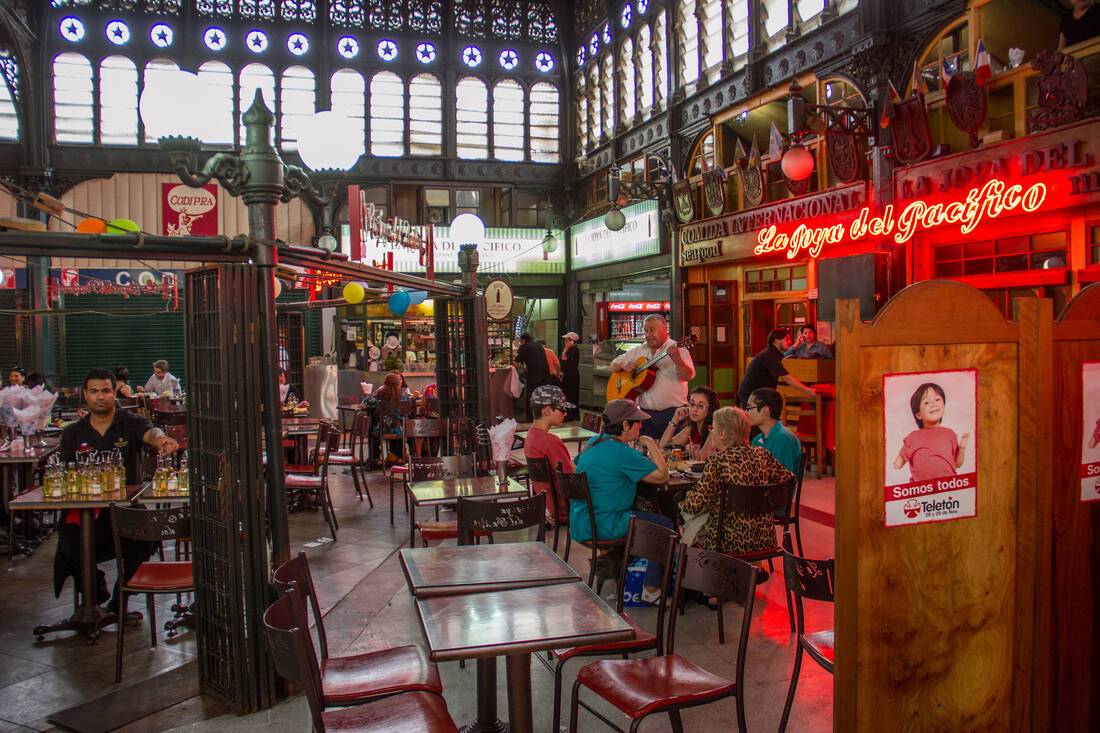 If you're seeking the perfect seafood lunch in South America, head to Mercado Central. Chile's vibrant fish market is a haven for flavour, with fresh clams, fish stews and seafood on the menu. As Chile has an extremely long coastline, seafood forms a huge part of the country's cuisine. Oysters, scallops, mussels and razor clams are found in abundance.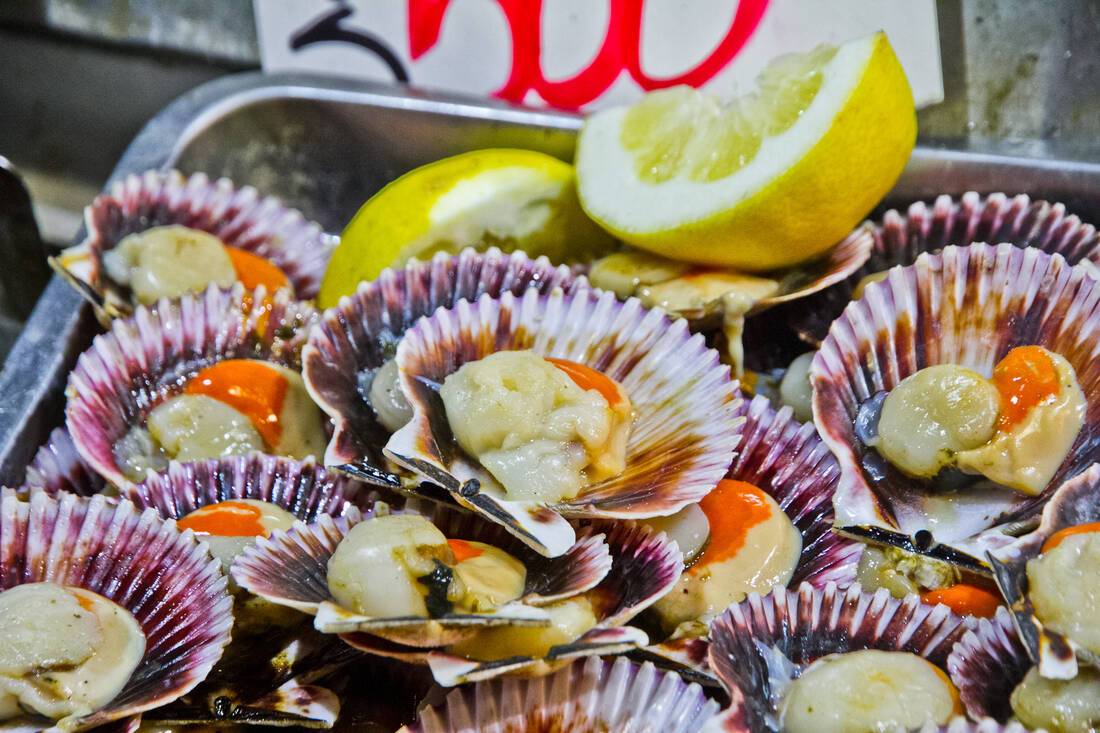 The centre of the market is generally considered to be a tourist trap. Waiters will entice you to their restaurants with special deals, but it's important to head to the periphery of the market, where the locals dine. Here, you'll find tiny eateries with short menus of local specialities. Look out for crab cakes, clams and even sea snails. Most importantly, if you don't know what to order, see what the locals are eating.
Torvehallerne, Copenhagen
Must-try: Smørrebrod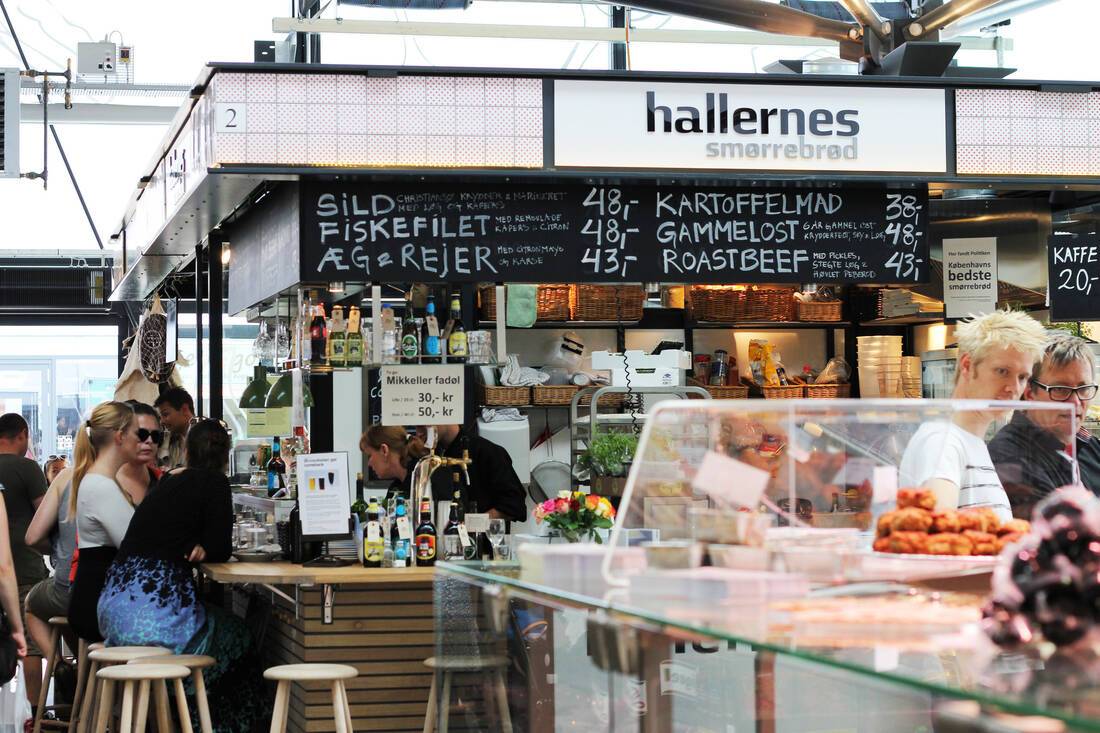 In the centre of Copenhagen, Torvehallerne is a vibrant, contemporary food market. For anyone visiting the city on a cruise holiday, the market is perfectly positioned to explore Nørreport Street and the pristine lakes. Denmark's cuisine focuses heavily on fresh food, and often features unique flavour combinations and textures.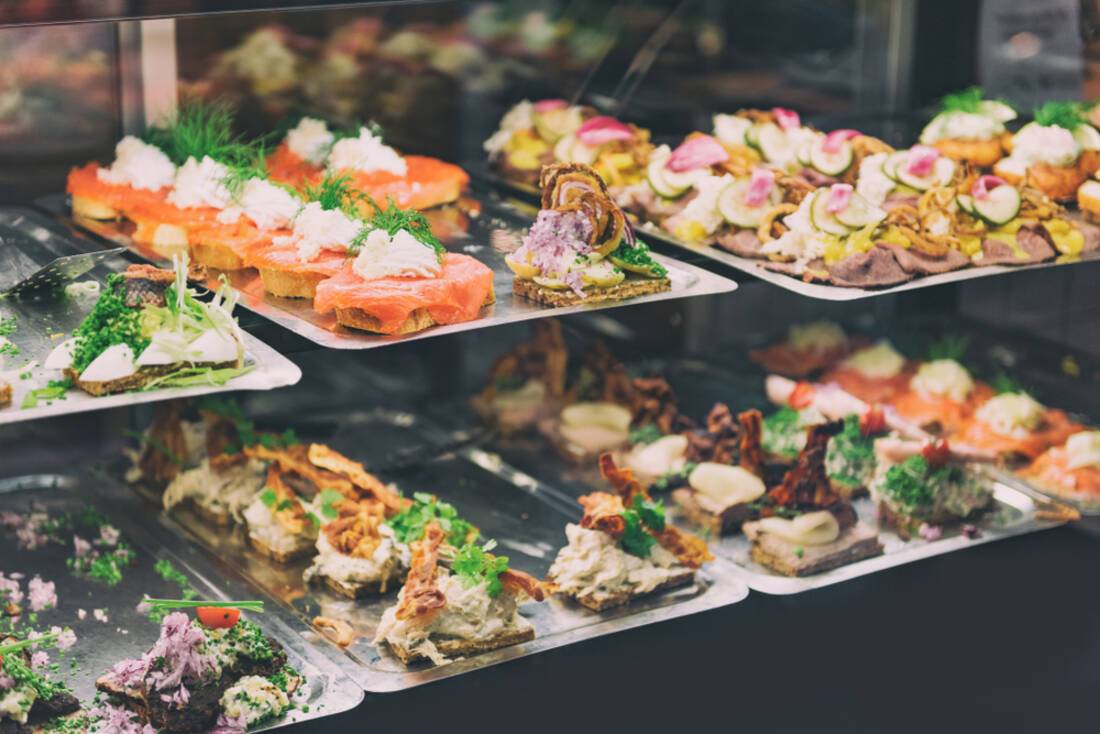 One of the country's most popular dishes is smørrebrød. This perfect lunch dish consists of buttered rye bread topped with a range of toppings, from smoked fish to meat, mushrooms or cheeses. They are beautiful to look at, and even better to eat! For dessert, try a romkugler, a delicious Danish rum ball, or a classic Danish pastry. Torvehallerne is also the ideal place to pick up unique souvenirs, such as artisan food and beauty products.
Granville Island, Vancouver
Must-try: Pies from A La Mode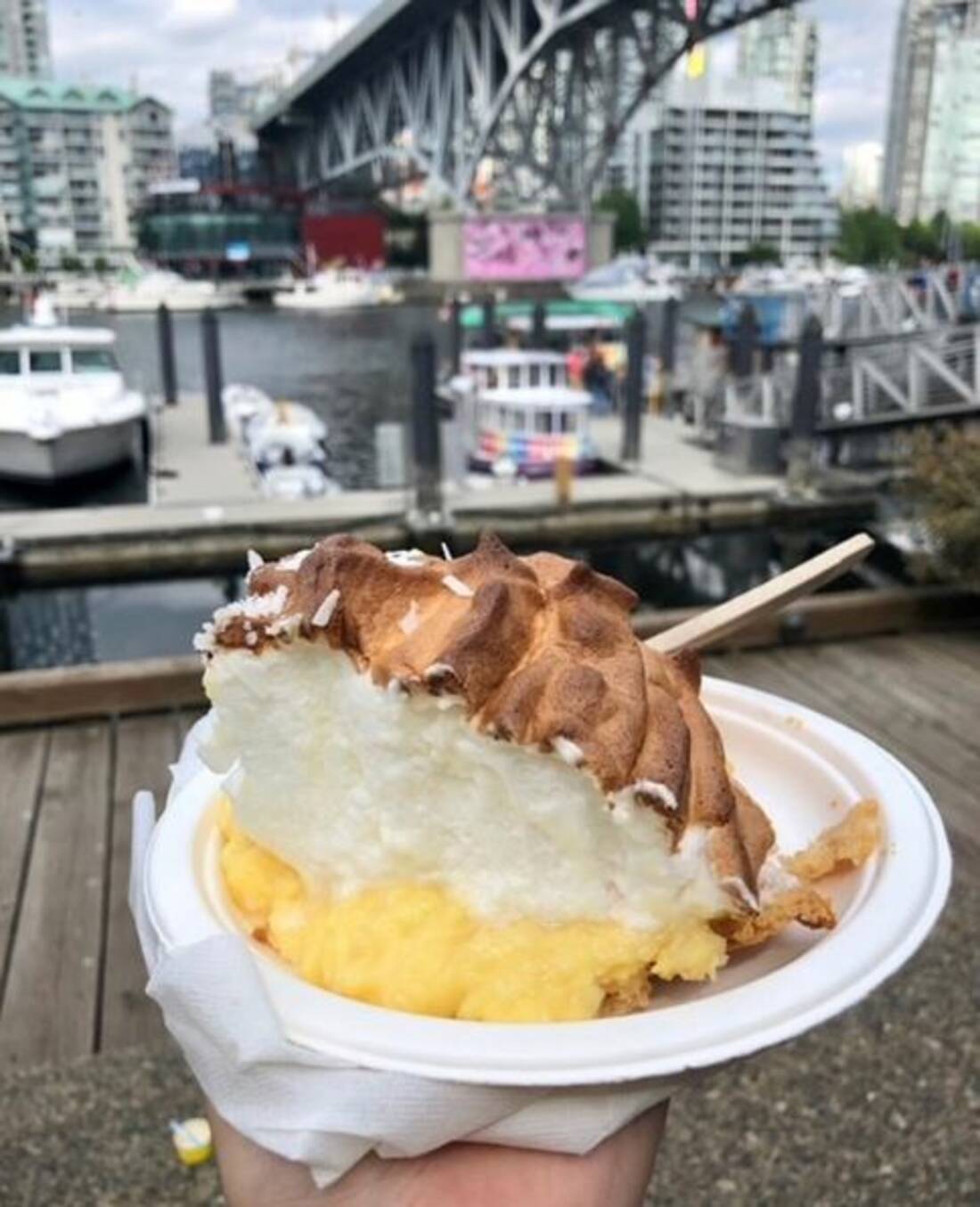 Image: Granville Island
Uniquely positioned on a peninsula in Vancouver, British Columbia, Granville Island is the place to go for artisan products and one of the best lunches in the world. Easily accessible on a cruise to Alaska, the island's public market is iconic, with stalls selling everything from delicious bagels, fresh halibut and chips, pies and all the makings of an indulgent picnic. One essential stop during your visit to the market is A La Mode – a pie shop selling tasty butter tarts and a selection of moreish pies. Granville Island Public Market is open from 9am to 7pm.
One of the best parts of taking a cruise is getting to sample the foods of each country. If you just can't wait to get out there and visit the world's best markets, keep an eye on our last minute cruise deals. We'd love to hear about your top food finds!