Famous for its vintage streetcars, sourdough bread bowls and laid-back vibe, San Francisco is one of the most interesting cities in the United States. Its steep and winding streets are not for the faint-hearted, fortunately you can hop on a streetcar or cable car and simply take in the sights.
For those who are curious to find out more about San Francisco, we've created an interactive map to show you around the city! Highlighting some of the city's top attractions and restaurants, this map provides a comprehensive guide to your visit San Francisco, including the city's historic streetcar and cable car lines. Hover over the icons to find out more about the restaurants and attractions.
If after browsing our essential guide to San Francisco you just can't wait to visit the city, check out our cruise offers to start planning your next holiday! If you've visited the city before, we'd love to hear your recommendations.
Share this Image On Your Site
Classic San Francisco dishes
San Francisco is known for its exciting fusion foods, and of course, seafood. However there are a few classic local dishes you should definitely save some room for during your cruise stopover. The first is a traditional clam chowder bread bowl. Despite technically being an East Coast invention, San Francisco has given clam chowder a unique twist by serving it in a sourdough bread bowl. It's arguably the city's most popular dish and a must-try on your cruise holiday.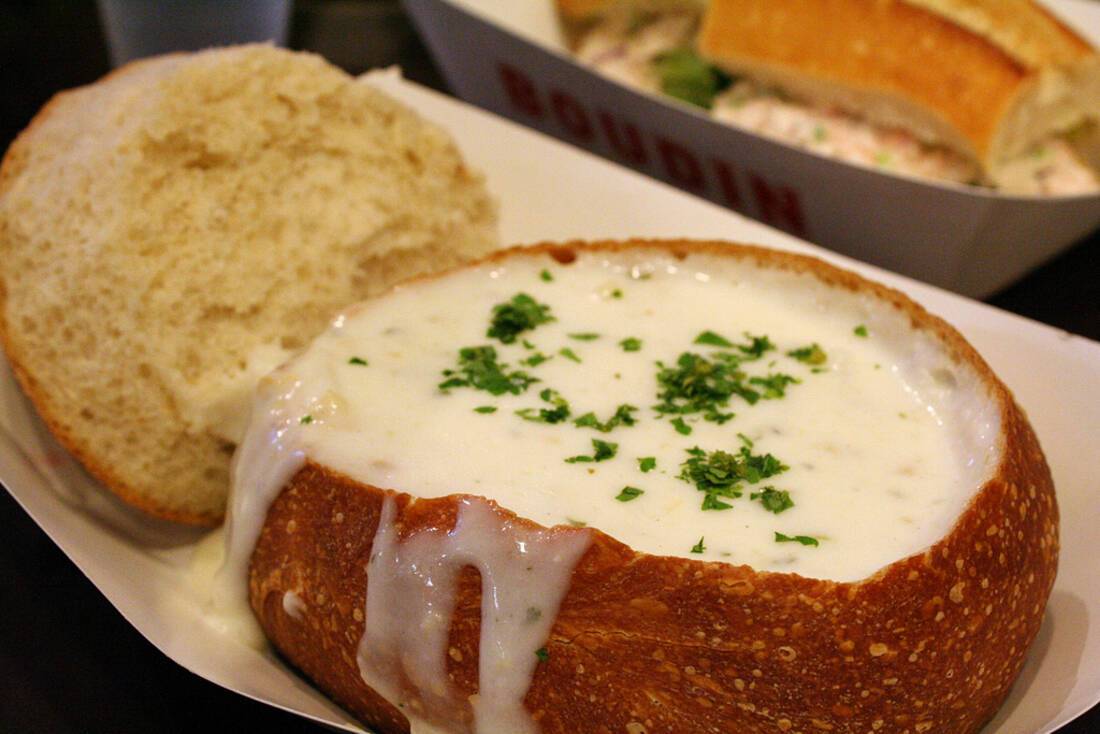 Sticking with seafood, cioppino is one of the most interesting dishes to come from the City by the Bay. Cioppino is a fish stew traditionally made with Dungeness crab, clams, shrimp, scallops, squid, mussels, tomatoes and wine. The Italian-American dish is perfect for warming up on a cool day in San Francisco.
One classic you can't board your ship without trying is an Irish coffee at The Buena Vista Café. Converted from a boarding house to a saloon, this beautiful café (named after the Spanish for 'good view') quickly became a meeting place for fishermen and dock workers in its early days. In 1952, owner Jack Koeppler developed a recipe for Irish coffee, with the help of Pulitzer Prize-winning San Francisco Chronicle columnist Stanton Deleplane, which was inspired by Mr. Deleplane's beverage in Shannon Airport, Ireland. The Buena Vista introduced this tasty drink to the world, and the recipe has remained the same ever since.
Fisherman's Wharf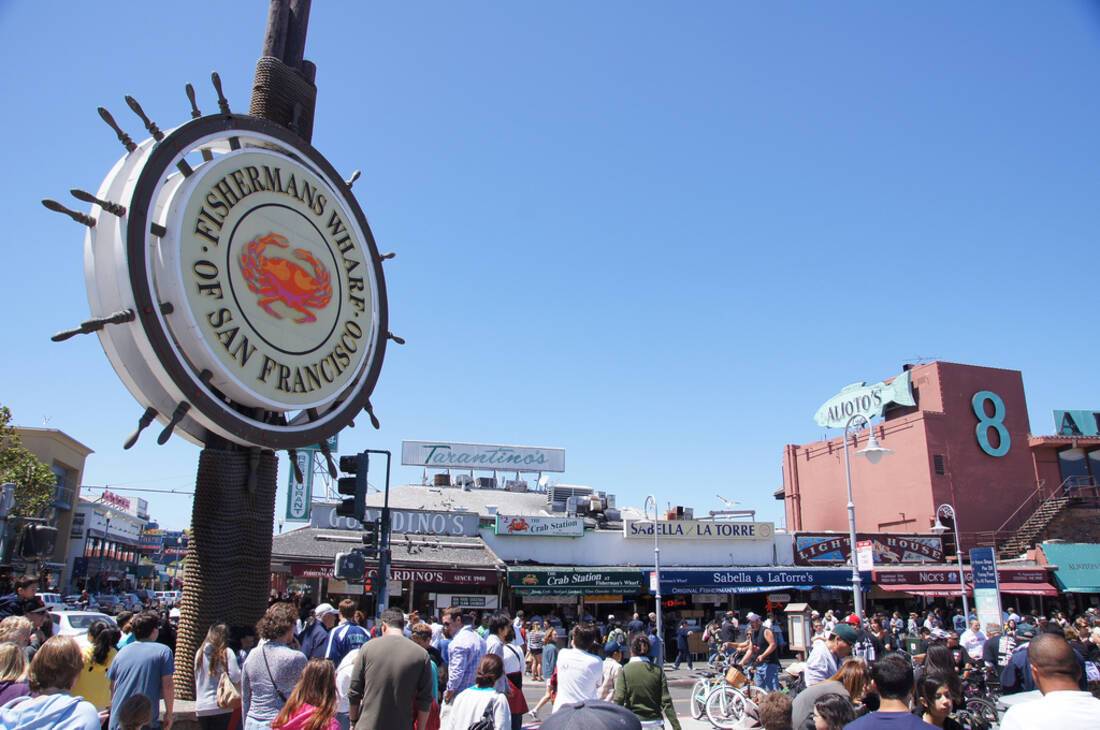 The historic Fisherman's Wharf district of San Francisco is home to the world-famous Pier 39, Ghiradelli Square, Anchorage Square, the National Maritime Museum, the iconic Hyde Street Pier and spectacular views over the water towards Alcatraz Island and the Golden Gate Bridge. As your cruise ship docks nearby, there's really no excuse for not taking a stroll around this area. Seafood lovers can get their fish fix here with plenty of stalls and restaurants serving crab, clam chowder bread bowls and more.
Despite being a major tourist attraction, Fisherman's Wharf still has plenty of charm. It is a hive of activity, with new restaurants and San Francisco institutions standing side by side. You'll see the city's fishing fleet, and if you're keen to learn about the history of the area, the National Maritime Museum will tell you everything you need to know. Don't forget to visit Ghiradelli Square to visit its namesake shop, Ghiradelli Chocolate.
Top attractions in San Francisco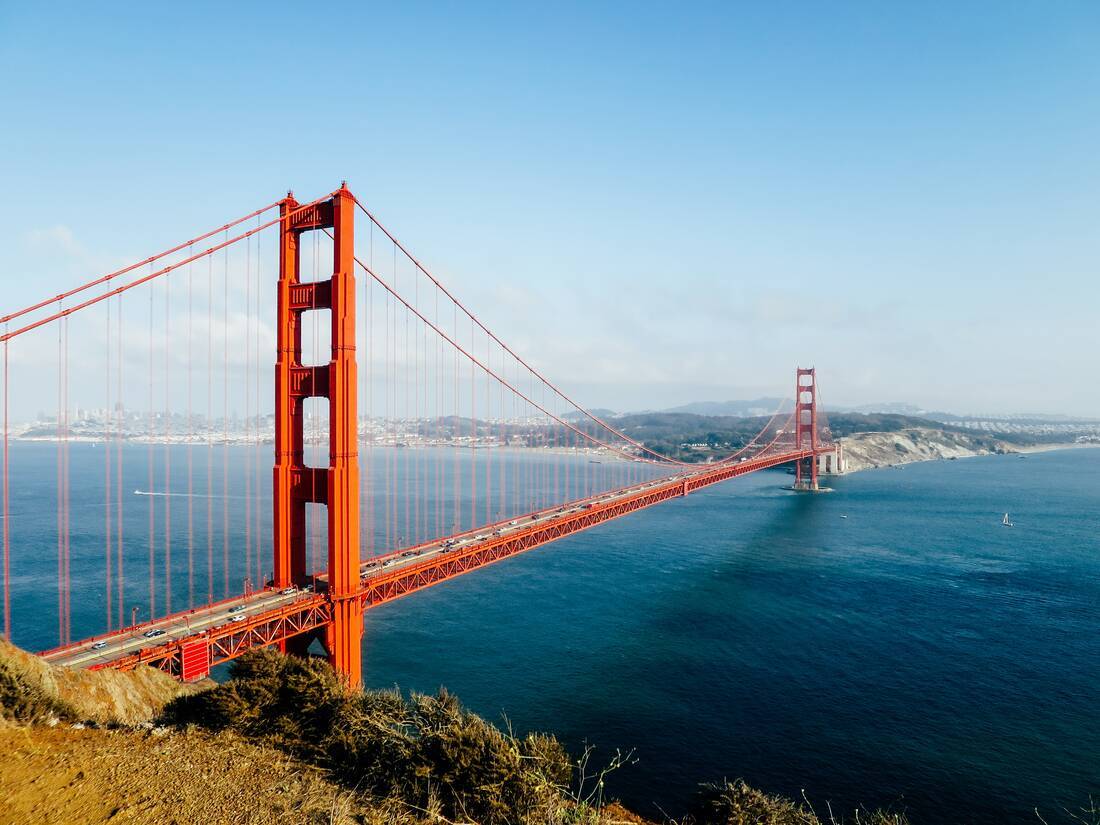 Standing 746 feet above the ocean, the Golden Gate Bridge is one of the world's greatest feats of engineering. This landmark bridge crosses the water to connect the city of San Francisco to the Marin County. At the time of opening in 1937, it was the longest and tallest suspension bridge in the world. Today, visitors can catch a glimpse of the bridge from the famous Fisherman's Wharf and even follow the coast to see it close up or walk across it.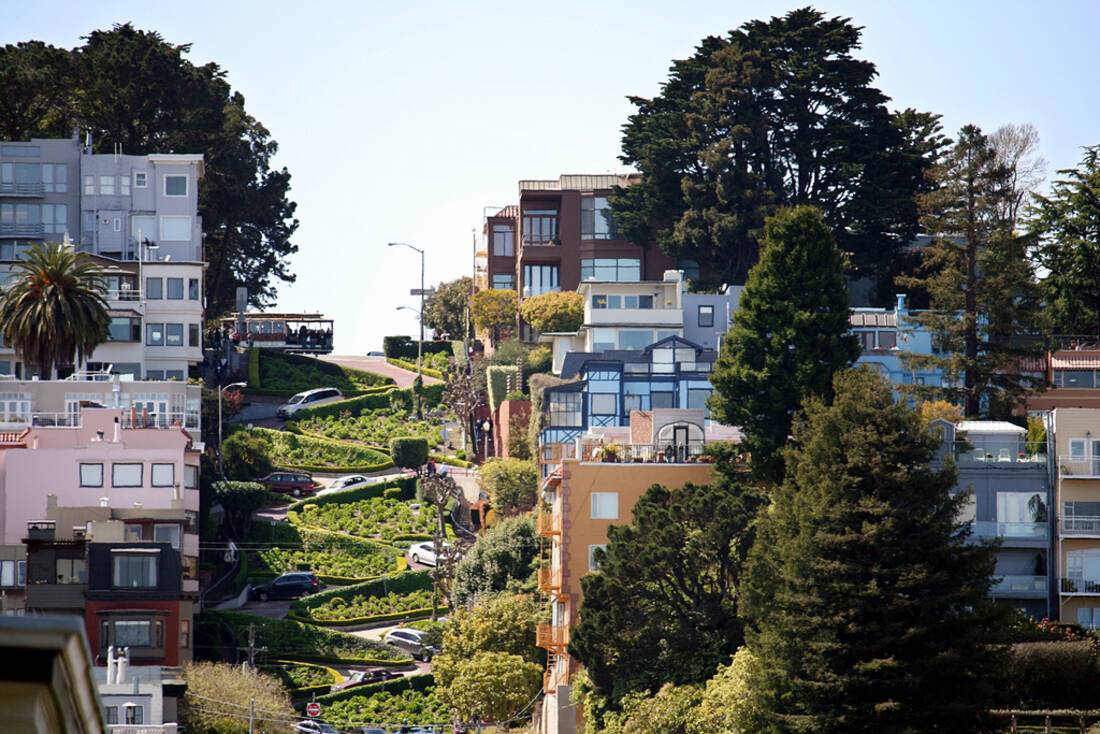 One of San Francisco's most unusual attractions is Lombard Street. Its eight hairpin turns make life difficult for drivers, but also create an entertaining spectacle for observers. The famous one-block section is claimed by many to be 'the crookedest street in the world'. Lombard Street can be found in the Russian Hill neighbourhood and welcomes around two million visitors per year.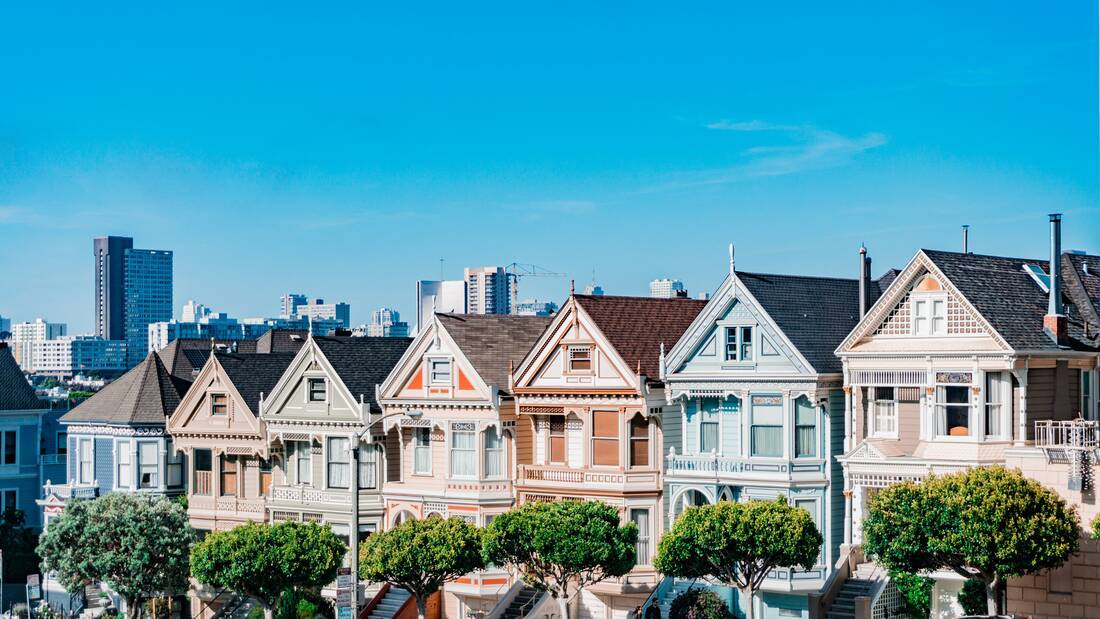 Painted Ladies are Victorian and Edwardian houses and buildings repainted in three or more colours to enhance their architectural features. And one of the most spectacular examples of this form is the cluster of homes in San Francisco. Around 48,000 houses were built in Victorian and Edwardian styles from 1849 to 1915, and many were painted in these beautiful pastel colours. Visit this iconic row of homes for yourself to get the perfect holiday snap. See our interactive map above for the location.
History buffs won't want to miss out on visiting the grand Haas-Lilienthal House. Built in 1886 by Jewish immigrants, this stunning Victorian home miraculously survived the 1906 earthquake and fire, and remains intact. Now a site of national cultural and architectural significance, the Haas-Lilienthal House offers public tours to visitors.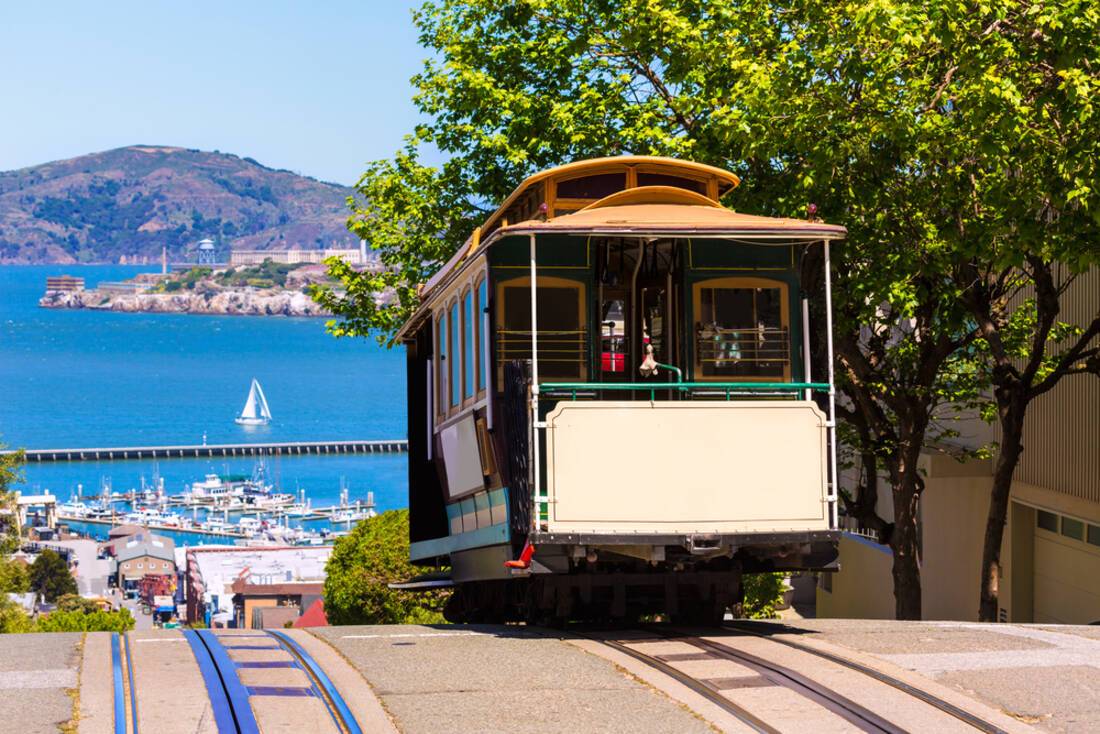 If you're set on exploring the city on foot, or via tram, Nob Hill is a worthwhile stop. Once home to the mansions of railroad barons, the area is still upmarket, with fine-dining restaurants, ornate architecture and the Gothic-style Grace Cathedral. Stop by to do some window shopping and visit the Cable Car Museum, which houses antique cars and gives you a unique insight into the city's trams and cable car systems.
Image credit: Marit & Toomas Hinnosaar, Derek Key, Patrick Tomasso, Ross Joyner, Allie Caulfield