A traveller's guide to the Caribbean
Dreaming of soaking up the sun on a tropical beach? Known for its picturesque vistas, pure white sand beaches, turquoise waters filled with tropical fish and endless outdoor adventures, the Caribbean features on many people's bucket lists. With P&O Cruises offering lots of exciting Caribbean itineraries, you could be in paradise in no time. Just don't forget to read our traveller's guide to the Caribbean before you go.
How many Caribbean islands are there?
The Caribbean consists of more than 7,000 islands, islets, and reefs, each with their own distinct personality. The archipelago sprawls across more than a million square miles and is subdivided into different regions: the Lucayan Archipelago, the Greater Antilles, the Lesser Antilles, and the ABC islands.
Which islands should I visit?
Each incredible island offers something unique but with so many to choose from it can be a little overwhelming. Luckily, many of P&O Cruises Caribbean itineraries sail to multiple islands, meaning you can see much of this archipelago in one go. But just in case, here are our favourite Caribbean islands that we think are a must-see.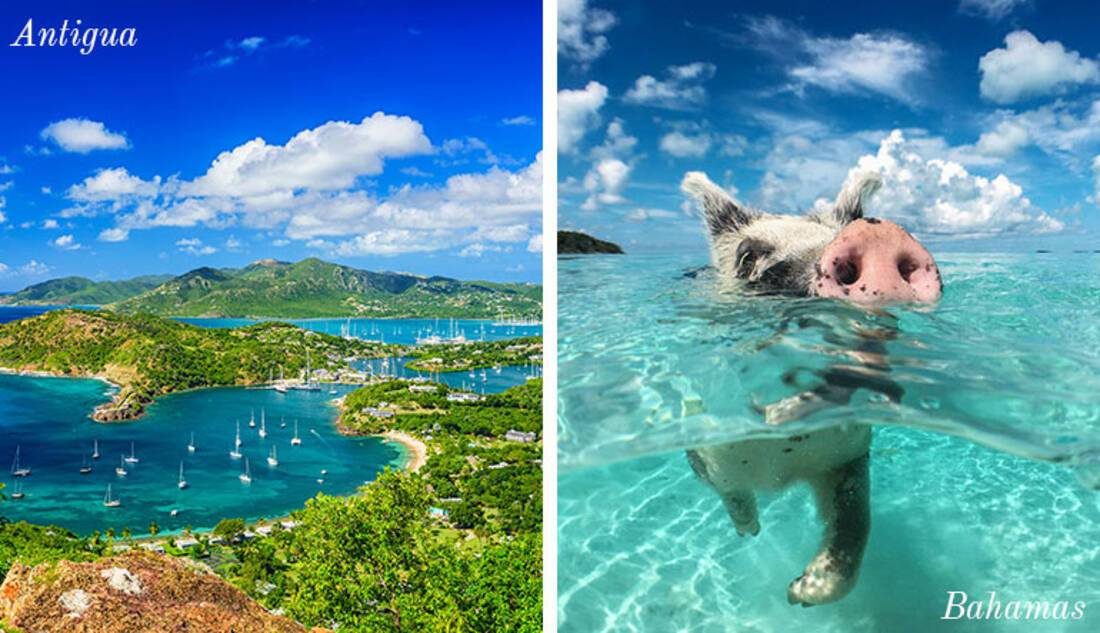 Antigua
With its white sand beaches, glimmering blue sea and laidback locals, Antigua is a quintessentially Caribbean island. But don't be fooled by its gorgeous backdrop, there is more to Antigua than meets the eye. With a wealth of history and culture just waiting to be discovered, this is one island sure to win your heart.
The Bahamas
When you step onto the sandy beaches of The Bahamas, you'll feel as though you're the first to discover the sleepy cays and crystal clear waters of this phenomenal island. Soak up the sensational sights, sounds and easy living of The Bahamas on breathtaking beaches and in old-world towns or get acquainted with the locals at Pig Beach. Where else in the world can you freely swim with pigs?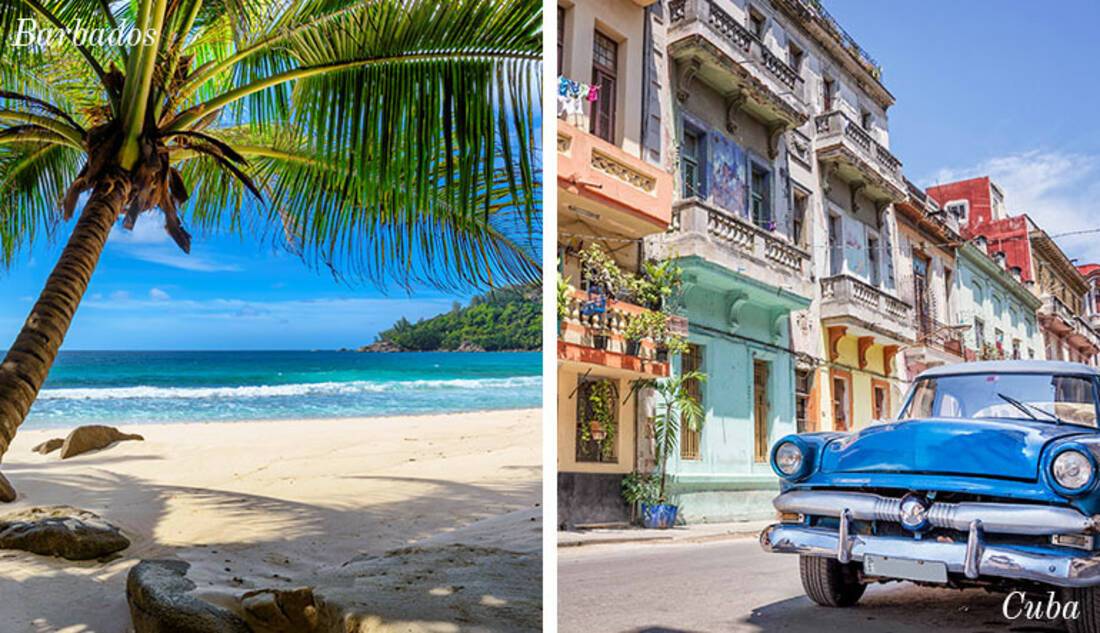 Barbados
Tropical beaches with coral-rich waters, friendly locals and cheeky green monkeys characterise blissful Barbados. The calm shores in the west and south make for a relaxing and cultural escape, while the wave-lashed sandstone cliffs of the north and wind-blown east are a scenic haven for photographers and surfers.
Cuba
A Caribbean island with a Latin American twist, Cuba is a riot of colour, music, heritage, and culture. One of the world's last remaining socialist countries, Cuba's fascinating history is just waiting to be explored, while its vivacious present is likely to charm you wholeheartedly.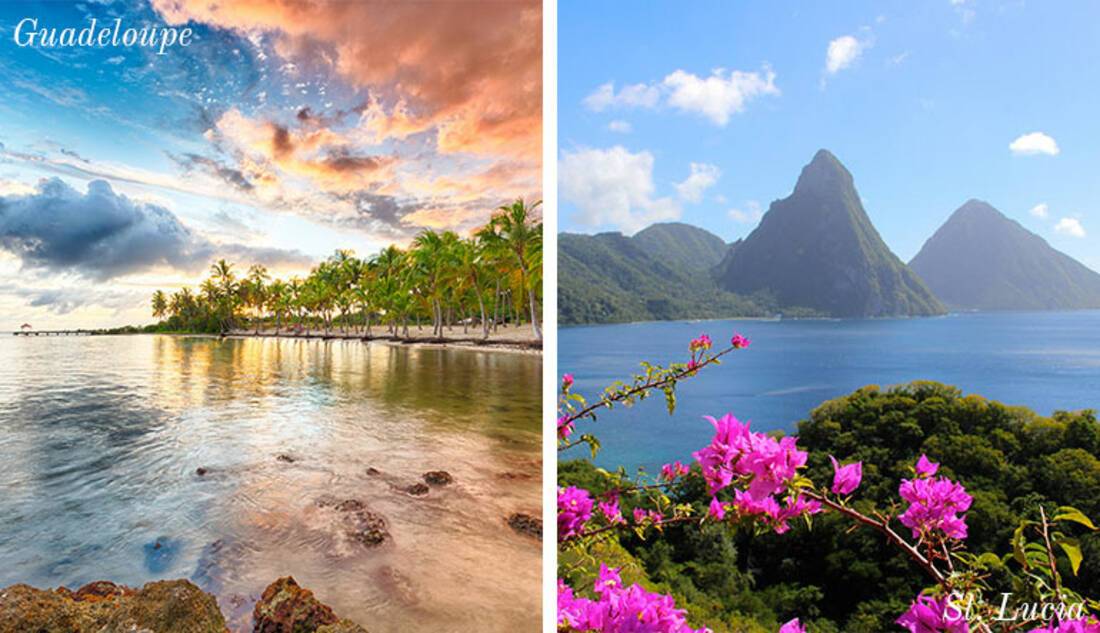 Guadeloupe
Designated as a UNESCO Biosphere Reserve, the archipelago of Guadeloupe is lush with multi-coloured shorelines, verdant vegetation and Franco-Caribbean culture. Each of its five main areas offer their own distinct appeal: La Désirade is a geological gem, Les Saintes is an exotic archipelago and untouched Marie-Galante is a breathtaking haven of peace.
St. Lucia
Stunning St. Lucia is an adventure waiting to be had. The dramatic twin peaks of the Pitons make a majestic backdrop as you hike through the rainforest, sail with dolphins, or sip a cocktail on a palm-fringed beach. Feast on flavoursome cuisine, shop the duty-free malls of Castries or tour a plantation for a taste of this vibrant Caribbean island.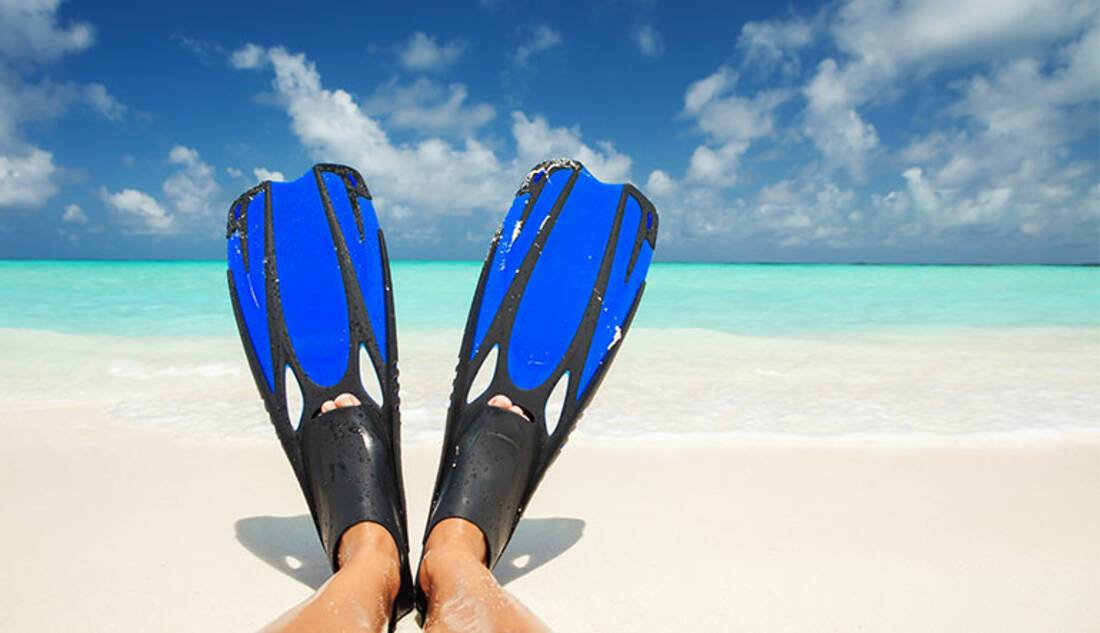 Fun things to do in the Caribbean?
With lots of islands to explore comes lots of things to do. Here are our five favourite things to do in the Caribbean:
Dine on delectable Caribbean cuisine
Caribbean cuisine is as colourful as it is flavoursome. The combination of spices, herbs and seasonings make for mouth-watering dishes filled with unique flavours, colours, textures, and smells. Make sure to try jerk chicken or curry goat, two popular Caribbean dishes that vary depending on which island you're visiting.
Explore the underwater world
Mysterious shipwrecks and vibrant reefs are waiting to be explored. Whether you're an experienced diver seeking a new challenge or a beginner eager to explore the underwater world, the Caribbean islands offer unforgettable experiences. To help you decide which island to pick, read our guide here.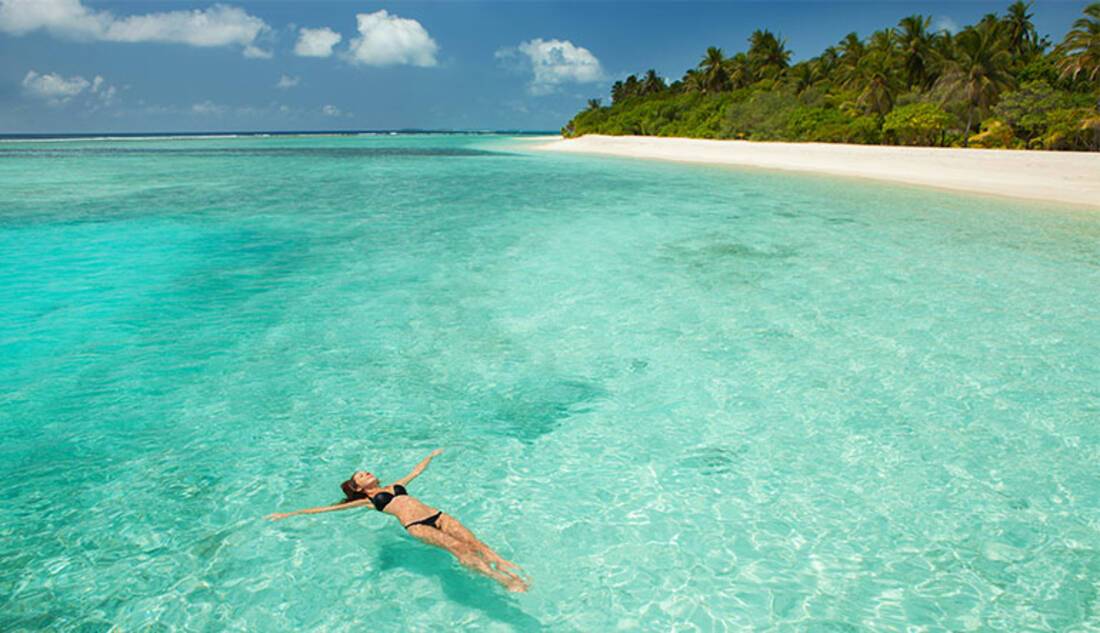 Relax on a picturesque beach
Blissful beaches are one of the Caribbean's prized jewels. No matter how many times you visit, the region's diverse beaches will continue to surprise you. Relax on the beach as turquoise waters gently kiss the shore and the sun beats down on your skin.
Have fun at a festival
Caribbean carnival culture is famous around the world. Festivals represent the rich history and vibrant culture of each island and people unite over a shared love of music, food, dancing, and incredible costumes. From Trinidad and Tobago to St. Lucia, whichever island you find yourself on, the chances are there will be a festival of some kind.
Island hop
Island hopping allows you to really get a sense of each culture's diversity, with new landscapes, cuisines, wildlife, and people comes a change in vibe. And with plenty of ferries to take you from island to island, you can embrace a slower pace of life by island hopping in your own time.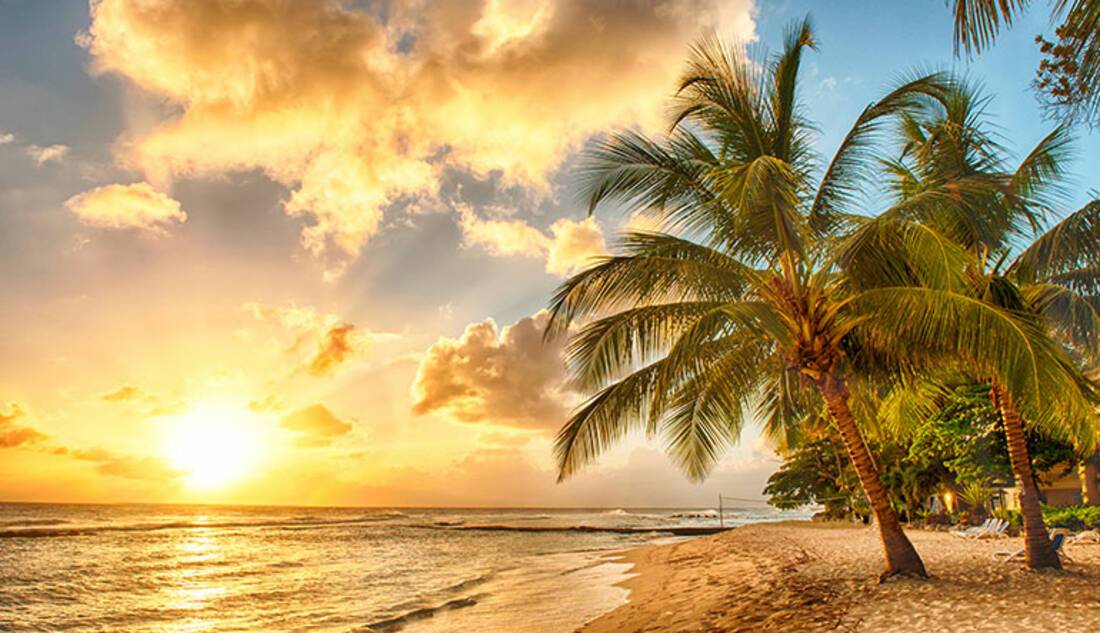 When is the best time to visit the Caribbean?
When cruising the Caribbean, a big factor to bear in mind is the weather. Though generally good all year with temperatures between 24 and 29°C (75.2 and 84.2°F), December to April is the Caribbean's high season with more sunny days and less rain on average than other times of year. It is also slightly cooler during this time (particularly in the northern Caribbean), drier and less humid.
May to November can be wet with hurricane season running from 1st June to 30th November, though these are rare in further Southern Caribbean islands such as the ABC and Trinidad and Tobago. The best time to visit the Caribbean very much depends on your interests, for example migrating birds and nesting turtles all have their favoured seasons.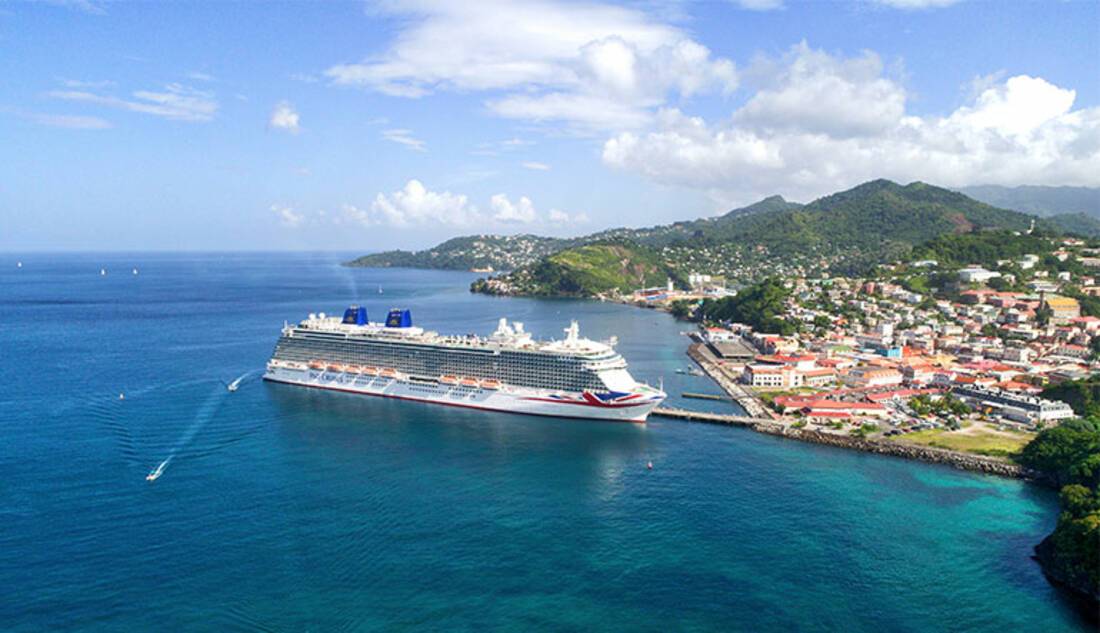 Sail away with P&O Cruises
One of the oldest cruise lines in the world, P&O Cruises offer exceptional service, incredible attention to detail and delicious cuisine. The on board experience is like no other, with attentive, friendly staff and a relaxed, welcoming ambience.
Experience the good life and enjoy a blend of discovery, relaxation and exceptional service with a P&O Caribbean cruise:
Azura
Azura is one of P&O Cruises largest ships carrying up to 3,100 passengers. She boasts an enormous variety of bars, haute cuisine restaurants, sports facilities, spa treatments, age-specific entertainment, and a host of other exciting activities. She is a family-friendly cruise ship with a ton of great activities to keep the whole family entertained.
Britannia
Britannia is P&O Cruises flagship. She is the epitome of style and glamour and although inspired by times past, she has been designed for the future. On board she truly has something for everyone with elegant public areas, tantalising restaurants, and plenty of exciting entertainment. And for the solo traveller, Britannia offers purpose-built cabins with balconies for those travelling alone.
Which will you pick?