South America is made up of 12 independent countries; Argentina, Bolivia, Brazil, Chile, Colombia, Ecuador, Guyana, Paraguay, Peru, Suriname, Uruguay and Venezuela. Each offers its own spirit and its own unique wildlife. From sloths to monkeys, jaguars to iguanas, here's your guide on animals to look out for during your cruise to South America: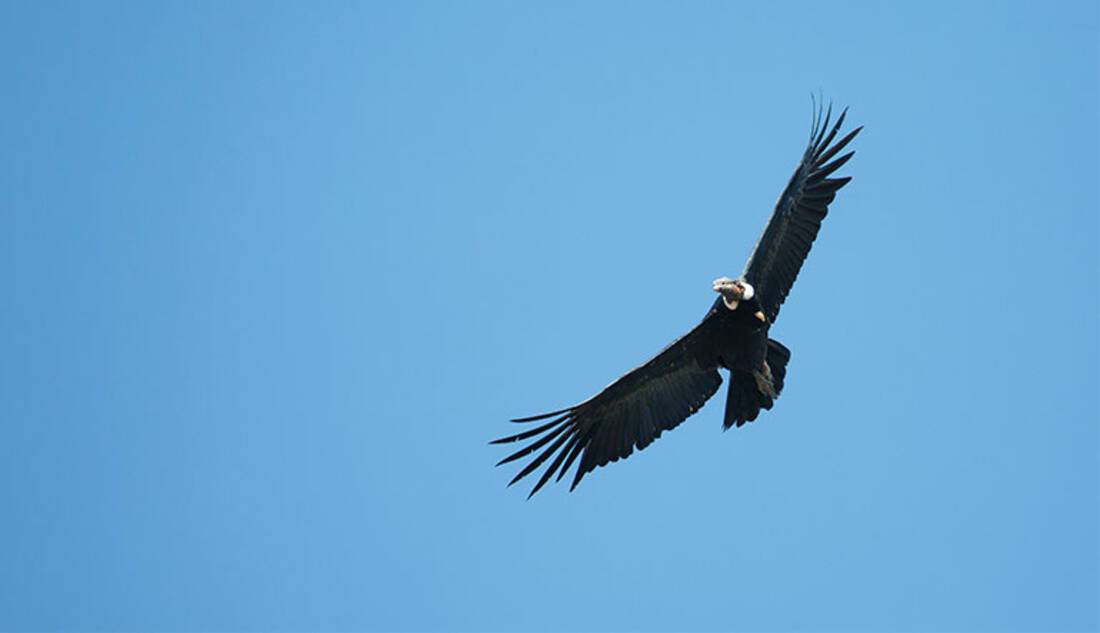 Andean Condor
Common Name: Andean Condor
Scientific Name: Vultur Gryphus
Type: Bird
Diet: Carnivore
Size: Body - 4 feet, wingspan - up to 10.5 feet
Weight: Up to 33 pounds
One of the largest flying birds in the world, the Andean condor is the national animal of Colombia. Andean condors reside in open grasslands and alpine areas within high mountain regions of South America, preferring to stick to windy areas where they can glide on air currents with little effort.
The birds are mostly black but males have distinctive white collars around their necks as well as some white markings on their wings. They have the largest wingspan of any bird and are known to take long flights. Andean condors communicate through pecking and varied vocalisations and they prefer to feast on large animals. Although along the coast, the birds will on dead marine animals such as seals and fish.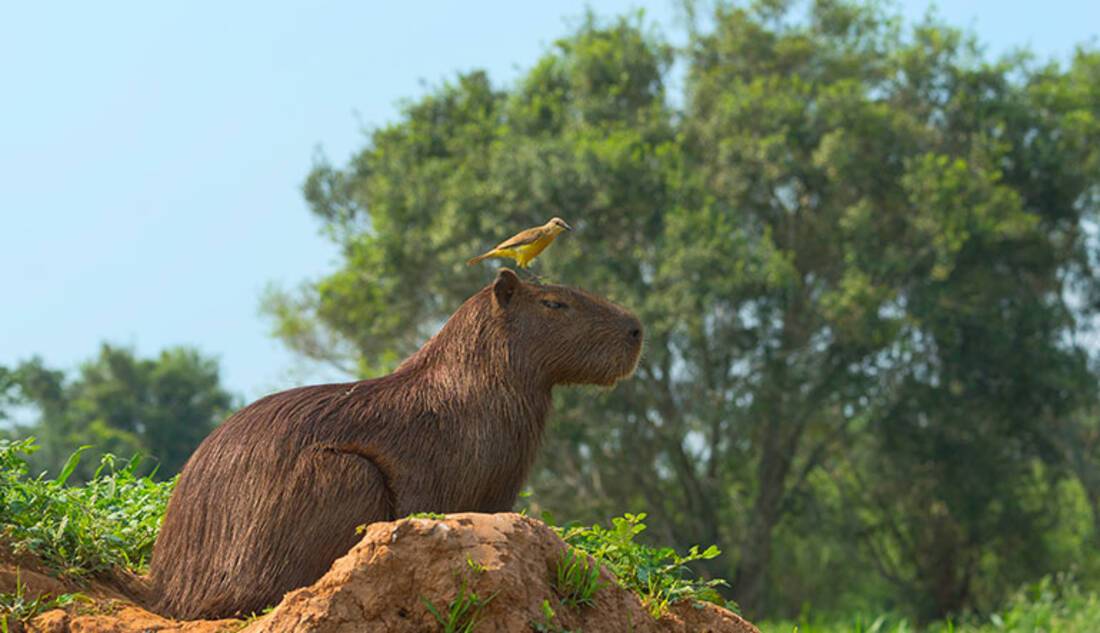 Capybara
Common Name: Capybara
Scientific Name: Hydrochoerus Hydrochaeris
Type: Mammal
Diet: Herbivore Size: Body - 4,6 feet, height - 2 feet (at shoulders)
Weight: Up to 143 pounds
Capybaras are the world's largest rodent. Closely related to the guinea pig, with similar faces, these friendly furries can be found all over South America. They live close to rivers and swampland and love to swim - they can dive underwater for several minutes in search of their next meal. Capybaras use their unique aquatic skills to avert danger from predators.
They are very sociable animals who associate in groups of 10 or more and communicate through purrs and whistles. Each group has a dominant male who possesses a distinct scent. Capybaras are nocturnal and tend to nap throughout the day and graze throughout the night. Fun fact - their teeth grow continuously!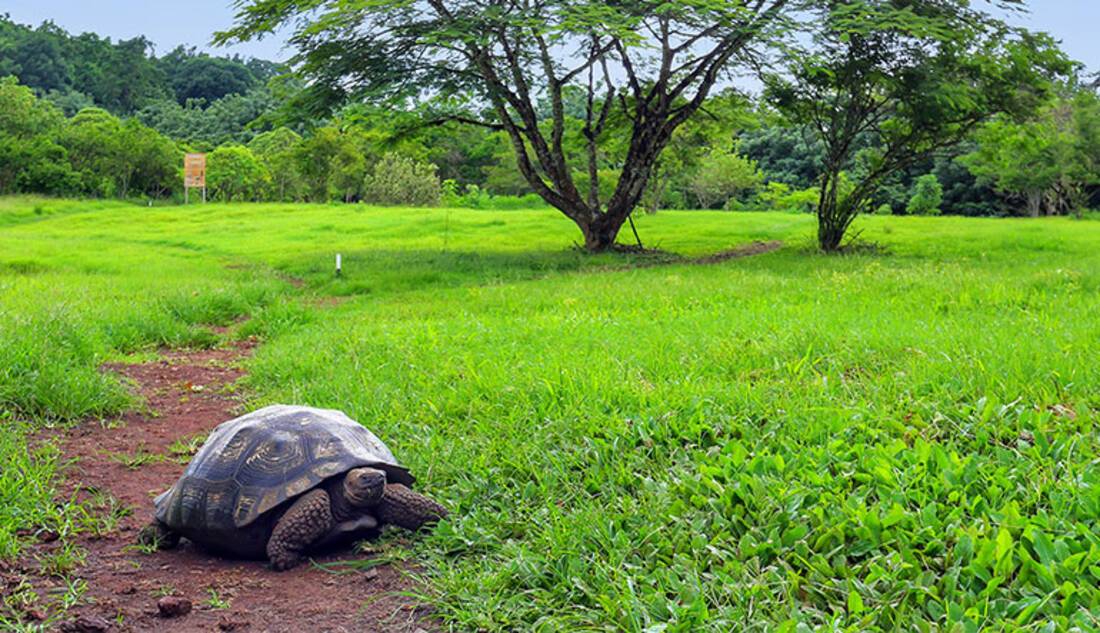 Galápagos Tortoise
Common Name: Galápagos Tortoise
Scientific Name: Chelonoidis Nigra
Type: Reptile
Diet: Herbivore
Size: 4 feet
Weight: Up to 475 pounds
Perhaps the most famous animal on the Galápagos Islands, Galápagos tortoises are amongst the oldest living creatures on earth. Lonesome George was the oldest tortoise on record at 152. The animals lead an uncomplicated life (perhaps that's why George lived so long!), grazing on grass, leaves and cacti, basking in the glorious sun and sleeping for almost 16 hours a day.
Galápagos tortoises, the world's largest, are typically found in humid highlands preferring completely dry lava soils where the terrain is usually arid and grassy. The animals have a slow metabolism and can store large quantities of water internally - this means they can survive up to a year without eating or drinking.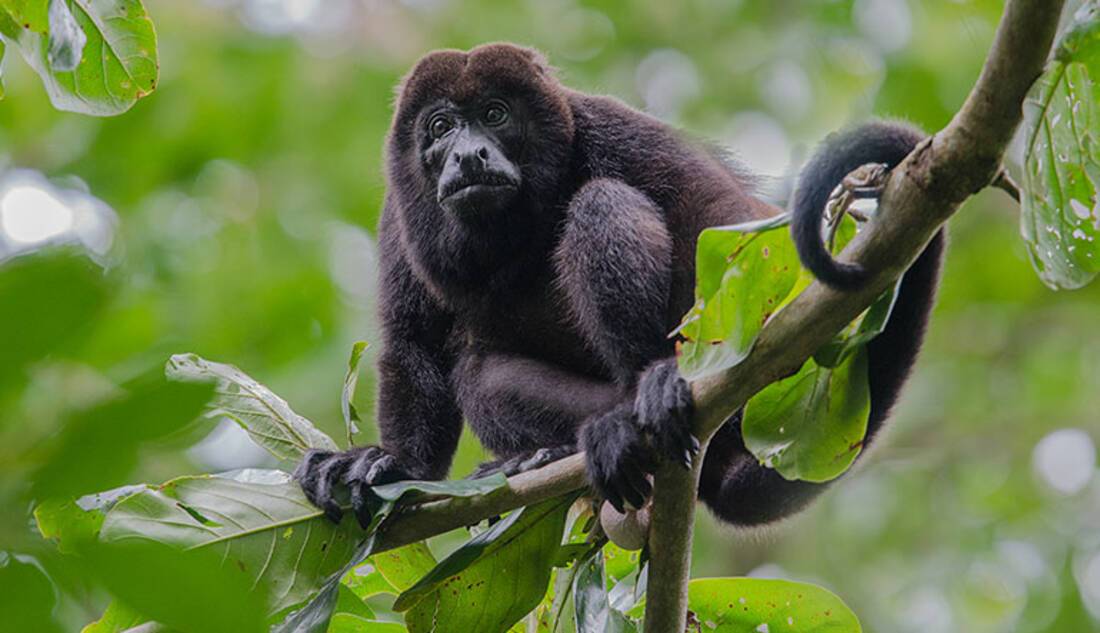 Howler Monkey
Common Name: Howler Monkey
Scientific Name: Alouatta
Type: Mammal
Diet: Omnivore
Size: Body - up to 36 inches, tail - up to 36 inches
Weight: Up to 22 pounds
Found in the rainforests of central South America from eastern Bolivia to southern Brazil, Paraguay to northern Argentina, howler monkeys are aptly named for their cacophonous cries. The monkeys can be heard from up to 3 miles away - their cries send a clear message to surrounding monkeys, this territory is already occupied by a troop.
Of all the New World monkeys, howlers are the largest. Unlike Old World monkeys they have wide, side-opening nostrils and no pads on their rumps. They have beards and long, thick hair and they use their tail as an extra arm to grip and sometimes hang from branches. They rarely descend to the ground, so their tails are very helpful.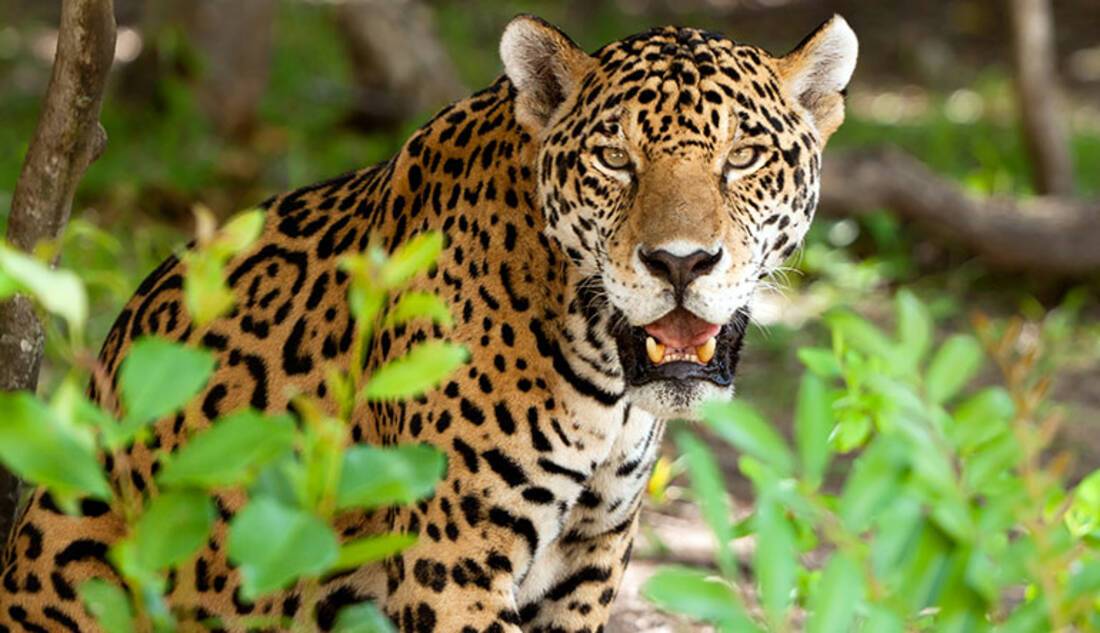 Jaguar
Common Name: Jaguar
Scientific Name: Panthera Onca
Type: Mammal
Diet: Carnivore
Size: Body - up to 6 feet, tail - up to 36 inches
Weight: Up to 250 pounds
Mexico's national animal, jaguars are the largest feline and third biggest cat in the world. Typically found in tropical rainforests, savannas and grasslands, the animals once roamed broadly from central Argentina to the southwest of the United States. Though they live in expansive areas, sightings are not guaranteed. Jaguars live alone and are very territorial - they define their territory by clawing trees or marking the area with their waste.
Unlike other cats, jaguars do not avoid the water. They are indeed very good swimmers and hunt for fish, turtles and caimans using their incredibly powerful jaws to pierce the animals skulls. But they also eat deer, peccaries, capybaras and tapirs which they prefer to ambush at night.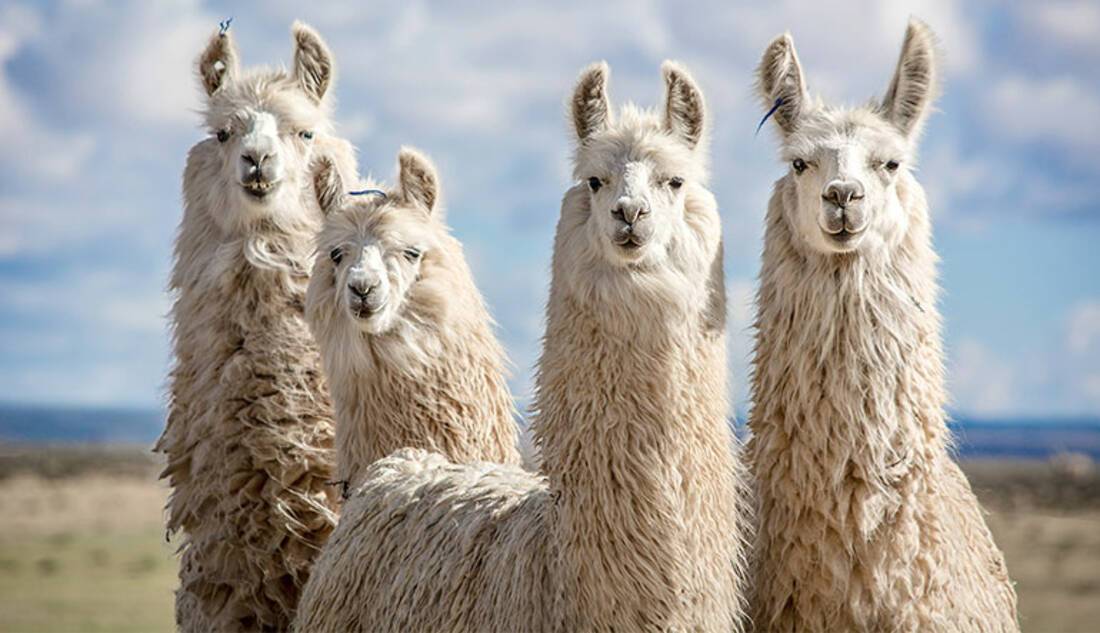 Llama
Common Name: Llama
Scientific Name: Lama Glama
Type: Mammal
Diet: Herbivore
Size: 47 inches
Weight: Up to 250 pounds
Relatives of the camel, llamas are domestic animals used by the peoples of the Andean mountains. Used as transportation for many years, llamas are typically saddled with loads weighing up to 75 pounds and can cover up to 20 miles in a single day. But, they are exceptionally stubborn creatures, and if overloaded they will simply not move. They can kick, hiss, spit and even lie down until their burden is lessened.
Llamas are incredibly intelligent. They learn quickly, are curious and are very sociable - their main form of communication is humming. Like cows, they graze on grass and regurgitate their food to chew it as cud - they can chomp on cud for some time before swallowing it for complete digestion. Llamas can survive by eating many different kinds of plants and need very little water.

Marine Iguana
Common Name: Marine Iguana
Scientific Name: Amblyrhynchus Cristatus
Type: Reptile
Diet: Herbivore
Size: Up to 5 feet
Weight: Up to 3.3 pounds
Described as 'disgusting, clumsy lizards' and 'imps of darkness' by Charles Darwin, marine iguanas are indigenous to the Galápagos Islands. We agree with Darwin, they're not the prettiest animals but what these unusual creatures lack in looks they make up for with their amazing and unique ecological adaptations. Their short, blunt snouts and razor-sharp teeth help them to scrape algae off rocks, their flattened tails allow them to move through the water and their long claws enable them to cling to rocks.
Though they look fierce, marine iguanas are actually gentle herbivores which survive exclusively on underwater algae and seaweed. They have become synonymous with the islands they inhabit and have evolved in an area that is limited in predators.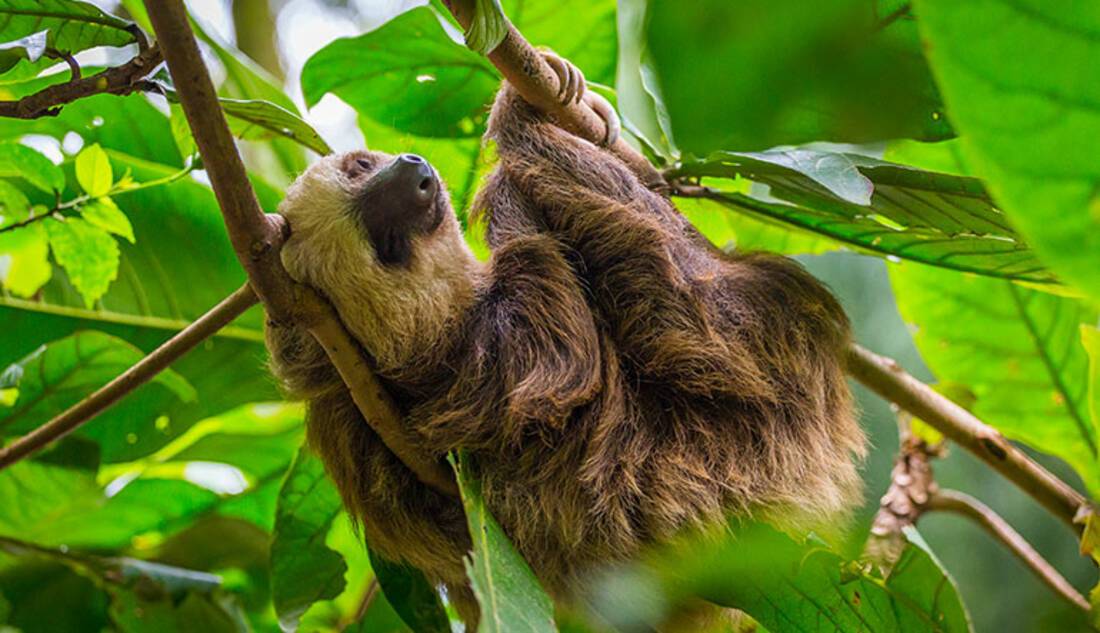 Sloth
Common Name: Sloth
Scientific Name: Bradypus
Type: Mammal
Diet: Herbivore
Size: Up to 23 inches
Weight: Up to 8.75 pounds
The slowest mammal in the world - sloths are typically found in the rainforest or jungles of South America. There are two types of sloths, two-toed and three-toed. These sluggish tree-dwellers are built for the high life and spend nearly all of their time aloft. Aided by their long claws, their powerful grip allows them to hang from branches and move through the canopy at a rate of about 40 yards per day. This enables them to munch on leaves, twigs and buds.
Sloths also sleep in trees and their exceptionally low metabolic rate means they spend anywhere from 15 to 20 hours a day sleeping. On land, sloths aren't quite as majestic. Their hind legs are weak and provide no power while their long claws are a hindrance. Surprisingly, sloths are excellent swimmers thanks to their long arms - they occasionally drop from their perches high in the treetops for a paddle in the water.