Food is one of the most important parts of any travel experience. And on a cruise holiday, you have the unique opportunity to sample new and exciting local cuisine every day. If you only have one day to spend in a new city, region or country, and are struggling to narrow down your long list of bucket-list dishes, perhaps we can help. Read on to find out the one dish you should eat in every European country.
Western Europe
Belgium – Moules-frites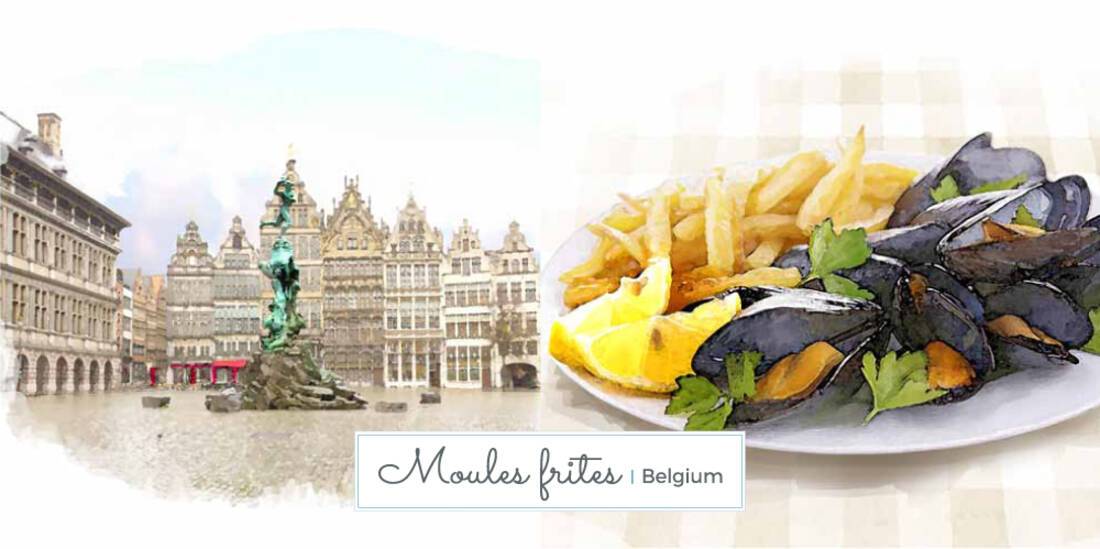 Originating in Belgium, this classic dish is a simple combination of mussels and fries. The mussels, served in a separate dish, are cooked in a garlic and white wine sauce, while the fries are made perfectly crispy on the outside and fluffy on the inside. When visiting Antwerp or Ghent on a Fred Olsen cruise, this is a must-try meal. For vegetarians, the fries alone are well worth the trip!
Austria – Weiner schnitzel
Weiner schnitzel is an iconic Austrian dish. This thin, breaded, pan-fried veal cutlet is one of the best-known dishes in Viennese cuisine, and will certainly not disappoint. Weiner schnitzel is traditionally served with kopfsalat (lettuce with a vinaigrette dressing), potato salad, or parsley potatoes.
France – Escargots
Snails are a French classic, and mostly popular due to the delicious garlic and parsley butter that accompanies them. If you're brave enough, you mustn't miss out on this delicacy during your visit to France. For vegetarians, cheese soufflés are equally indulgent and very traditional, dating back to the 18th century.
Netherlands – Bitterballen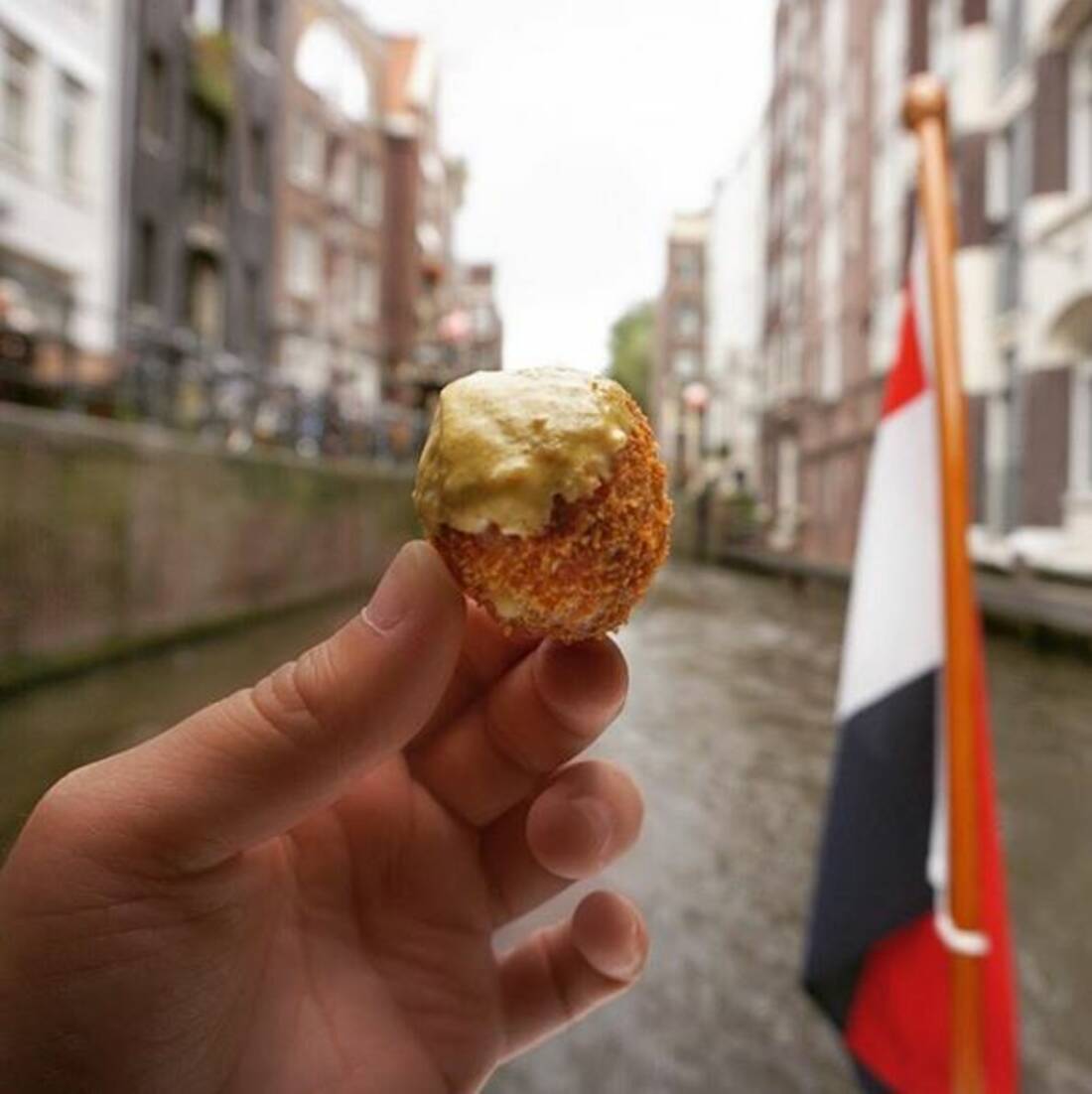 Image: Eating Europe
Bitterballen are a delicious meat-based snack, deep-fried and stuffed with a creamy mixture and plenty of seasoning. Vicky Hampton of Amsterdam Foodie has built up a catalogue of some 700 restaurant reviews and posts, all based on eating out. Having also published an e-book, Amsterdam Foodie's Restaurant Guide, and a cookbook titled Working Lunch, we thought Vicky would be the perfect person to ask about food in the Netherlands, and this classic dish:
"Dutch cuisine doesn't have a great reputation! But like Britain in the 90s, it's improving in leaps and bounds. It used to be a bit bland (lots of potatoes, a bit of meat and a few simple veggies) but there's now a huge growth in modern Dutch and European restaurants serving local produce in really creative ways."
We asked Vicky why bitterballen are such a popular food in the Netherlands: "Because they go perfectly with beer, the national drink of choice! Dipped in mustard, they're even better. Just beware of eating them too quickly – they're always nuclear-hot in the centre.
"I'd strongly recommend also trying the typical Dutch cheese like Gouda and Edam – they are so much better here than the cheese that goes by the same name abroad (which is essentially fake). Plus, Indonesian rijsttafel (literally 'rice table') – a selection of small, often spicy dishes to share that are served with rice. This is a must-try when visiting Amsterdam."
Germany – Bratwurst
Germany is synonymous with sausages, and beer. Enjoy a traditional bratwurst on your visit to Germany, and wash it down with a delicious tankard of beer. This classic German sausage is typically made with veal, beef or pork, and dates back to the 1300s. Choose from a huge selection of sausages, such as Coburger, which is traditionally grilled over pinecones, and Thüringer, a spicy sausage served with mustard.
Liechtenstein – Käsknöpfle
No trip to Liechtenstein would be complete without tucking into a plate of käsknöpfle. As well as being fun to say, this moreish cheese pasta dish is a pleasure to eat. It is essentially Liechtenstein's answer to macaroni and cheese, made with spätzle (a type of soft egg noodle which is popular in Germany) and added caramelised onions.
Switzerland – Cheese fondue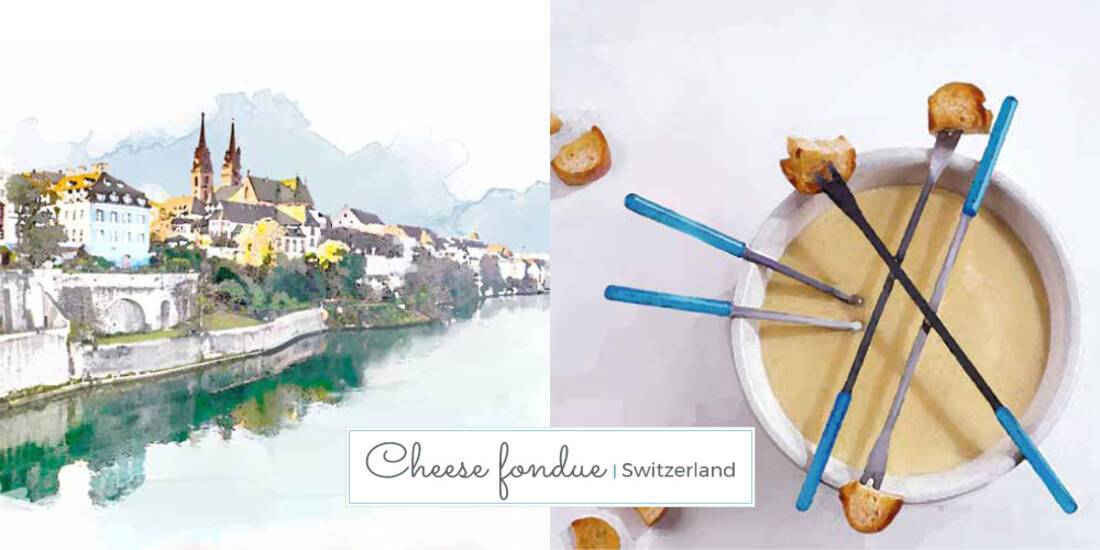 Any cheese fanatic will know about fondue, but for those not in the know, this dish of rich, melted cheese is served in a communal pot and enjoyed by dipping in bread using long-stemmed forks. The earliest known recipe for cheese fondue was published in a book in Zurich in 1699, which called for cheese to be melted with wine, and eaten with bread.
Luxembourg - Judd mat Gaardebounen
Judd mat Gaardebounen, or smoked collar of pork with broad beans, is one of Luxembourg's most notable dishes. It originated in the village of Gostingen where the residents have earned the nickname of 'Bounepatscherten', due to their exquisite broad beans.
Macedonia - Pastrmajlija
Pizza lovers should not miss out on trying pastrmajlija when visiting Macedonia. This oval-shaped bread pie is loaded with salted and dried meat (usually sheep or lamb) and is utterly delicious. In its honour, the city of Stip organises an annual festival.
Northern Europe and Scandinavia
Estonia – Sprats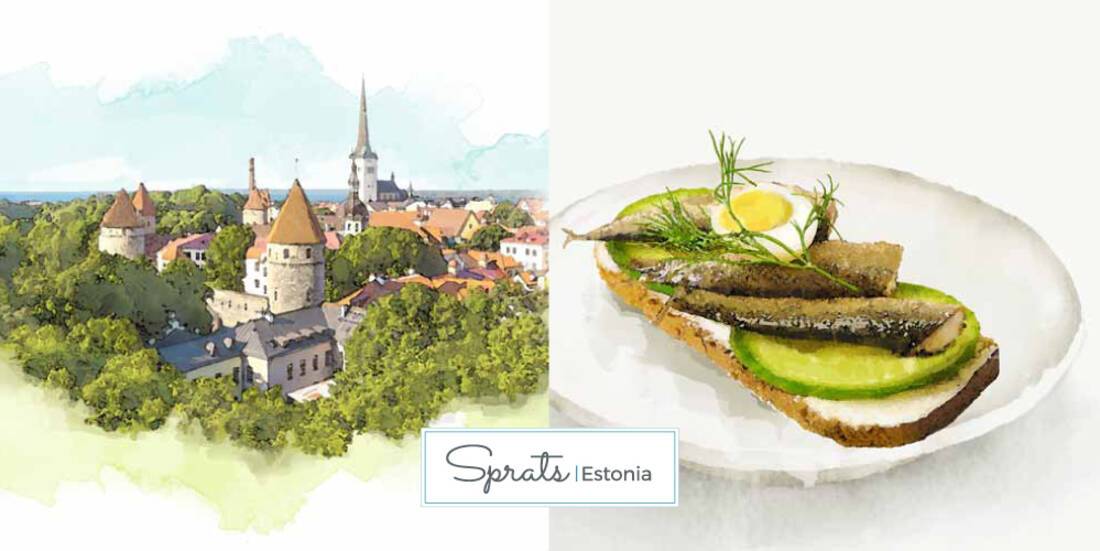 Sprats are a small fish found in abundance in the Baltic Sea. In Estonia, you'll find these fish are served in every restaurant and shop, and are best served on rye bread with a boiled egg. We spoke to the team at Visit Estonia who told us why sprats are such a popular food in Estonia: "These little smoked fish in oil remind Estonians of their childhood, as they used to be really popular even then. They are to be eaten with fresh bread and butter, like an open faced sandwich. And of course bread – Estonians have a love affair with their bread – a dietary staple and cultural identifier.
"There really is no food quite as quintessentially Estonian as rye bread. Rye has been cultivated in Estonia for over 1,000 years and was a central part of traditional agriculture. In the Middle Ages, Estonia was known as a main rye exporter across Europe. 'Respect the bread, it's older than you' is a common thing every Estonian hears from their grandparents while growing up.
"Estonians like to know where their food comes from and have been eating wild berries since ancient times. During late summer and beginning of autumn many savvy city dwellers take the time to work the fields and enjoy the fruit of their labour throughout the year. This amount of passion has greatly inspired Estonian restaurants to be creative and use local produce. Estonian chefs, food establishments and retailers have a similar understanding of the nature and future of Estonian cuisine, manifesting loyalty to healthy ingredients cooked into simple dishes that reflect the mastery of Nordic culinary traditions."
As the seasons change, so does the bounty of Estonia's natural ingredients. In the winter, hearty and warming foods include rich black bread, preserved meats and glogg – hot mulled wine, while the spring brings Baltic herring, meadow greens and birch juice. The team at Visit Estonia added: "Similarly to Estonian culture, the local taste palate has been infused with the best of our neighbouring countries. Here you'll find traces of Scandinavian, Russian and German kitchens, not to mention other mainstream international influencers such as the French nouvelle cuisine."
While sprats on rye bread is our number one recommended dish to try in Estonia, we wanted to find out which other dishes Visit Estonia would recommend: "Kohuke – these little batons of cottage cheese are covered in various flavours of chocolate, and are some of the most popular snacks in Estonia. They come individually wrapped and just the perfect mix of sweet and creamy.
"Kama – A traditional Estonian finely-milled flour mixture. The kama powder is a mixture of roasted barley, rye, oat and pea flour. The oat flour may be completely replaced by wheat flour, or kibbled black beans may be added to the mixture. It is used for making some desserts and is mostly enjoyed for breakfast mixed with milk, buttermilk or kefir as mush. Kama is frequently sweetened with sugar and especially with blueberry, honey or served unsweetened."
Denmark - Smorrebrod
Danes enjoy smorrebrod for breakfast. It is an open sandwich with dark brown rye bread topped with various ingredients such as fish, meat, fresh herbs or eggs. You'll find it in restaurants and cafes throughout Denmark, and can be made vegetarian or vegan.
Ireland - Irish stew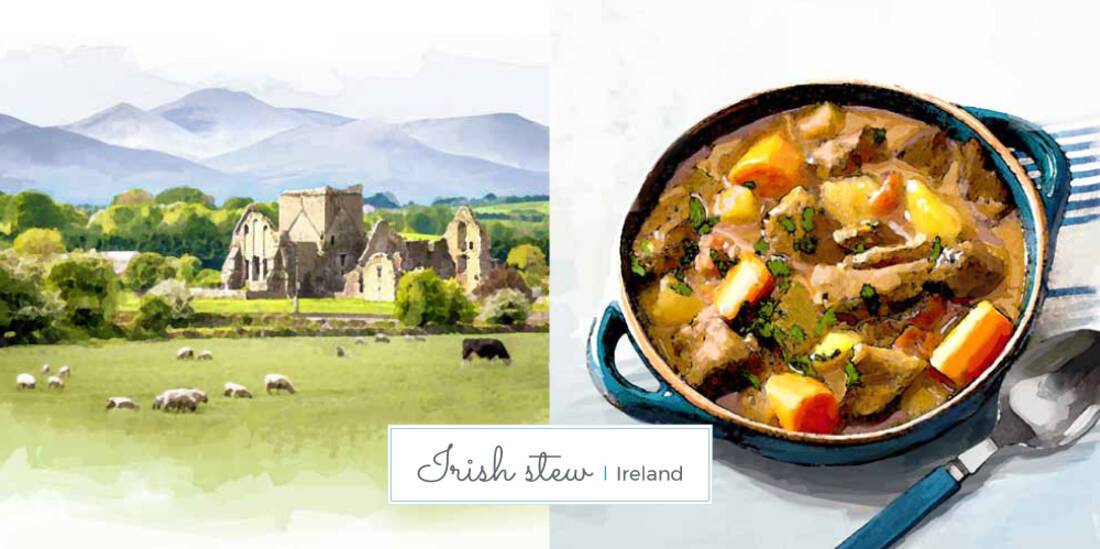 As well as a pint of Guinness, while in Ireland you should tuck into a traditional Irish stew. Made with meat and root vegetables, the stew varies across Ireland, but is traditionally made with lamb. Early recipes for Irish stew appeared in the 19th century, and today you can sample the dish in the pubs of Dublin during your stopover.
Latvia – Rupjmaizes Kartojums
Latvia's beloved dessert is the rye bread trifle, a delicious, tangy dish made with cranberries, whipped cream and a black rye bread crumble. This dessert is completely unique to Latvia and can be found in traditional and contemporary restaurants.
Lithuania - Cepelinai
These generous potato dumplings are filled with pork and smothered in sour cream and bacon sauce. We're sold! Originally named didzkukuliai, the dish was rebranded due to its resemblance to zeppelin airships.
Norway - Krumkake
Directly translated to 'bent cake', this popular Norwegian dessert does not look dissimilar to an ice cream cone, and could be considered a Scandinavian cannoli. It's safe to say that this delicious Norwegian waffle cookie is a must-try when you visit on a cruise holiday.
United Kingdom - Fish and chips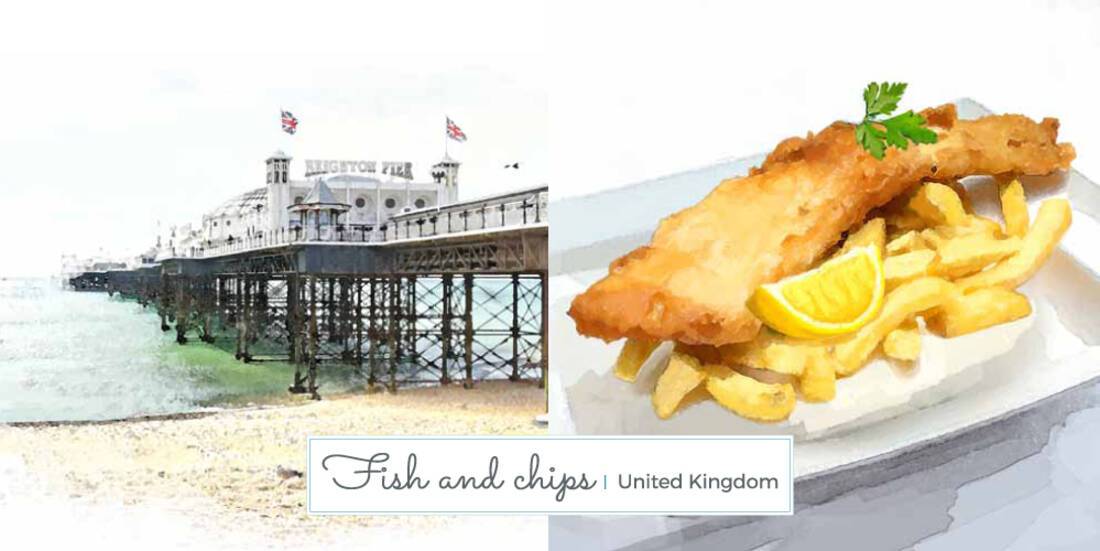 Varieties of fish and chips can be found worldwide, from shrimp fritters in Spain to Alaska's halibut and chips, however the original (and some might argue the finest) comes from the UK. The dish first appeared in the 1860s, and by 1910, there were reportedly more than 25,000 fish and chip shops across the UK. This classic meal is best enjoyed by the seaside and for vegetarians, the chips alone are a real treat!
Finland – Lohikeitto
Finnish salmon soup, or lohikeitto, is a firm favourite among locals. Made with salmon, potatoes, carrots, onions, dill and generous helping of cream, it is at once fresh and indulgent. Don't forget to try Finnish rye bread or 'Ruisleipa' to soak up the soup.
Iceland – Hakarl
Fermented shark might not sound like the most appealing dish, but it's definitely worth a try. It's Iceland's national dish and not for the faint-hearted. The shark has been hung out to dry for roughly four to five months and the dish is...fragrant. However it's an Icelandic delicacy, and served in the smallest of cubes, so you only have to try one.
Sweden - Meatballs with lingonberry jam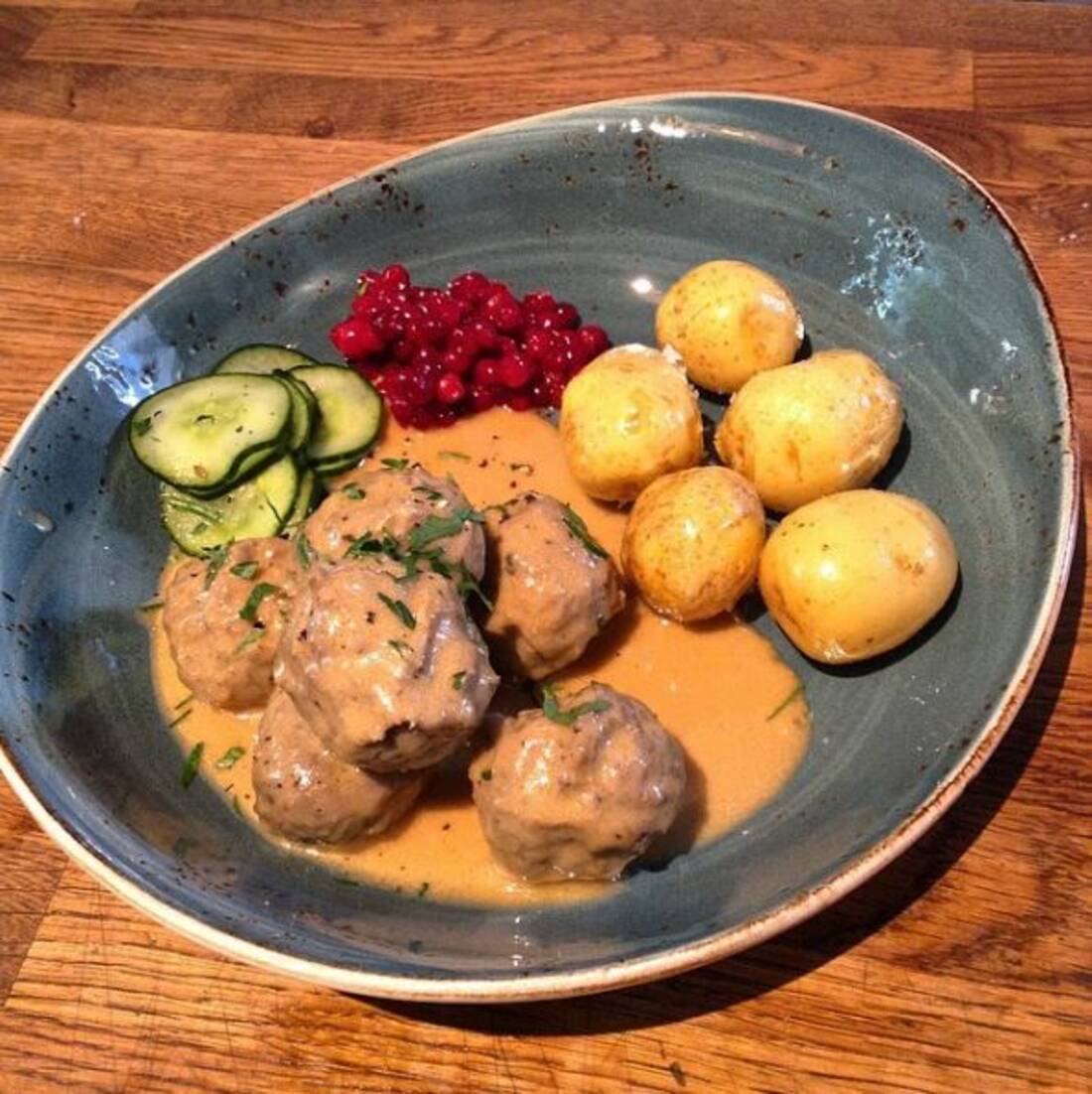 Image: Meatballs For The People
The perfect blend of sweet and savoury, traditional Swedish meatballs with lingonberry jam are the ultimate comfort food. Served in a mouth-watering gravy, with a helping of potatoes, we're sure you'll be going back for seconds. We spoke to the team at Visit Sweden to find out more about this local delicacy:
"Long before your local supermarket started selling distant relatives of the Swedish meatball, every grandma in Sweden had her own secret recipe, since handed down through her family. Now, almost every Swede can whip together handmade meatballs for the family in two shakes of a moose's tail.
"Great meatballs represent good old-fashioned comfort food, reminiscent of a frying pan sat atop the wood-fired stove in grandma's country kitchen as they gently roll around in the pan.
"Of course, no good meatball is complete without a generous helping of lingonberry jam (more akin to marmalade than jam). Paired in much the same way as Brits match turkey and redcurrant jelly. These bright red berries grow profusely across Sweden in the autumn and have been proven to be a superfood, according to researchers at Lund University. Eaten for centuries, Swedes must have known subconsciously how good they are for us as part of a healthy, balanced Nordic diet."
Of course, meatballs and lingonberry jam is our recommended dish to try when you visit Sweden. But we couldn't resist asking the Visit Sweden team which other traditional foods you should sample in the country:
"Good coffee should always be consumed as part of the Swedish 'FIKA' tradition. So a cinnamon or cardamom bun is a must with good examples never far away from any street corner and bakeries in towns and villages across Sweden. Swedish cuisine stems from nature's ladder and with a long coastline, fish accounts for much of it. Herring is available in many forms: fried, pickled or fermented. Salmon too, gravadlax or cured salmon, is a marinated salmon dish and along with smoked salmon, it is hugely popular on the Swedish smorgasbord.
"Sweden is reinventing itself as a food destination and experience. We have high-quality restaurants, bistros, bars, gastro-pubs, cafes and other eateries to suit every wallet and purse size.
"Our food and food experiences have been racking up accolades and column inches in international food and travel magazines and foodie blogs. A few years ago we decided that we wanted to become a new culinary destination – by improving the quality of our food and food travel experiences across the board. The revolution is all about good food and world-class food experiences. The combination of our nature, the flavours of our produce and some of the purest raw ingredients in the world."
Southern Europe
Greece – Moussaka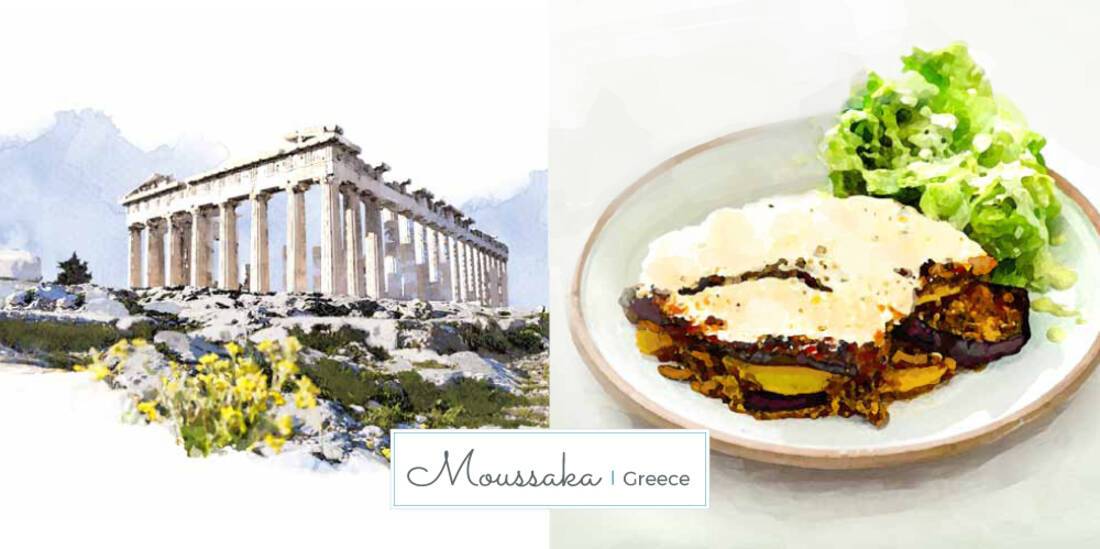 Moussaka is the best-known dish in Greece, made with tomato sauce and minced beef layered with aubergine and béchamel sauce. What's not to love? For dessert, tuck into a piece of baklava, and toast the meal with a shot of ouzo.
Albania – Tavë kosi
Albania's cuisine, like much of the Balkans, is heavily focused on meat. Its national dish (and one of the most delicious) is tavë kosi – a baked dish of lamb, rice, yoghurt and eggs with a tasty, seasoned roux.
Cyprus – Halloumi
Halloumi is the national cheese of Cyprus and a must-try when you visit the country. Also popular throughout Middle Eastern countries, halloumi is a semi-hard, brined cheese made from a mix of sheep's and goat's milk. It lends itself to being grilled or fried, and is the ultimate Cypriot snack. Vegans will be able to indulge in delicious olives.
Bosnia and Herzegovina – Cevapi
Meat lovers, rejoice! Bosnia and Herzegovina's recommended dish is grilled minced beef meat in the form of a tasty skinless sausage, served with sour cream, ajvar (a red pepper sauce), feta cheese and chopped onions, in a traditional flatbread (somun). The dish can be likened to a Turkish kebab.
Croatia – Zagorski Strukli
If you're a fan of cheese and pastry, look no further during your cruise stopover in Croatia. Zagorski Strukli is a popular Croatian dish made with thin pastry and a delicious mixture of cottage cheese, sour cream and salt. In 2007, Zagorski Strukli were inducted to the list of Croatia's intangible cultural heritage by the country's ministry of culture.
Italy – Neapolitan pizza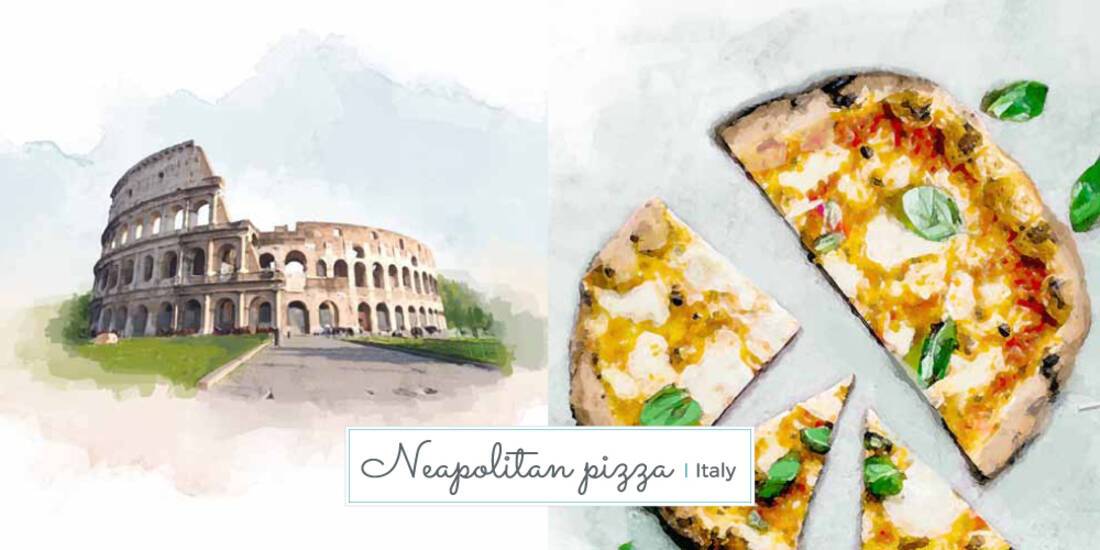 When most people think of Italy, pizza is almost certainly the first food that comes to mind. A traditional Neapolitan pizza must be made with San Marzano tomatoes, which grow in the plains south of Mount Vesuvius, and Mozzarella di Bufala Campana, a protected designation of origin cheese with milk from water buffalo. Vegans can simply enjoy the pizza without mozzarella, also a popular choice in the country. You'll find this wallet-friendly speciality throughout Naples.
Monaco – Barbagiuan
If you find yourself in Monaco on your next holiday, don't miss out on the country's national dish – Barbagiuan. Translating to 'Uncle John', this delicious pastry is stuffed with Swiss chard and ricotta, however ingredients vary to include rice, onion and Parmesan.
Andorra – Embutido
Andorra is big on pig, so if you are too, this classic Andorran sausage is well worth a try. Dry cured and seasoned with salt and pepper, before being served cold on a platter, embutido is a taste sensation and worth seeking out during your trip. Alternatively, try the steak tartare, which became popular over the years due to the country's close relationship with France.
Montenegro – Black risotto
Black risotto is a coastal speciality in Montenegro. This unusual yet delicious dish gets its iconic black colour from cuttlefish ink. The risotto is cooked with calamari, white wine, bay leaves, garlic and nutmeg, and is a must-try for seafood lovers.
Georgia – Khachapuri
This indulgent bread boat is the stuff dreams are made of. A khachapuri (usually filled with gooey cheese and egg) is best enjoyed by tearing off the crust and dipping it in the cheesy centre. Variations of this unusually-shaped dish can be found in different regions of Georgia.
Portugal – Caldo verde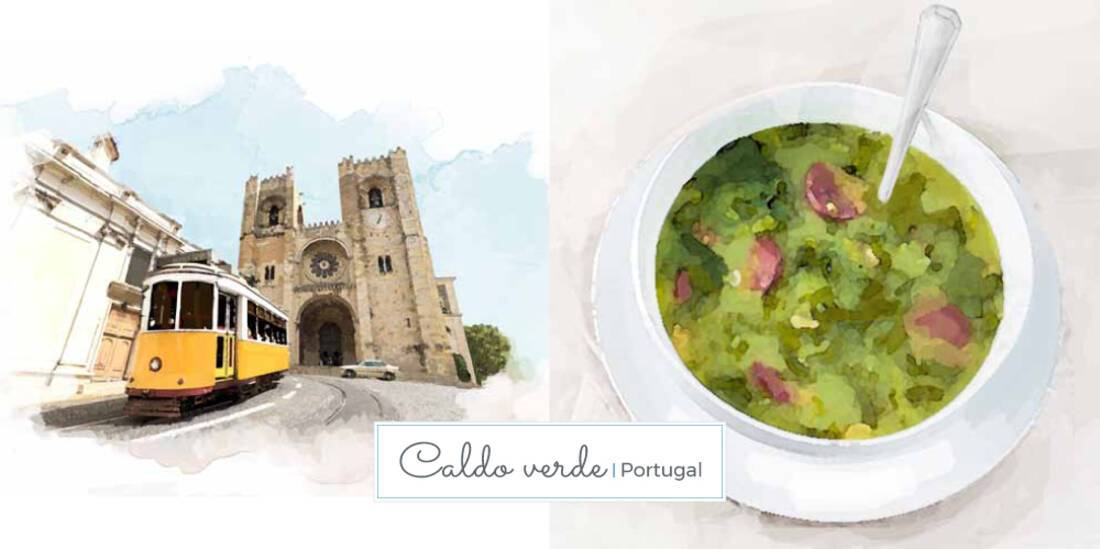 Caldo verde is a traditional Portuguese soup made with chorizo, potatoes, collard greens, olive oil and salt. The dish originated from the Minho Province in northern Portugal, however today it is enjoyed across the nation, and can be found in traditional restaurants in Lisbon and Porto.
San Marino – Torta Tre Monti
San Marino is a haven for sweet-toothed travellers. This traditional Sammarinese cake is made of layers of thin wafers with chocolate and hazelnut cream, before being smothered in chocolate fondant. You'll find it in local bakeries throughout San Marino.
Serbia – Krofne
These Serbian doughnuts are enjoyed all-year-round. The dough is airy, not dissimilar to beignets which are found in New Orleans. Choose from jam, marmalade, chocolate, cinnamon, custard or cream.
Spain – Paella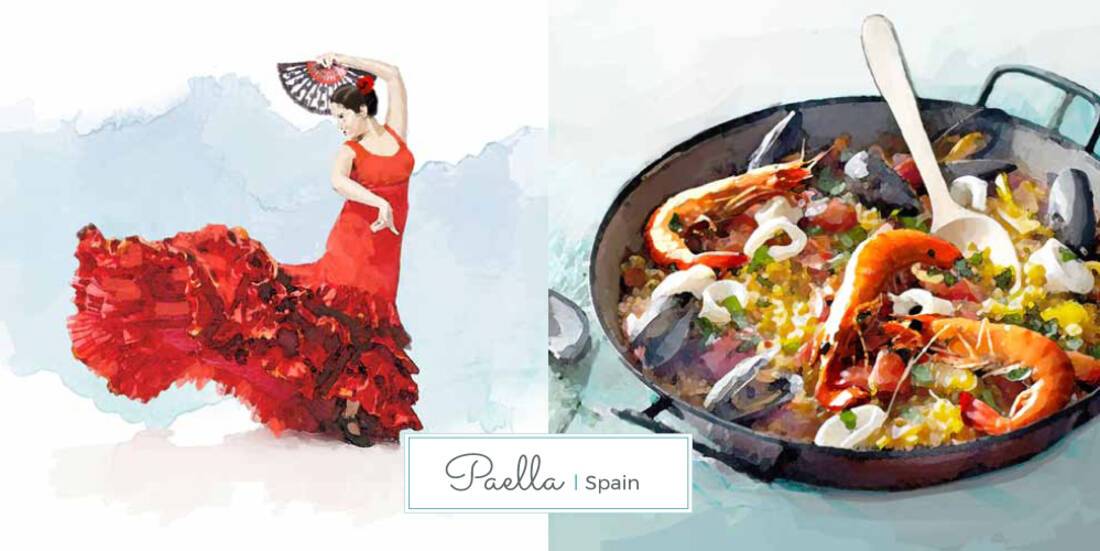 Paella is a Valencian rice dish, traditionally made with mixed seafood (paella de mariscos) or as a mixed dish (paella mixta). Paella can include white rice, beans, meat, fish, saffron, rosemary and artichokes. This classic dish can be found throughout Spain in various forms, and is well worth a try during your cruise stopover.
Slovenia – Kranjska sausage
Also known as Carniolan sausage, this dish originates from the Gorenjska region of Slovenia. It is listed as a protected agricultural product by the European Union and best enjoyed with sauerkraut or sour turnip and freshly grated horseradish.
Vatican City – Fettucine alla Papaliene
Although Vatican City is just 110 acres in size, with around 1,000 people living within its borders, the country technically has its own dish. Fettuccine alla Papaline, or 'The Pope's Fettuccine', is an adapted recipe of spaghetti carbonara created for the pope in the 1930s.
Malta – Bragioli
These slowly braised bundles of beef are worth seeking out on your stop in Malta, and – despite its name – the dish contains no olives. Tender slices of beef are wrapped around a mixture of seasoned bacon, bread crumbs and garlic, with a splash of red wine, before being baked in the oven and served with potatoes or bread.
Eastern Europe
Slovakia – Bryndzove Halusky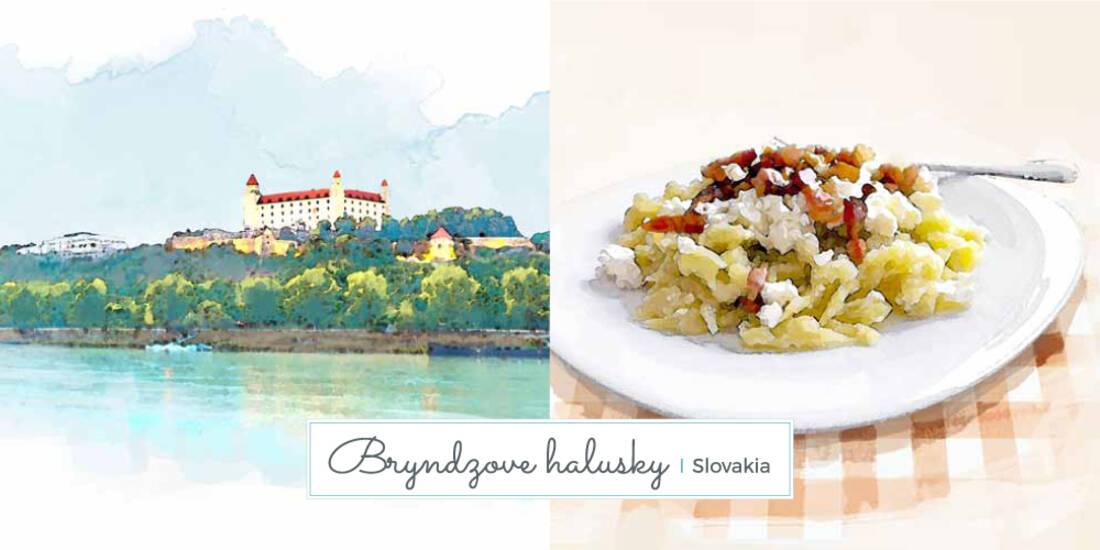 Slovakia's national dish is the ultimate comfort food. Bryndzove is the exquisite, creamy, locally-produced sheep cheese that is unique to Slovakia. Coupled with potato dumplings (halusky) and smoked bacon, you cannot miss out on this dish on a visit to Slovakia.
Belarus – Draniki
Vegetarians will love Belarus' recommended dish – draniki. These delicious potato pancakes are fried with a crispy outer layer and a fluffy centre, and served with sour cream and vegetables. Belarus is one of the world's top potato-growing countries, so it's safe to say they know what they're doing!
Bulgaria – Banitsa
A banitsa is a traditional Bulgarian food made by layering a mixture of eggs and cheese between filo pastry, before baking it in the oven. Its distinctive pinwheel shape and simple yet full flavour makes it a hugely popular food in Bulgaria, and one well worth seeking out during your holiday.
Czech Republic – Olomouc cheese
A pungent variety of soft cow's cheese originated in the city of Olomouc. The European Union has listed it on the Protected Geographical Indication, meaning that in order to be considered authentic, it must have been made in this specific region of the Czech Republic.
Moldova – Placinta
This moreish fried bread, served warm from the pan, is the ultimate street food in Moldova. It is essentially a fried pastry-like bread made with a range of savoury or sweet fillings. Some of the most common are made with cabbage or potatoes, but you'll find apple and other seasonal varieties.
Poland – Pierogi
Pierogis are traditional Polish dumplings made with a range of fillings including sauerkraut, ground meat, cheese and fruits. When visiting Poland, these delicious pastries are worth seeking out to takeaway or eat in, served with sour cream and fried onions.
Hungary – Goulash
Hungarian goulash is made with meat and vegetables and seasoned with paprika. Its distinct flavour and hearty nature make it a popular dish all year round, and a must-try during your river cruise stopover in Budapest.
Romania – Sarmale
Sarmale are traditional Romanian cabbage rolls, made with sour cabbage stuffed with pork and beef, and sometimes bacon. Varieties of these moreish savoury rolls can be found throughout Eastern Europe, however many argue that Romania's are the most delicious.
Russia – Pirozhki
If you're looking for something tasty to eat while you're strolling around St Petersburg, try a pirozhki. These fried buns are stuffed with a variety of fillings, both sweet and savoury.
Ukraine – Chicken kiev
This dish put Ukraine firmly on the foodie map and has long been popular in the UK. However when in Ukraine, you simply must try it. Fun fact: Despite being named after the country's capital, the chicken Kiev actually originated in France.
Armenia – Khoravats
Khoravats is a selection of delicious meats, grilled on a shampoor or skewer. Armenian barbecue is often made with meat still on the bone, and the most popular ingredient is pork. The meat is marinated and grilled for distinct smoky flavour.
Azerbaijan – Plov
Azerbaijan's national dish, plov, is a delicious rice dish infused with saffron. Long grain rice is steamed with saffron and served on top of a golden crust called gazmag, which is made of eggs, flour, butter and yoghurt. Many versions of plov include meat, dried fruit, fresh herbs, fish and other vegetables.
Turkey – Kofte
Kofte is essentially a Turkish meatball, with ground beef or lamb and loaded with herbs and spices, served either in sandwiches or with salads and plain yoghurt. This is the go-to dish for many travellers in Turkey, but save room for dessert - Baklava.
Kazakhstan - Beshbarmak
Beshbarmak is widely considered to be the most popular Kazakh dish, made with boiled horse or mutton meat. Its name translates to 'five fingers', because of the way the dish is traditionally eaten. The meat is boiled in a broth called sorpa, and served in bowls called keze.
Kosovo - Flija
As with much of Balkan cuisine, Kosovo's most popular dishes consist of pies, fresh salads and delicious breads. One unique dish you should absolutely try is flija. It is made with multiple pancake-like layers, cream and sour cream. It is simple yet utterly delicious.

Feeling hungry? Take a look at our selection of Fred Olsen cruise holidays in Europe to plan the ultimate foodie getaway. If you have a top European food recommendation, why not share it with your fellow travellers?