Not only are we all partial to a getaway now and again, but it is also important for us to take some time away from our busy lives to relax, unwind and get back to a sense of reality. That being said, there are thousands of locations across the globe that could host you on your next no-fly cruise, but we all have preferences that suit us and our cruise needs. In this article, we speak to travel bloggers who tell us what their favourite locations say about them as well as uncovering what your favourite destination says about you.
Pick your favourite location from the list below and uncover what your choices say about you as a traveller.
Now you know what your favourite destination says about you, read on to find out more about it!
Miami
A multi-cultural hubbub in Central America, Miami is renowned for its smouldering nightlife, vibrant art scene and architectural excellence. Blessed with a plethora of stunning natural areas, the city offers visitors more than just sandy beaches and great nightlife, it offers a cruise with diversity.
Walk down the streets and gasp at grand art-deco buildings, open-air galleries or stop off in an Instagram-worthy bar for a tipple or two. Many visitors describe the location as the perfect mixture of sand, sun and shopping.
We spoke to Sara Ehlers who travels the world and documents it on her blog Love, Sara Faye. We asked her why she loves visiting Miami: "I went to Miami last summer for a friend's birthday for a girl's trip. I love the city and felt like there was so much to do! The Cuban food was amazing (and decently priced) and we got to experience the city at night with people dancing literally everywhere. Even though the city is known for its crazy nightlife, we also experienced some culture by going on a swamp tour and taking a visit to the gorgeous Vizcaya Museum Gardens."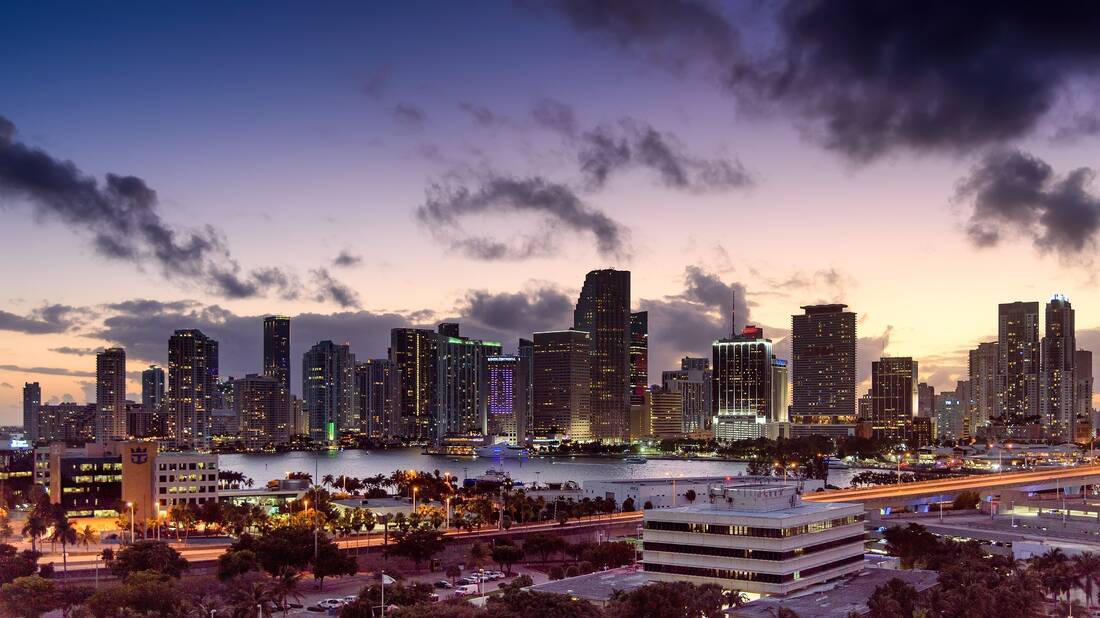 She went on to explain how Miami as a location describes her as a traveller: "I think even if you're not into the club scene, there's something for everyone. I also loved being able to dine at Gianni's Versace Mansion and wearing my favourite maxi dresses all around South Beach. When visiting, expect good food, friendly people and a city that never sleeps!"
Anabelle, a travel blogger at Anabelle Kristine spoke to us about the sort of people that Miami attracts: "Miami attracts all different types of people. Personally, I'm a colour-lover and a foodie so I felt like I fit right in! The entire city is so beautiful and very Instagram-worthy."
Much like Annabelle, Maryrose and Reid Hicks from Wanderlustyle love the hip vibe that Miami has to offer: "Miami, 'The Magic City'. Before making our way to the Florida Keys, we spent a few days in Miami where walking around Ocean Drive became a 'thing to do' on the daily. The vibe is very open and young, where all walks of life are enjoying their time. The beach, just across Ocean Drive was active and inviting. One thing that stands out, in particular, is the food. Authentic Mexican food and fresh pizza filled the area with an ambrosial smell. It's a very open and welcoming city and for an experience in the local culture, we visited Wynwood Walls - a place of art."
Amber a blogger from With Husband in Tow agrees that Miami offers an alternative and hip vibe: "With miles of white sandy beaches and a vibrant nightlife, Miami attracts families, jet setters and those looking to simply get away. Miami has always been a great destination to escape winter but over the years it has transformed itself into a year-round destination. Offering world-class dining, an eclectic arts and music scene and tons of water sports, Miami has something for everyone. Miami is a destination built on influences from the Caribbean as well as Central and South America. If you want glitz and glamour, Miami has it. If you want to sit on the beach and read a book, Miami has it. Whatever vibe you want to experience, Miami will provide the tools."
Hawaii
Known for its crystal clear waters and tall, imposing palm trees, Hawaii is the ultimate sun-soakers destination. Perfect for those looking to relax under the hot summer sun and take a dip in the warm waters of the Pacific Ocean before bedding down to enjoy a book on the plethora of sun-spotted deck chairs.
Not only is the island renowned for beautiful weather, but walking is also a favourite past-time for many visitors and there is plenty to choose from. Scale the two-mile long trip of The Kalalau Trail for panoramic views of Na Pall Coast or Kaena Point, the western-most point tip of Oahu.
Hawaii is a tranquil location that offers relaxing beach days as well as adventurous trails perfect for exploration. It's the ultimate setting for lovers of the sun who want to enjoy sipping on a coconut whilst enjoying panoramic views across the vast blue oceans.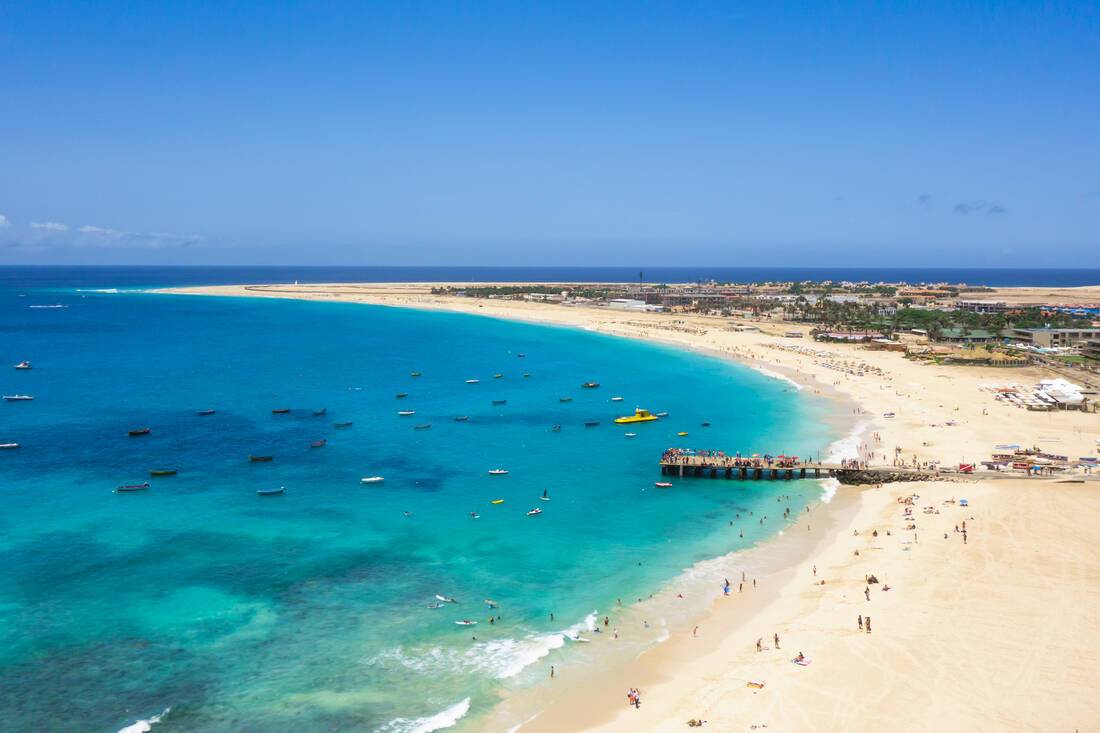 Cape Verde
Much like Hawaii, Cape Verde is a hotspot teaming with visitors looking to relax under the beaming sun. Also known as the 'European Caribbean', a cruise to these western islands off the coast of Africa offers a range of habitats from lush green spaces to vast, busy beaches. We spoke to Paulina who has visited Cape Verde and documented it on her blog Paulina On The Road, we asked her why she loves visiting the islands:
"What I love about Cape Verde is its diversity. The archipelago consists of 10 islands and each one has a very different vibe. Some are lush green, others have paradise beaches, others again have spectacular natural landscapes with volcanoes. Even though Praia is the capital, Mindelo on Sao Vicente is known as the cultural hub of Cape Verde. The city is all about music and vocalist Cesaria Evora, who was born here."
She continued on to explain what sort of visitors Cape Verde attracts: "Cape Verde attracts all kind of people! If you love steep mountains and lush valleys, you'll love Santo Antao and Brava. If you are looking for paradise beaches, head to Sal island or Boa Vista. Maio is particularly famous for its virgin, golden sand beaches. If you are looking for city vibes and Capeverdean music, you cannot miss Praia or Mindelo. If you want to spot a truly unique natural sight, head to Fogo which has the highest volcano of the archipelago."
Dublin
Rich in history and a real European gem, Dublin attracts all sorts of visitors from far and wide. A city of the Celts, deep in culture, enthusiasm and plenty of Guinness, everyone that visits the Irish capital falls in love. Best explored on foot, visitors require a passion for walking as there is plenty to explore and vast, green spaces to get lost in.
Dublin's history is one not to be ignored with remnants of its rumbled past still visible in the foundations it lies upon. Castles, historic buildings, ships and grand cathedrals lie untouched, ready and waiting for the right tourist to unlock their secrets. A passion for history, a willingness to explore and a keen eye for architecture will make this the perfect destination for an adventure hungry traveller.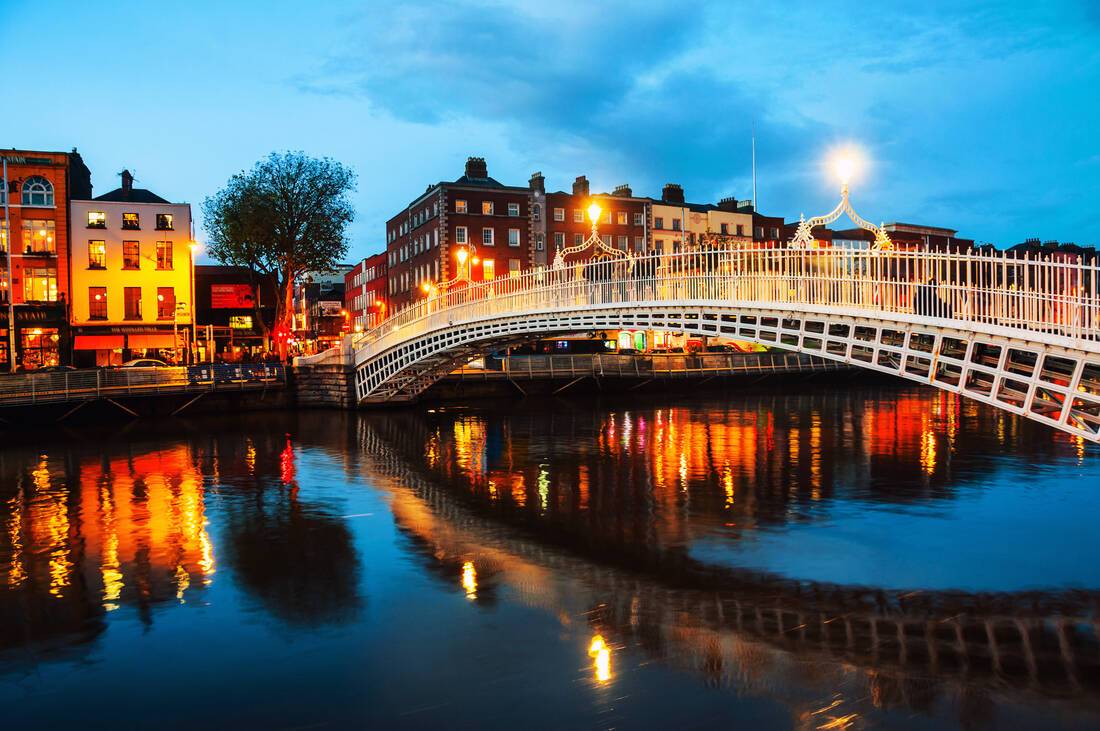 Cairo
A city situated in a country unlike any other, with vast deserts, outstanding architecture and a culture that sets it apart from other cruise destinations far and wide. Those looking to disembark their cruise in the sunny capital of Egypt can expect scenes of outstanding beauty, calls to prayer, the rattle and crashes of donkey carts tumbling down cobbled, dusty lanes and the constant buzz of locals going about their everyday lives.
The fast-paced and colourful traditions are what makes this location so special. Cairo attracts a vast array of cruise travellers, but those who really revel in the sights and sounds of this location are those with a willingness to explore and get involved in the energy and diversity of the sun-capped scenes. Families, couples, and solo travellers can all expect to enjoy an intrepid adventure on the golden sands of this African location.
Hong Kong
Iconic sights, cuisines unlike any others and colourful and creative traditions thrive in the vast city of Hong Kong.
Travellers to Hong Kong can expect a metropolis of sights, sounds, smells and a culture unlike any they've seen before. We spoke to JB who blogs at Will Fly For Food who told us about the sort of people that Hong Kong attracts:
"We've been to Hong Kong many times but it never gets old. Hong Kong is one of the most exciting cities in the world. The atmosphere is electric and you feel it the moment you land. From the shopping to the nightlife, to the food, there is just so much to see and do there. If you like a fast-paced go, go, go, atmosphere, then Hong Kong is definitely for you. It reminds me of New York City in that sense. No matter what time of day it is, there's always something going on. And the food scene is one of the most vibrant we've seen in any city."
The city holds a vibe that can't be explained until it is felt, we asked JB to explain what sort of vibe the city gives him: "Electric with an amazing culinary landscape. It's an exciting city that doesn't sleep so if you like lots of excitement and good food, then you'll love Hong Kong."
Those who choose to visit the city can enjoy everything from sizzling, harbourside dishes to a wealth of traditional Chinese past-times. There really is no other location like it, as Will from Going Awesome Places describes: "Hong Kong is one of my favourite places to visit because of the electric energy that you feel whether you're walking through the streets of a local market, trying street food, watching the nightly light show or watching the city unfold before you from Victoria Peak. Out of all of it though, the food has to be the best part of it all. From excellent dim sum, modern fusion cuisine, traditional Chinese food, Michelin-star restaurants, and the penultimate in local street food, there's truly something for everyone."
We went on to ask Will what sort of travellers he thinks Hong Kong attracts: "Hong Kong is the perfect hub to start your adventure throughout Asia which is why it's such an attractive city to travel to. As a megatropolis, the city itself has something for everyone and those that love shopping, exploring cityscapes, discovering culinary delights, and learning about the culture. What most don't know is that Hong Kong is also filled with outdoor experiences. From Lamma Island, Cheung Chau Island, the Hong Kong Global Geopark, there's plenty to balance with the urban sights."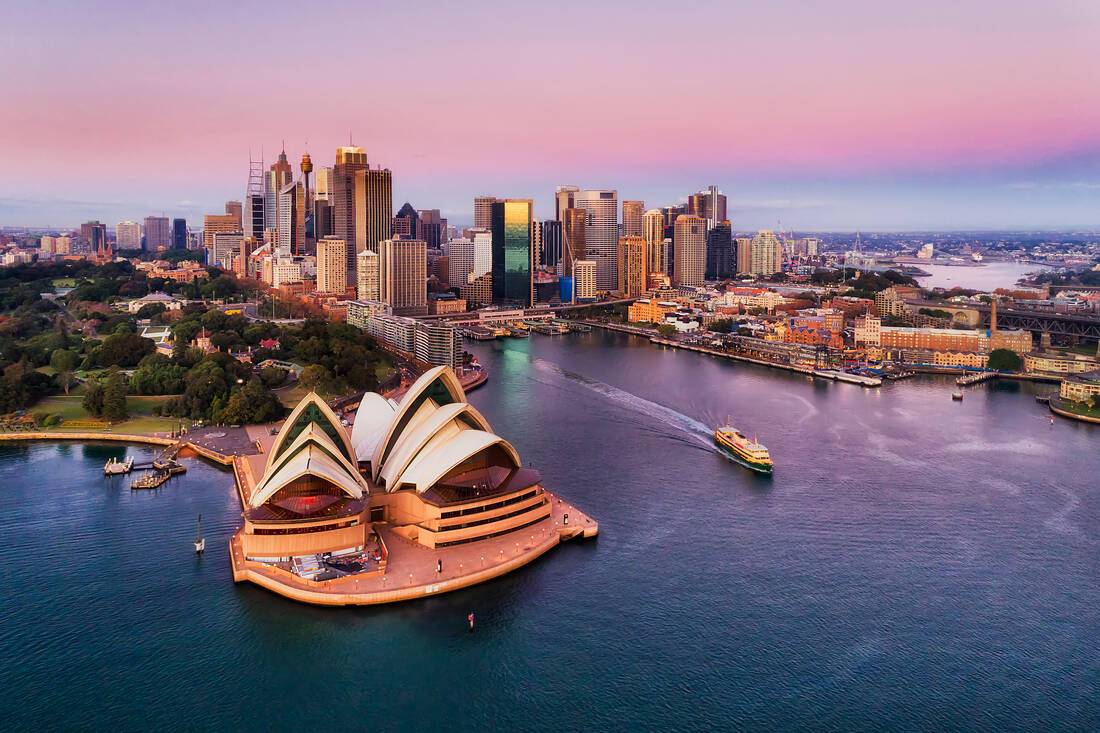 Sydney
A popular destination for those looking to explore the world, Sydney is the ultimate location for those looking for the best of both worlds, beaches and city life! A city that can evoke memories for years to come, the laid back and young-hearted atmosphere makes it the perfect location for those looking to relax as well as enjoy the adventurous and vast city that lies beyond the waters. If you're looking to embark on a cruise to Sydney, you're probably a lover of heat and enjoy relaxing by the beach, but that doesn't stop you enjoying the vibrant nightlife and adrenaline-filled activities that are dotted around every corner.
Tom from The Travelling Tom told us about his visit to Sydney: "I visited Sydney for 5 days and enjoyed my time there. There are lots of things to do in the city, such as see the Opera House and Bridge. However, my favourite part of the city is the numerous beaches you can visit. There are so many, such as Bondi, Coogee and Tamarama and they are all amazing!"
We proceeded to ask him what sort of people he thinks Sydney attracts: "Sydney attracts a range of different people. From beach bums to culture vultures. This is due to the wealth of different things you can do in the city. By the beaches, Sydney is very chill. The closer you get to the centre the more hustle and bustle you experience, although it's not as busy as you might expect. Despite its size, there are places you can escape to and find somewhere quiet to relax."
Norwegian Fjords
Home to the Northern Lights, The Norwegian Fjords are a location frequently visited by cruise ships and one that many travellers sit high on their bucket lists. Norway is home to over 1,000 fjords that are carved from the sides of steep mountains and extend into the depths of the waters below.
An experience like no other, a cruise to the Norwegian Fjords isn't one for the faint-hearted but is a completely unique and unforgettable experience. Norway is perfect for those who love adventure, seek a challenge and don't mind the nippy weather. See sights like no other and make visual memories that'll last a lifetime.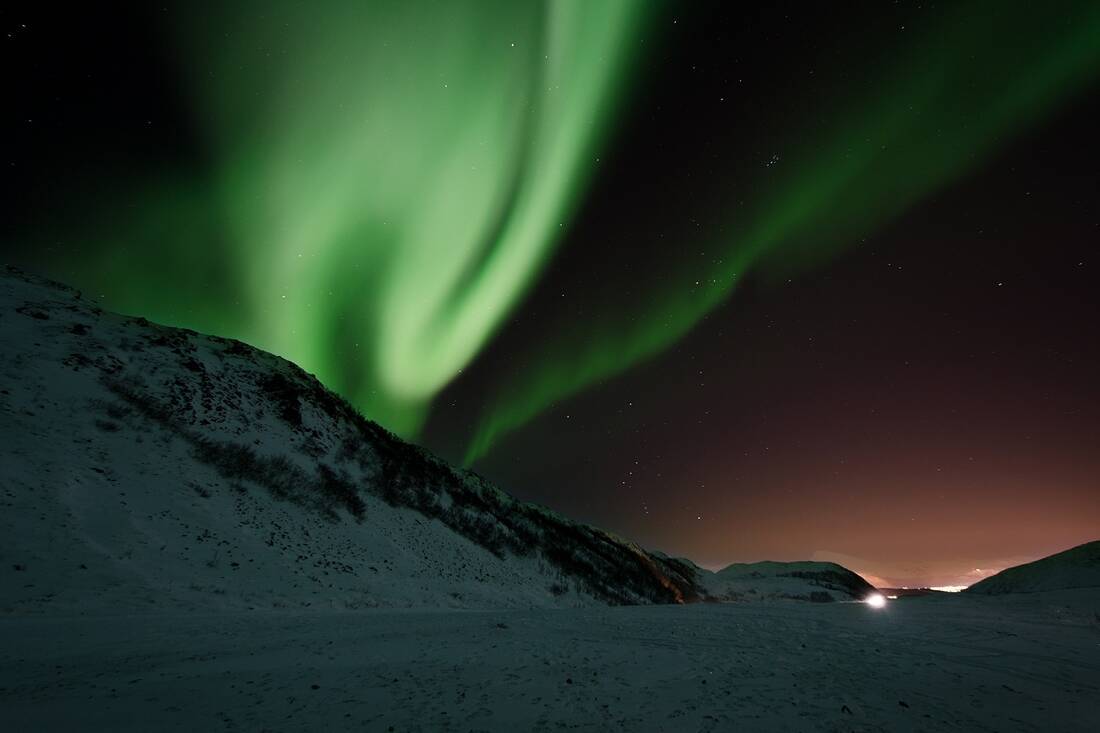 Quebec
A home away from home awaits you in Quebec, with its French-style terraced houses and nostalgic, peaceful streets. The beauty of Old Quebec and the historic architecture that surrounds it make it the perfect cruise excursion spot for explorers and those willing to delve into the deep and dark history Quebec has to offer. Recently emerging as a top destination for families and couples due to its plethora of activities and excursion, you'll never find yourself short of things to do.
A cruise holiday is the perfect opportunity to explore a vast array of wonderful locations, all with their own unique and inspiring qualities. Book your next world cruise and let the locations determine what sort of traveller you really are.