Are you a lover of the silver screen? Do you find yourself dreaming of visiting the incredible places you see on TV? In this guide, we'll take a look at some of the best filming locations you can visit on a cruise. From seeing where the dinosaurs roamed in Jurassic Park, to finding the quaint Greek villages of Mamma Mia, here's our film tour of the world:
Contents
Action & Thriller
Adventure
Disney
Drama
Fantasy & Sci-Fi
James Bond
Musical Theatre
Romance
Movie Locations is a site determined to help its users find the world's filming locations. We chatted to Tony Reeves, owner of Movie Locations, about what draws people to locations they've seen on the big screen, "it's strange but the excitement of 'stepping into' the movies hasn't worn off in the 20 or so years I've been tracking down locations. The experience is different for everyone. For some, there's the determination to track down every filming spot from that one special film that holds a place in their heart. For many others, it's that the cinema has become a vast yet seductive travel brochure. Every place you see in a film - whether a landscape, a country mansion or a local bar - has been carefully chosen for its unique look, its atmosphere or its own particular charm.
"For me, chasing movie locations opened a whole new world of travel, taking me to places I'd never thought of visiting; Tunisia, Morocco, Sicily." We asked Tony why discovering filming locations is a great way to explore a new area, he said, "I like to think of movie locations as a key to the city - a way to find places beyond the obvious tourist spots. Pick a city - London, Chicago, Paris, Venice or Seville, say, and check what's been filmed there. There will be all the obvious contenders but maybe some surprises too. And don't forget cities such as Prague and Budapest which you've seen on screen far more often than you probably realise - usually masquerading as somewhere else."
Finally, Tony shared his top tips for travelling to filming destinations, "do your homework - check, check and check again! Amazingly, over 80 years after its release, fans of Gone with the Wind still arrive in Atlanta, Georgia expecting to visit the Tara house (it was never anything more than a wood and plaster set at MGM's studio in LA)." Tony recommends following three rules:
Rule no.1: Is it real?
"Very occasionally this works the other way round. That bizarre rock formation destroyed by Rey with her lightsaber in Star Wars: The Last Jedi isn't a prop, and it wasn't destroyed. It's known as the Wailing Woman and it stands on Skellig Michael off the southwest coast of Ireland.
Rule no.2: If it's real, is it still there?
"A dull modern bank now stands on the site of Norma Desmond's grand Sunset Boulevard mansion; the Reservoir Dogs warehouse is a parking lot; and, after several changes of name, Withnail & I's 'Mother Black Cap' finally succumbed on the wrecker's ball.
Rule no.3: Is it where it claims to be?
"The whole of Rob Marshall's Oscar-winning musical Chicago was shot in Toronto, every scene of Martin Scorsese's New York, New York was Los Angeles and most of Mel Gibson's Scots epic Braveheart was filmed in Ireland. "You won't find 'Mongibello,' the swooningly gorgeous Italian resort where Matt Damon hangs out in The Talented Mr Ripley in any travel brochure. It's Ischia Ponte, on the island of Ischia in the Bay of Naples - and every bit as seductive as it looks on screen."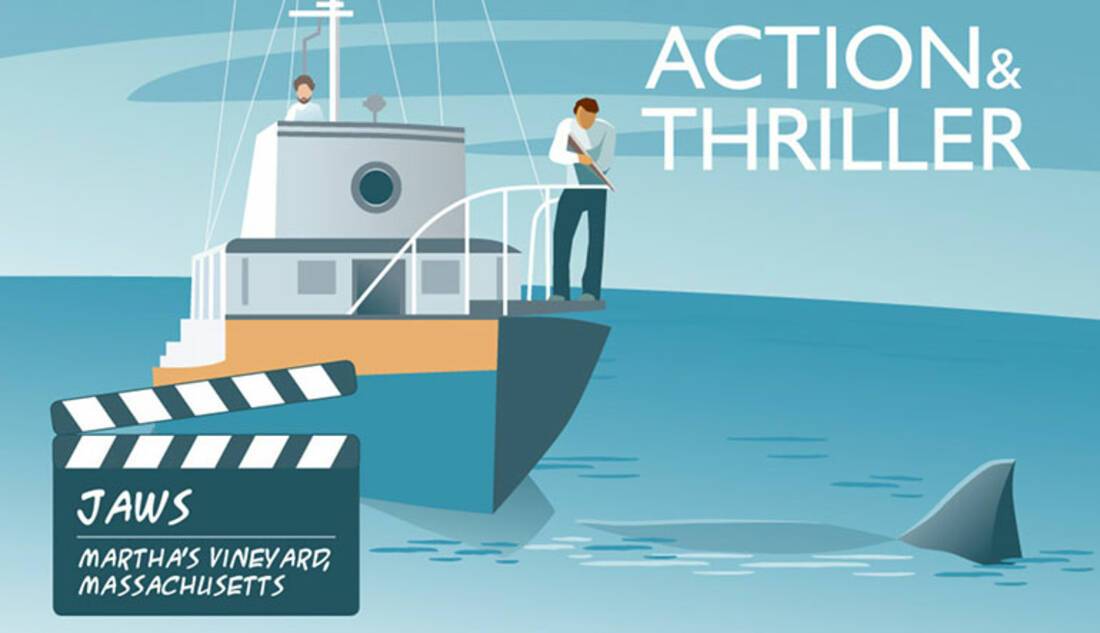 Action & Thriller
Jaws
The sleepy Massachusetts island of Martha's Vineyard was chosen as the setting for the 1975 shark thriller Jaws. Known as Amity Island in the film, the story of the monstrous shark with a taste for humans has become iconic and thousands of people still visit Martha's Vineyard to this day.
The area has remained relatively unspoiled since its prime days as a whaling hub in the 19th century, so you're likely to recognise a lot of the locations. The opening scene with the beach bonfire and demise of Chrissie Watkins takes place at South Beach, Edgartown and Joseph Sylvia State Beach is where Alex Kintner's attack was filmed, during which the child takes his inflatable raft out for a swim and never returns.
Visit on a cruise: Martha's Vineyard is a stopover on some cruises to the USA and Canada. It's also possible to get a ferry from Boston if you're visiting the city during your holiday.
Point Break
Fans of surf-thriller classic Point Break can visit some of the locations used to film the big, fearsome waves ridden by Keanu Reeves and Patrick Swayze (or rather their stunt doubles). The famous surf spots include Pipeline, a reef break near Pupukea on Oahu's north shore, approximately a one hour drive from the cruise terminal in Honolulu. Waimea Bay, another renowned surfer spot, is located slightly further south from Pupukea in Haleiwa. If you're committed to seeing some of the epic waves featured in Point Break (depending on the conditions, of course), then these beaches are definitely within easy reach of your cruise port.
Visit on a cruise: View our featured cruises to Honolulu.
Mad Max: Fury Road
If you're eager to see the desolate, otherworldly landscapes featured in Mad Max: Fury Road, head to Namibia. Just north of the cruise terminal in Walvis Bay is Swakopmund and just outside this remote coastal city is the Namib Desert where scenes for Fury Road were filmed. The harsh landscape was perfect for the film, which is set years after the collapse of civilisation, starring Charlize Theron and Tom Hardy.
Visit on a cruise: View our featured cruises to Walvis Bay.
Angels & Demons
This mystery-thriller was the sequel to The Da Vinci Code and follows the story of a symbologist who discovers the resurgence of an ancient brotherhood known as the Illuminati. Much of Angels & Demons takes place in Italy, including St. Peter's Basilica in Vatican City and The Pantheon and Piazza Navona in Rome.
Visit on a cruise: View our featured cruises to Rome via Civitavecchia.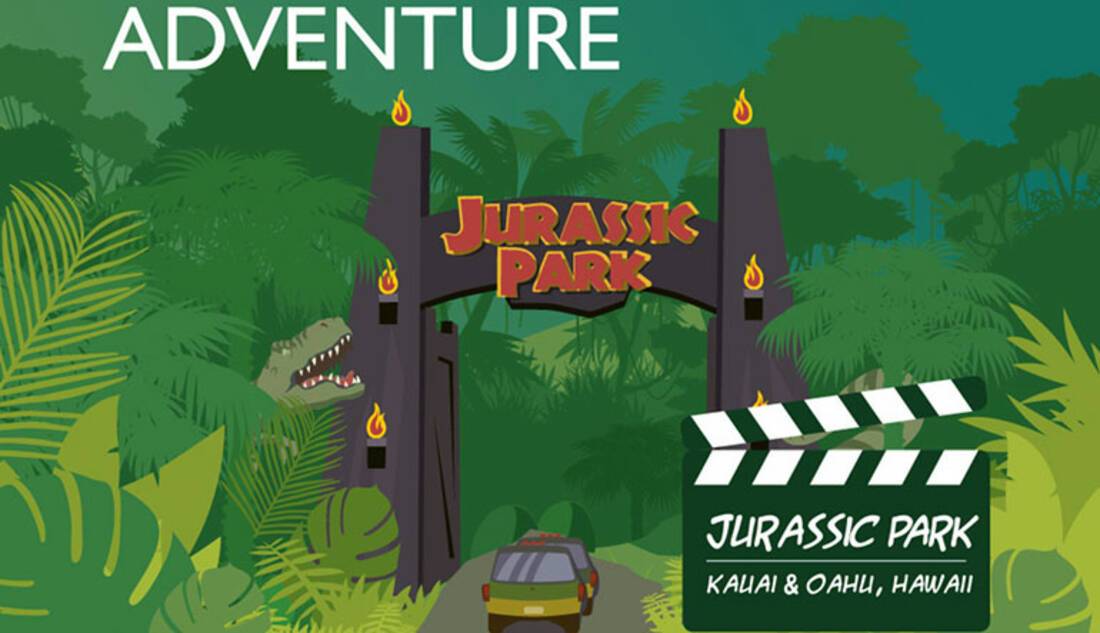 Adventure
Jurassic Park
Jurassic Park tells the thrilling story of what happens when man plays god. Thanks to a single mosquito in a ball of amber, dinosaurs come back to life and we see how unprepared we are to handle that. Throughout the franchise, we watch as time and time again people underestimate our prehistoric ancestors and all hell breaks loose.
The Jurassic Park franchise is mostly filmed on Kauai, the smallest of the four major Hawaiian Islands. This volcanic jungle becomes Isla Nublar for the movies and it's easy to see why. With incredible and wild scenery, it's the perfect home for an island theme park full of dinosaurs. Jumping over to Oahu, another Hawaiian island, you'll be able to visit the Kualoa Ranch, which was the filming location for the Gallimimus stampede. In fact, the fallen tree they shelter behind is still there. Just don't think you can get back on board with a rucksack full of dinosaur eggs!
Visit on a cruise: View our featured cruises to Hawaii.
Indiana Jones and the Last Crusade
Harrison Ford is the father of action and adventure, but in no role does he encompass it more than as Indiana Jones. Throughout the film franchise you see Indiana, an archaeology professor with a penchant for exploration, take on some of the world's most mysterious quests. With incredible fight scenes, fleeting romances and moments so tense you could drop a pin, these films are fantastic. Released in 1989, Indiana Jones and the Last Crusade shows Jones on a mission to rescue his father who vanished on his mission searching for the Holy Grail. Finally, Indiana comes to the home of the Grail and must use his wit to make it through the booby traps.
The home of the Holy Grail was Petra. An ancient site in Jordan, Petra is perhaps more iconic than Jones' whip and hat! It is believed to have been built as early as the 5th century BC and the Treasury entrance is only part of the incredible structure. We chatted to Cailin, blogger at Travel Yourself, who has spent time in Petra, "I imagine the first I ever learned about Petra was through the Indiana Jones films. The beauty, uniqueness and mystery of the location really drew me to it and made me want to visit it someday. Most people know Petra for the iconic view of the Treasury - visible as you walk through the stone corridor, but there's so much more to it. There's an old amphitheatre, a column lined road, more tombs carved out of the rocks and another building carved out of stone similar to the treasury called the Monastery and more."
We asked Cailin what her advice would be to anyone seeking out filming locations, she said, "do lots of research and make sure there are locations you can easily access without trespassing! If you can, I definitely recommend taking a guided tour. Not only will the tour guides know where a bunch of locations are but they often have unique anecdotes to share and images from the films and TV shows to show you what took place when and where."
Visit on a cruise: You can visit Petra on a cruise to Aqaba.
The Goonies
A story of mystery, coming of age and friendship, The Goonies became a cult classic instantly. After finding a treasure map in the attic, they set off on a once in a lifetime quest to find the treasure but face many trials and tribulations along the way.
Although you cannot follow the Goonies path through the underground caverns they explored through the film, you can visit Astoria, Oregon, their home. Around the town you can see all kinds of sites from the film, including Mikey Walsh's house (which was bought by a die-hard Goonies fan who waited for four years to buy the house), The Oregon Film Museum set in Clatsop County Jail, Cannon Beach and Haystack Rock plus many more. In a day, you'll be able to take a great self-guided Goonies tour and see all your favourite iconic places.
Visit on a cruise: Astoria features on many itineraries that cruise the west coast of America.
Tomb Raider
If you want to follow one of the most badass women around the world, then tracking the filming locations of Lara Croft's Tomb Raider is a great way to start. With Angelina Jolie in one of her most iconic roles, Tomb Raider sees Croft race against time to recover powerful ancient artefacts.
In order to complete her quest, Croft travels around the world. One of the most memorable scenes sees her venture Angkor Wat in Cambodia, where, surrounded by jasmine trees and incredible architecture, she is shown the way by a mysterious girl.
Visit on a cruise: Experience Angkor Wat on a cruise to Cambodia or a Mekong river cruise.
Lost
As one of the most iconic series of the 2000s, it's little wonder that so many fans have travelled to the filming locations of Lost. It helps that it was mostly filmed on the beautiful island of Oahu in Hawaii. The series follows the survivors of a plane crash as the secrets they harbour are revealed and relationships unravel.
Lauren, travel writer at Never Ending Footsteps, is a HUGE Lost fan, she said, "I developed an addiction to the TV show Lost from the very first episode and as someone with an obsessive personality, I immediately jumped headfirst into fandom. Fortunately, my partner at the time was just as into the show as I was.
"When it was time to plan our annual vacation, I went online to discover where Lost was currently being filmed. Not only did I want to see the show locations to satisfy my own curiosity but I had also been captivated by the scenery throughout the show. When I discovered it was being filmed in Hawaii - one of my dream destinations - and that there were plenty of filming locations that were open to the public, I had made my decision. My partner and I began saving and visited Hawaii several months later.
We asked Lauren which filming location stood out to her most: "I adored jumping into a Hummer for a Lost-themed tour and making my way through the spectacular Kualoa Ranch. It was fascinating to see where so many scenes from the TV show had taken place and the majestic green cliffs were breathtaking. It was worth taking the tour just to see the otherworldly landscapes! Aside from that, I also enjoyed spending time driving around the island of Oahu to see if I could spot any other filming locations. Most excitingly of all, I stumbled upon an enclosure holding parts of the fuselage from the plane crash in the opening scenes of the first episode. Getting to stand metres away from giant parts of the Oceanic Airlines plane had me squealing with excitement and when we rounded off the day visiting several of the beaches in the show, I was ready to declare it my best vacation ever. Finally, a visit to YMCA Camp Erdman - known in the show as the Other's Camp - was surreal, as it looked so familiar from the scenes I'd watched at home."
Visit on a cruise: Kualoa Ranch is approximately 20 miles from the cruise terminal in Honolulu.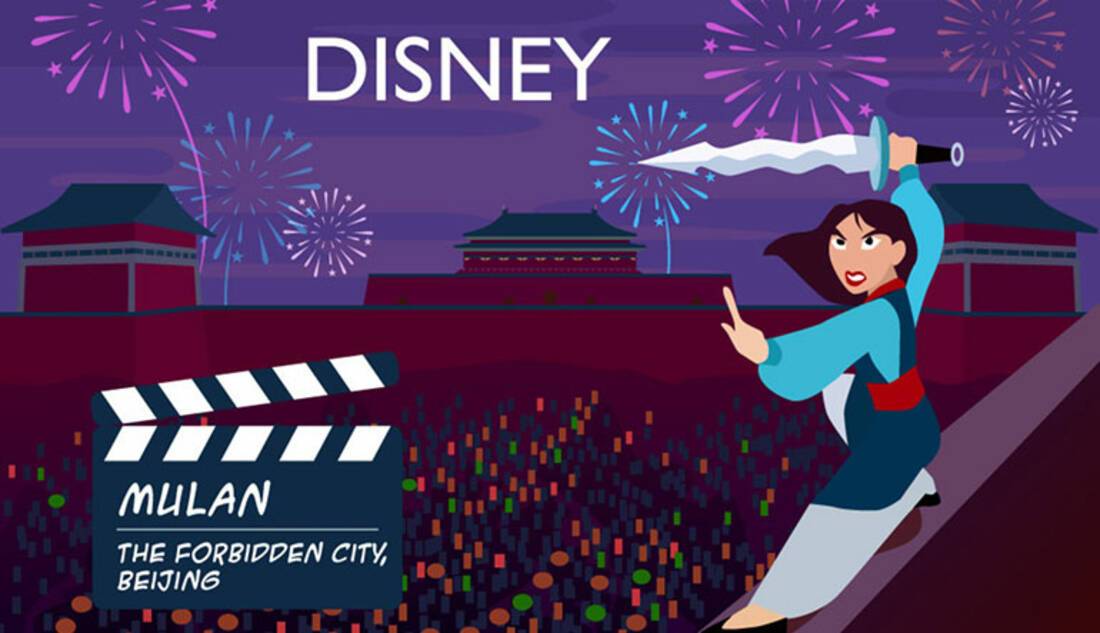 Disney
Mulan
As one of history's most fearsome warriors (and most incredible women), Mulan is someone we should all follow around the world. As this film comes to a conclusion, Mulan can be seen fighting Hun-leader Shan Yu on the roof of the emperor's home, which was based on the Forbidden City in the heart of Beijing. The Forbidden City was thought to have been built in the 14th century and to this day is a very popular site in Beijing.
Although you cannot see a matchmaking class, head to nearby Zhongshan Park, known locally as matchmaking park. Every weekend here you can see parents layout sheets of paper detailing their children's assets in the hope of finding them the perfect match. Who knows, maybe you'll even find your Captain Li Shang!?
Visit on a cruise: Beijing features on many of our cruises to China and can be accessed through Tianjin.
The Emperor's New Groove
After being transformed into a llama, Emperor Kuzco becomes stranded in the Peruvian jungle with the mission of returning home to rid the curse. Throughout The Emperor's New Groove, the audience experiences a great range of Peruvian inspired landscapes. Kuzco's accomplice Pacha's village is inspired by the real ruins of Machu Picchu in the Peruvian region of Cusco. Although the likelihood of you transforming into a llama is slim, you may see one as you journey through Peru.
Visit on a cruise: View our featured cruises to Peru and look out for the opportunity to visit Machu Picchu on a shore excursion.
The Jungle Book
As one of the Disney classics, The Jungle Book tells the story of Mowgli, a young boy raised by wolves in the Indian jungle. Throughout the film we meet all kinds of creatures from friendly Baloo the bear to fearsome tiger Shere Khan. If you are looking for a Mowgli moment of your own, look out for our exclusive Indian tiger safari adventures that feature on some of our cruises. Make your wildest dreams come true as you experience tigers at the Tadoba-Andhari Tiger Reserve in Maharashtra.
Visit on a cruise: View our featured cruises to India.
Ratatouille
The city of love is perfectly immortalised in Ratatouille. A film that promotes the dream that everyone can do anything, but that also makes our mouth water for decadent French cuisine. Explore the city of Paris and experience the finest of French cuisine, but of course, the only dish you should be ordering is the film's namesake, ratatouille.
Visit on a cruise: View our featured cruises to Paris.
Brave
The beautiful landscapes often steal the limelight in Brave. From towering waterfalls to mythical castles, the story takes us around the Scottish Highlands following Merida, a Scottish princess determined to be in charge of her own destiny. One of the most iconic landmarks in the film is the mysterious stone circle our heroine stumbles upon. This stone circle is inspired by the Calanais Standing Stones, which were believed to have been raised some 5,000 years ago on the Isle of Lewis. Surrounded with myths, the Calanais Standing Stones are a mere 12-mile trip from Stornoway which will provide you with a great chance to experience some of that raw Scottish wilderness.
Visit on a cruise: View our featured cruises to British Isles.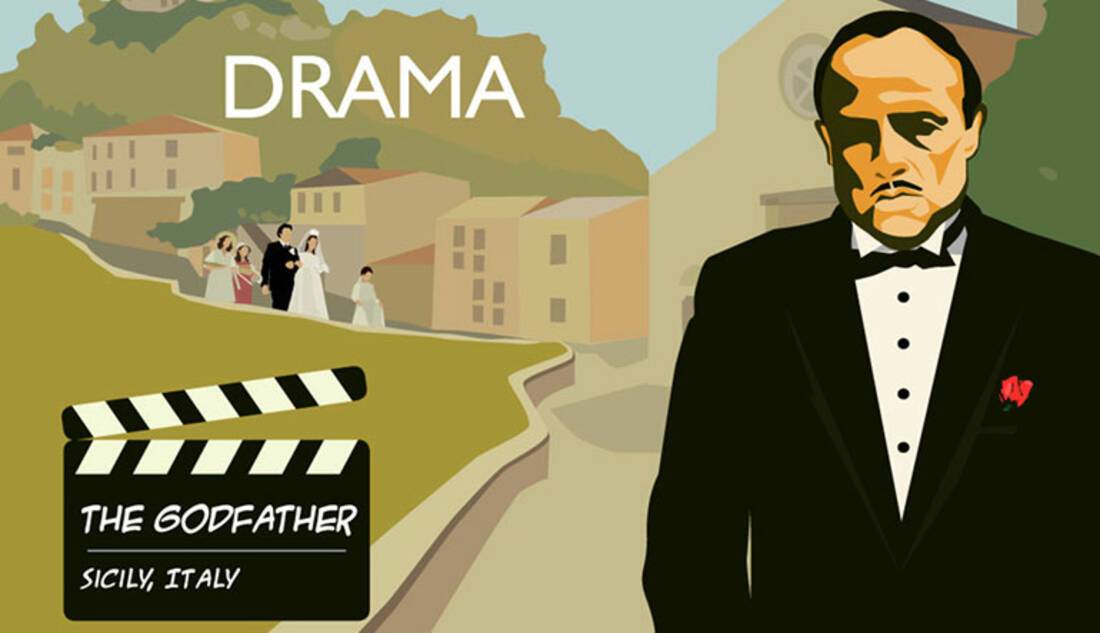 Drama
The Godfather
As the home of the infamous Corleone family, Savoca in Sicily made its debut in cinematic history in the first film of the franchise. The Godfather follows an American gangster family and has become one of the world's most adored movie franchises thanks to its hard-hitting nature, memorable scenes and incredible drama.
Savoca is home to many memorable locations, such as the place Michael Corleone (Al Pacino) courted his first wife, Apollonia (Simonetta Stefanelli). When you enter the village, you'll see Bar Vitelli, which is where Michael discussed his proposal of marriage to Apollonia and her father, the fictional owner of the bar.
If you want to visit one of the inspirations behind the franchise, the province of Corleone in Sicily is the best place to go. Despite the name being lifted, Corleone also offered a lot more inspiration. The town has strong links to the Sicilian mafia and was the scene of 153 violent deaths between 1944 and 1948. It has long been home to some of the mafia's most notorious leaders, including Salvatore Riina, who was finally arrested in 1993 and charged with being responsible for over 150 murders. Corleone now is a lovely and peaceful town and if you didn't know about its past then you'd never believe some of the stories that have come from here.
Visit on a cruise: Visit Savoca on a Mediterranean cruise or Corleone on a cruise to Palermo.
Lost in Translation
Lost in Translation has inspired many travellers to pack up and head for Tokyo. The film follows the plot of an ageing film star, played by Bill Murray and an unhappy newlywed (Scarlett Johansson) and their journeys to find peace with themselves. Lost in Translation is filmed in the frenetic city of Tokyo and will certainly give you wanderlust. The film was shot mostly in Tokyo's two loudest and brightest neighbourhoods - Shinjuku and Sibuya. You can visit the karaoke bar where the two friends spent a night partying (Karaoke-Kan in Shibuya) and the sushi restaurant, Ichikan.
Visit on a cruise: View our featured cruises to Tokyo.
Moonlight
Moonlight captured the hearts and minds of audiences across the world with its emotional plot following a young black man growing up in Miami. The film was made in south Florida, featuring the area's lesser-known neighbourhoods and parts of Miami that are typically off the tourist trail. Moonlight's spectacular locations and style paint Miami in a unique light and will no doubt draw numerous visitors to the city. If you're a fan of the film and want to get to know a different side to Miami, there are a few key locations you can visit. Virginia Key Beach, where Chiron learns to swim as a young boy, is easily accessible from the city. Chiron spends time on the beach with his friend Kevin at South Beach and the penultimate scene where Chiron returns to Miami and meets his friend in a diner is filmed at Jimmy's East-Side Diner.
Visit on a cruise: View our featured cruises to Miami.
Eat Pray Love
When Liz Gilbert (Julia Roberts) separates from her husband and finds her once-perfect life falling into disarray, she decides to embark on a life-changing journey across the globe. During her quest of self-discovery, Liz travels to Naples, where she meets new friends, learns to speak Italian and indulges in delicious local food. Diehard fans will be delighted to know that the bustling pizzeria where Liza and her friend dine is a real place and very much open for business. Pizzeria da Michele can be found in the centre of Naples.
Visit on a cruise: View our featured cruises to Naples.
Vicky Christina Barcelona
Two American women, Vicky (Rebecca Hall) and Cristina (Scarlett Johansson) arrive for a summer holiday in Barcelona, only to be caught up in a passionate love triangle. Juan Antonio (played by Javier Bardem), invites the pair for a weekend away before everything is turned upside down by the arrival of his former lover (Penelope Cruz). The film shows many beautiful sights in Barcelona, including UNESCO World Heritage site Sagrada Família, Tibidabo Amusement Park, La Pedrera and the Fundacio Joan Miro museum.
Visit on a cruise: View our featured cruises to Barcelona.
Lawrence of Arabia
Almeria is a town you likely haven't heard of but have probably seen a thousand times on the silver screen. Known as the home of spaghetti westerns, MiniHollywood in the Desert of Tabernas has been home to many incredible famous movies. Lawrence of Arabia is one of the largest to have been shot there, but the town has also seen the footprints of great stars like Clint Eastwood, Bridget Bardot, Anthony Quinn, Claudia Cardinale, Sean Connery, Orson Wells and many more.
As well as the most famous western-themed town in the world, MiniHollywood has many more attractions which makes it a fantastic day out for everyone. So, not only will you be seeing the filming locations of incredible films like Lawrence of Arabia, Cleopatra, The Good, The Bad and The Ugly and Indiana Jones and the Last Crusade, you can also experience their western show, live can-can dancing and more.
Visit on a cruise: View our featured cruises to Spain.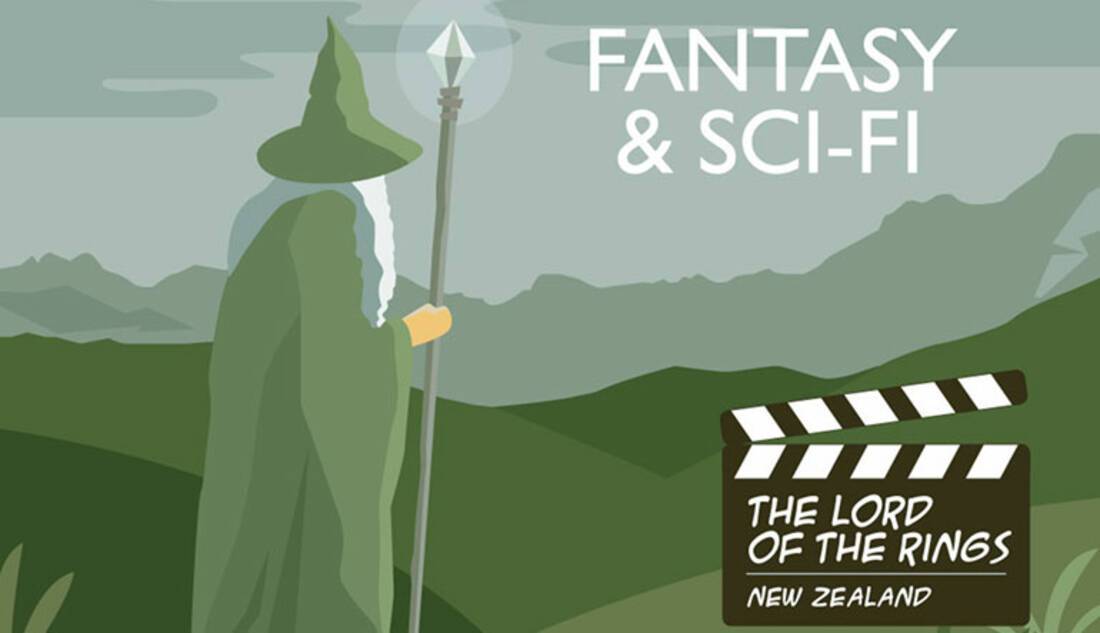 Fantasy & Sci-Fi
Lord of the Rings & The Hobbit
Based on the novels by J.R.R. Tolkien, The Lord of the Rings franchise is one of the most famous in the world. Set in the fictional world of Middle-earth, the films follow hobbit Frodo Baggins, played by Elijah Wood, as he and the Fellowship embark on a quest to destroy the One Ring. Avid fans of The Lord of the Rings and The Hobbit series can venture to Middle-earth for themselves in New Zealand.
To discover more we spoke to Robin from NZ Pocket Guide, New Zealand's largest travel guide, "many people didn't even know New Zealand and its amazing landscapes existed until they were inspired by movies like The Hobbit and The Lord of the Rings. Visiting the filming locations of The Hobbit really brings the magic of the movies alive. Despite it being a fantasy, these landscapes actually exist on Planet Earth. The Hobbit filming locations are picture-perfect locations to visit, plus, true Hobbit fans can really nerd out with some tours offering costumes and props for photos."
We asked Robin which locations he would recommend to fans, "Hobbiton has to be the highlight! It's the only filming location from The Hobbit with the set still up exactly as it was in the movies, so it really feels like you've been transported to Middle Earth. The Pelorus River in the Marlborough region of the South Island was used for the famous 'Barrel Run' scenes in the film. Not only is the area stunning, but you can kayak down the river too.
"Apart from tonnes of The Lord of the Rings and The Hobbit locations, New Zealand has been used as the backdrop to quite a few films. In fact, we have a list of some other movie locations in our post 12 Movies Shot in New Zealand. Cathedral Cove in the Coromandel was a filming location for The Chronicles of Narnia, for instance, and we love the area for walks and kayaking too. However, for your ultimate movie fix, you have to visit the Weta Workshop in Wellington! They are the team behind the props and special effects of huge blockbusters and they'll even take you on a behind the scenes tour."
Visit on a cruise: View our featured cruises to New Zealand.
Game of Thrones
If you've found yourself obsessed with who is going to take the Iron Throne, fantasising about riding dragons or simply wishing Brienne of Tarth was your best friend and personal protector then you'll be pleased to know you can follow in your favourite's footsteps. Filmed all over the world, Game of Thrones incredible landscapes mean that you'll be finding filming locations everywhere you go. From Kingsroad (known in real life by its equally awesome name: The Dark Hedges) in Northern Ireland to Kings Landing in Dubrovnik, Croatia you'll love these destinations. And, even though you can't travel there by dragon, some of these locations are easy to visit by cruise.
The Dark Hedges, a beautiful avenue of beech trees famous for appearing as Kingsroad, is located on Bregagh Road between Armoy and Stanocum in County Antrim, Northern Ireland.
For those seeking Game of Thrones locations in the sunshine, head to the coastal city of Dubrovnik in Croatia. A popular stop on many cruises in the Adriatic, Dubrovnik is a treasure trove of filming locations, many of which are open to the public. In fact, Old Town is the main filming location of King's Landing. Throughout the Old Town, you'll notice things that you've seen on screen like Pile Gate which serves as the entrance to the city and the Jesuit Staircase, which was part of Cersei's season 5 walk of shame.
Fort Lovrijenac, also known as St Lawrence Fortress, is perhaps one of the most prominent Game of Thrones locations in Dubrovnik. To fans it will be instantly recognisable as the Red Keep and home of the Iron Throne. Dubrovnik's city walls, declared a UNESCO World Heritage site in 1979, feature heavily in Game of Thrones. You'll remember these as the walls that Tyrion led the Lannister's to victory against Stannis Baratheon by releasing an untameable attack of green wildfire. Go to Minceta Tower, a section of the wall, and you'll find yourself having jumped across the narrow sea to the House of Undying in Qarth.
Visit on a cruise: View our featured cruises to Dubrovnik.
The Secret Life of Walter Mitty
Walter Mitty, an employee at Life magazine, spends each day developing photos, but to escape the monotony, lives his best life in exciting daydreams (in which he is always the hero). An elaborate plot unfolds in which Walter Mitty must find a missing photographic negative, left by a well-respected photographer, in time to feature on the cover of the magazine. At last, he can live out his wildest dreams. The film is a truly fantastic adventure, and for travellers, it creates a bucket list of locations, one of which is Iceland. The country features prominently in the film, most memorably as the backdrop for Mitty's dangerous skateboard scene.
We spoke to Nanna from Guide to Iceland about film and TV-related tourism, she said, "Iceland is becoming increasingly popular with more and more big-budget TV and film productions taking place here. Game of Thrones is what draws most people although The Secret Life of Walter Mitty and the recent Star Wars films also attract film enthusiasts from around the world.
"The Secret Life of Walter Mitty is shot almost all over Iceland. The country also stands in for both Greenland and Nepal in the film. Probably the most famous attraction is Skógafoss Waterfall (that's in 'Nepal' in the film) but it is also featured in the popular TV program Vikings and in the blockbuster film Thor: The Dark World. It is easily reached by the Ring Road on Iceland's south coast, making it a very popular attraction.
"Walter Mitty also spends considerable time on the Snaefellsnes Peninsula in West Iceland, that's full of natural beauty and includes lava fields, craters, ocean views, glaciers, volcanoes, waterfalls and caves. The town Stykkishólmur and its surroundings stands in for Greenland in the film."
Visit on a cruise: View our featured cruises to Iceland.
Wonder Woman
If following badass superwomen is something you are passionate about, the ultimate Amazonian warrior princess that is Wonder Woman should be the perfect person. In the recent blockbuster movie, Wonder Woman can be seen discovering her powers, meeting man for the first time and saving the world.
Although Wonder Woman is the ultimate Amazonian warrior, the movie was actually shot on the warm coast of Italy, on the beaches just outside of Salerno. You'll only have to travel slightly south of the city to find yourself in familiar landscapes, although hopefully your day at the beach isn't interrupted by an American spy!
Visit on a cruise: View our featured cruises to Italy.
Star Wars
For most, Star Wars needs no introduction. The epic space franchise, centred on the film series by George Lucas, depicts the adventures and challenges of people in a galaxy far, far away. Its beloved characters, including C-3PO, Chewbacca and R2-D2, captured the hearts of sci-fi fans across the world, who have remained loyal throughout the franchise. Film buffs will no doubt be looking forward to the forthcoming films in the Star Wars series, but in the meantime, there are plenty of filming locations to visit.
In The Last Jedi, Dubrovnik was used for several scenes. It posed as the town of Canto Bight, a gambling destination with a Mediterranean feel and futuristic features. If you're planning a cruise to Ireland, you may get a chance to visit Skellig Michael, the County Kerry island featured at the end of The Force Awakens, where Rey finds Luke Skywalker. Ferries to the island depart from Portmagee, which is a two-hour drive from the cruise port in Glengarriff. We would suggest hiring a car or researching local bus routes in advance.
Visit on a cruise: View our British Isles cruises to visit Ireland.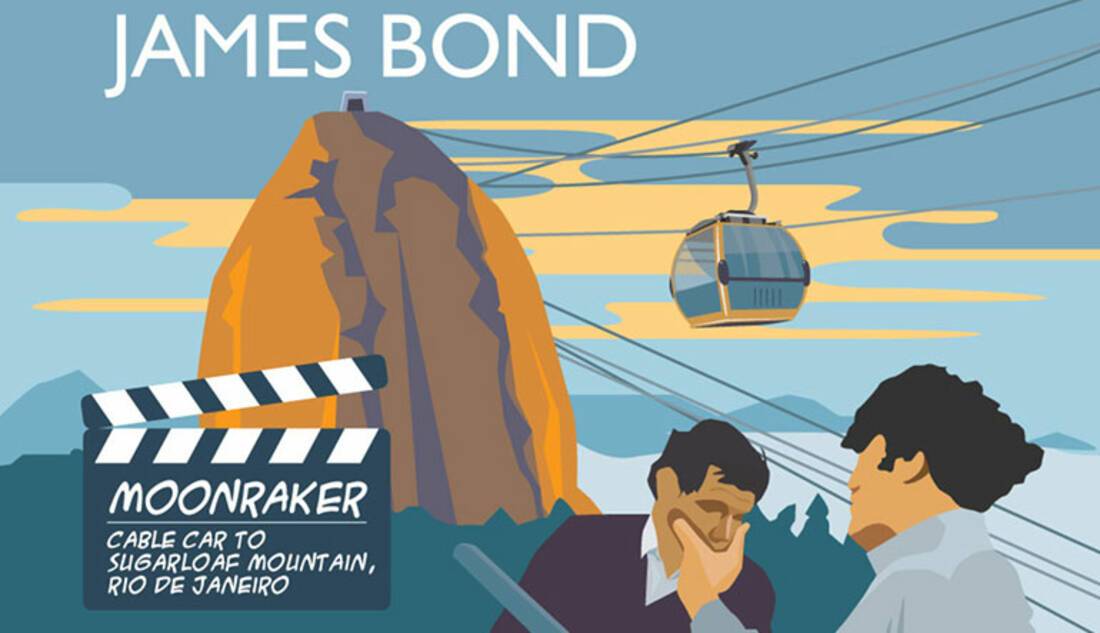 James Bond
Moonraker
Perhaps most famous for its stomach-turning fight scene on the Sugarloaf Mountain cable car, Moonraker was Roger Moore's fourth appearance as Bond. The film was, for a time, the highest-grossing film in the Bond franchise, before Goldeneye in 1995. In this epic film, Bond investigates the mid-air theft of a space shuttle and uncovers a sinister plot to wipe out the world's population.
Visit on a cruise: View our featured cruises to Rio de Janeiro where you can ride the famous cable car on Sugarloaf Mountain.
Thunderball
Thunderball was the most successful film in the Bond franchise. Starring Sean Connery in his fourth appearance as the famous spy, Thunderball was filmed in the turquoise waters surrounding New Providence Island in the Bahamas. Bond is sent to the Bahamas to find two NATO atomic bombs stolen by SPECTRE, which are threatening to harm the United Kingdom or the United States, culminating in a spectacular underwater spear gun battle.
Visit on a cruise: Book a cruise to Nassau, New Providence Island's capital.
For Your Eyes Only
In this 1981 Bond film, James Bond is sent out to recover a communications device before it is handed over to the Russians. The device controls Britain's Polaris submarines and goes missing after the spy ship carrying it sinks. Bond (played by Roger Moore) is joined by Melina, the daughter of marine archaeologists who were killed while trying to find the communications device. For Your Eyes Only features many scenes in the town of Corfu, Greece, including Corfu Harbour (where Melina's parents are shot) and the beaches of Paleokastritsa can be seen during the scene in which Melina and Gonzales are flying over the town in a seaplane. Vlacherna Monastery can also be seen in some scenes between Roger Moore and Meilna.
Visit on a cruise: View our featured cruises to Corfu.
Casino Royale
Daniel Craig makes his debut as James Bond in Casino Royale, an action packed film seeing Bond working on an assignment in the early days of his career as Agent 007. Venice's Grand Canal gets the star treatment as it's featured in a scene in which Bond and Vesper arrive in the city via boat. Bond is writing a resignation letter on his laptop and many of the city's most iconic landmarks can be seen in the background.
But this wasn't the first time that Venice was chosen to feature in a Bond film. In From Russia With Love, Bond appears briefly in Venice at the end of the film with Russian defector Tatiana Romanoca and in Moonraker, Bond arrives in the city for a mission, using a gondola which drives on land.
Visit on a cruise: View our featured cruises to Venice.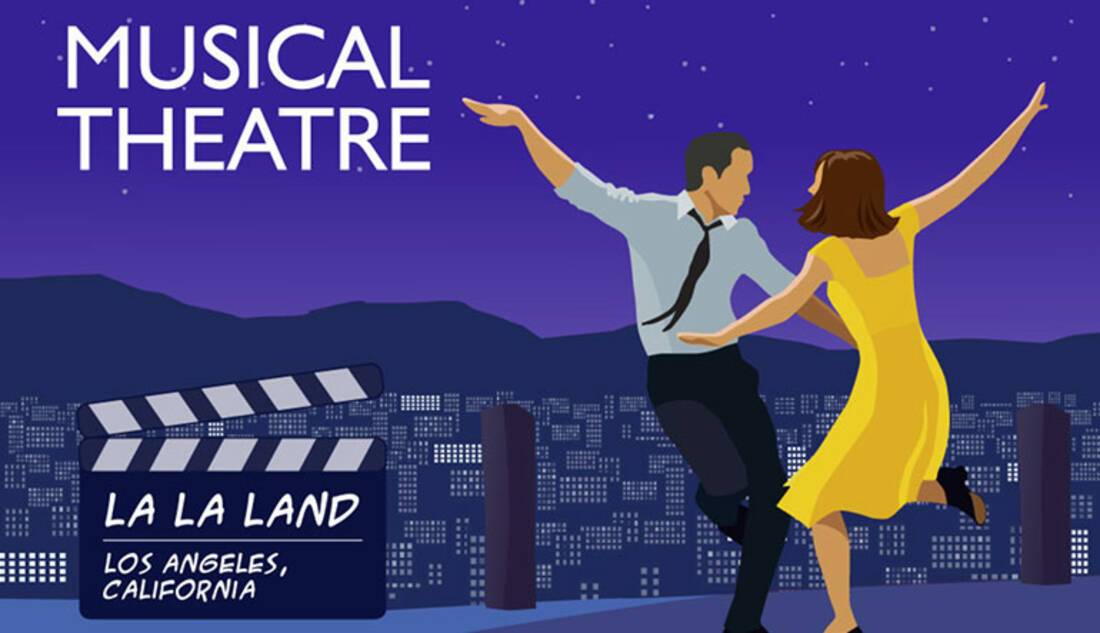 Musical Theatre
La La Land
This modern-day musical was one of the biggest hits of 2016. La La Land follows Sebastian (Ryan Gosling) and Mia (Emma Stone) as they work to achieve their dreams in Los Angeles. Although their common desires push them together, that is also what starts to rip them apart and throughout the film, you follow the story of their romance, dreams and success.
LA Insider Tours provides unforgettable private sightseeing tours of Hollywood, LA, Venice, Santa Monica and more. Led by a group of professionally trained tour guides, the company offers unique insights into the city and surrounding areas. We chatted to Lindsay from LA Insider Tours who told us why people love their tours so much, "one of the things that draws so many people to LA is that movie and TV magic is made here. There is some type of filming happening in Los Angeles every day of the week. Everyone who visits here requests to see the various locations where popular movies were filmed."
Fans of hit musical film La La Land are in luck, as LA Insider Tours offer a tour of the filming locations, "this is a fun tour that goes to various locations from La La Land," said Lindsay. "We originally built this tour because we had so many requests to see the locations from clients. Especially when the film first came out. It is a lot of fun and a great tour to take pictures on. People should book with us because we are a customer-geared business that truly cares about giving the best tours of Los Angeles possible. As all of our tours are totally private, we can customise them to the client's needs and wants. We can pick up and drop off at any cruise port or anywhere in Los Angeles, including LAX. We love to give fun and informative tours and maximise our clients' time in LA."
Visit on a cruise: View our featured cruises to LA.
Mamma Mia!
Mamma Mia! is not only a classic piece of cinema, it's got one of the best soundtracks of any musical. Created to celebrate the music of ABBA, Mamma Mia! features a star-studded line-up topped by no other than Meryl Streep herself. If following in Streep's footsteps isn't enough, the beautiful locations will give you some of the most romantic views of any holiday. The pinnacle location for any Mamma Mia! lover is Skopelos and to the east side of the mountain where you'll find the church used for that iconic wedding at the end of the movie.
Visit on a cruise: View our featured cruises to Greece.
Moulin Rouge
This in-your-face and energetic Baz Luhrmann classic features Ewan McGregor and Nicole Kidman as an infatuated actress and writer. The story follows McGregor and Kidman's complicated romance as it develops despite the trials they face along the way. With fantastic songs, incredible costumes and a heart-wrenching storyline, Moulin Rouge offers musical lovers everything they want in a film.
Although the original Moulin Rouge, owned by Charles Zidler was burned down in 1915, in its place stands a fantastic replica that still puts on incredible cabaret shows every day. It is the perfect way to enter the film and watch a tantalising show that is part of history.
Visit on a cruise: Visit Paris on a river cruise to France.
The Sound of Music
The hills in Salzburg are alive with The Sound of Music. This film is perhaps the most famous musical of all time. Featuring Julie Andrews and Christopher Plummer, this heartwarming tale is based on the true story of the Von Trapp family singers.
Once in Salzburg, there are many Sound of Music tours that can take you to some of the best filming locations in the movie. The locations include Mirabell Gardens where 'Do-Re-Mi' was filmed, Mondsee the home of the wedding chapel and you will pass by Nonnberg Abbey, the convent where the "real" Maria was once a novice.
Visit on a cruise: Visit Salzburg on a Danube river cruise.
Once
Once is a heartwarming, modern-day musical set on the streets of Dublin. The story follows a vacuum repairman by day and musician by night, who teams up with a Czech immigrant and aspiring singer-songwriter. Follow in the footsteps of the musical duo in Grafton Street, where they went busking, Guy's vacuum repair shop on Harold's Cross on the southside of Dublin (which exists in real life!) and George's Street Arcade, where the couple walk dragging the broken hoover behind them before going for a coffee.
Visit on a cruise: View our featured cruises to Dublin.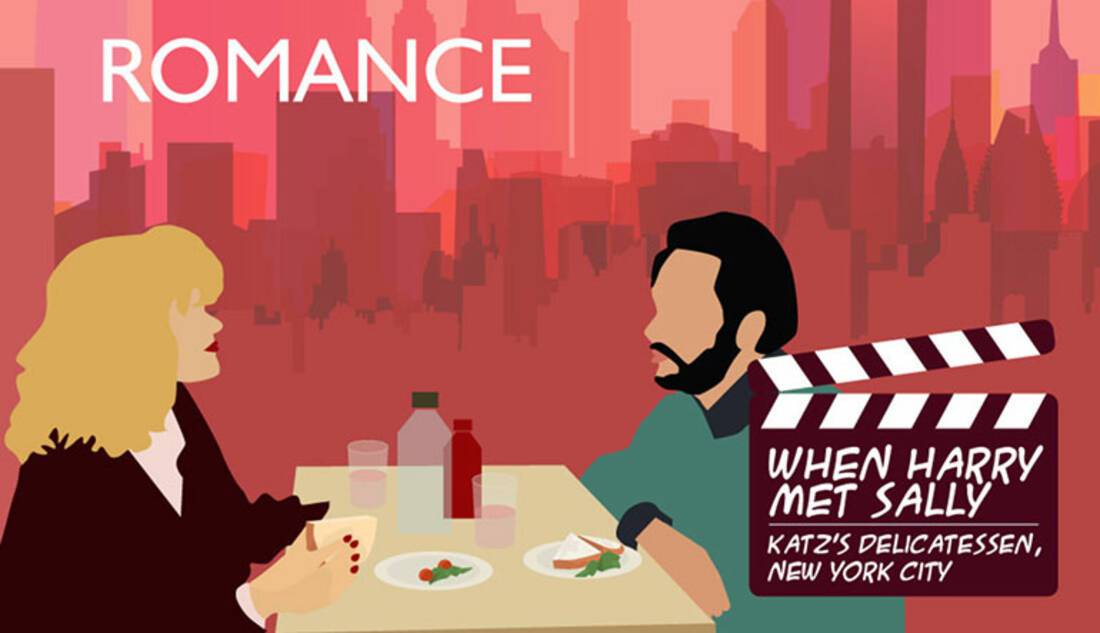 Romance
When Harry Met Sally
As the godfather of romantic comedies, When Harry Met Sally is one of the most iconic romance stories of all time. And, within the film, there is that one scene everyone remembers. If you want to recreate that moment, or just "have what she's having," then you need to journey to Katz's Deli on East Houston Street and the corner of Ludlow.
Kat's Deli is a New York institution in its own right and having been established in 1888, it is one of the city's busiest delis. Famous for their pastrami on rye (a NY classic), the line is often out of the door, but if you're lucky enough to get a table, try and make it the same table used in the film. You'll know which one it is as it has been commemorated with a plaque.
Visit on a cruise: View our featured cruises to New York.
How I Met Your Mother
This incredibly popular American sitcom follows the life of Ted Mosby and his group of friends through their adventures in New York. How I Met Your Mother provides its large following with laughs, heartbreak and love stories. The gang spend a lot of their time in their local pub, McLaren's, and although it isn't real, the pub it is based on is. Neil Patrick Harris, the actor who plays Barney, now has their famous booth in his home.
McGee's pub on West 55th Street (between Broadway and 8th Avenue) inspired the beloved McLaren's and is now an important part of How I Met Your Mother history. In fact, the pub acts as the final stop of the On Location NYC TV & Movie Tour and hosts How I Met Your Mother Monday's, with dishes inspired by the show.
Visit on a cruise: View our featured cruises to the USA.
50 First Dates
In this timeless rom-com, Adam Sandler attempts to win over Drew Barrymore but learns that due to short-term memory loss every morning she forgets what happened the day before. 50 First Dates shows Sandler's continuous attempts to woo Barrymore, from fake break downs to eating breakfast at the Hukilau Café.
50 First Dates was mainly filmed on location at the Kualoa Ranch in Oahu, Hawaii. The Kualoa Ranch features a lot of cinema's Hawaiian history, including many of 50 First Dates iconic locations.
Visit on a cruise: View our featured cruises to Honolulu.
Grey's Anatomy
If you consider yourself a partially-qualified doctor after binging Grey's Anatomy so much that you know exactly what someone means if they ask you to give a patient a Whipple, then a cruise to Seattle is a must.
Grey's Anatomy has graced our screens for over 15 years and our love for Meredith Grey continues to grow, even considering the heartbreak we have endured. Seattle is Meredith's home and a cruise here will enable you to walk in her footsteps (finger's crossed you won't need a hospital visit).
Visit on a cruise: View our featured cruises to Seattle.
Sex and the City
Sex and the City follows the story of sex and relationships columnist, Carrie Bradshaw (Sarah Jessica Parker) and her three friends, as they navigate the complicated world of dating in Manhattan. Running from 1998 until 2004, the series has become iconic and many people flock to New York in the hopes of sitting on the steps to Carrie's apartment and drinking in the groups favourite watering holes. Her apartment, or rather the stoop outside, was filmed at 66 Perry Street, while Loeb Boathouse in Central Park was where Carrie and Big met for lunch in the season 3 finale. Superfans can even visit the location where Miranda and Steve got married in Jefferson Market Garden in Greenwich Village and New York Public Library, where Carrie decided to marry Big in the Sex and the City film.
Visit on a cruise: View our featured river cruises to New York.