These colossal landforms can be found around the world and are tourist attractions in their own right. Getting to see an active volcano up close is something everyone should experience. For this article, we asked bloggers to tell us which volcano they suggest visiting as well as advice on other amazing things to see and do in the area.
Fuego
Guatemala
Fuego is one of the world's most active volcanoes and regularly produces ash plumes and lava. It can be found in Guatemala and when an eruption occurs, ash clouds can reach heights exceeding 1km above the volcano itself.
Charlotte from Scarlet Slippers told us about her experience of seeing Fuego during an overseas university trip: "I got to stand at the bottom and caught footage and photos of it smoking in our presence. I went with my university for a field course for my final year of being a forensic science student. My lecturer worked in the forensics department in Guatemala for more than 10 years helping them develop their anthropology system."
Guatemala is a country in Central America which borders Mexico, Belize, Honduras and El Salvador. The country boasts picturesque landscapes as well as many natural wonders including the emerald pools of Semuc Champey which are perfect for paddling in. "I would highly recommend that anyone in the area of Antigua should visit the Cathedral, the markets and the highest point of Antigua where the cross is on the mountain to overlook the entire city," says Charlotte.
Pacaya Volcano
Guatemala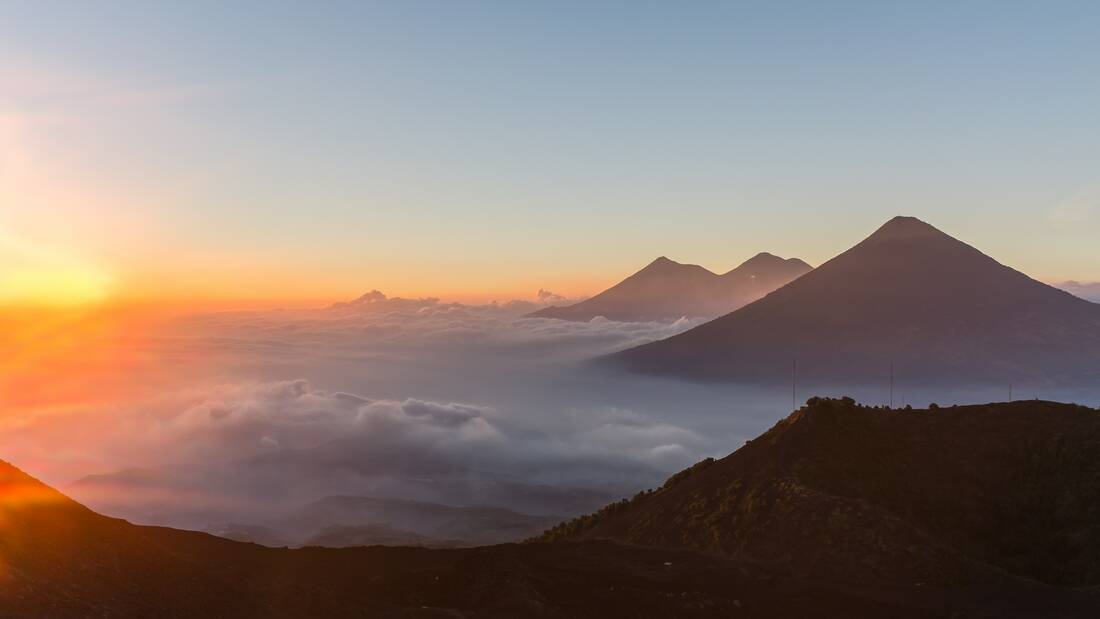 Pacaya is another active volcano in Guatemala which is thought to have first erupted 23,000 years ago. It is estimated to have erupted at least 23 times since the 16th century.
This volcano, which is another of the country's popular tourist attractions, last erupted in 2014 causing ash to rain down on Guatemala City, Antigua and Escuintla. Gemma from Girls That Travel recommends visiting the volcano: "You can only visit with an organised tour, but in Antigua, you can find tour operators on pretty much every street corner. You must wear decent hiking boots as the ground beneath your feet can get hot. I decided on a whim, after hearing so many exciting stories when I was staying in Antigua to study Spanish. When I hiked to the crater, it was exhilarating. I opted for the early morning start, although you can also leave later in the day if you prefer a sunset hike."
Gemma said the hike wasn't too strenuous: "Starting in a lush cloud forest, then eventually clearing as you climb up to the lava field. I visited before 2016 and at this time, you could hike right to the crater and see the lava flow. Pacaya was brooding the day I visited, and I was lucky enough to see some pretty huge fiery boulders hurtling down the side. These days you can't go all the way to the crater but the hike is still breath-taking, and you get a real buzz from standing on a very active volcano."
The area near Pacaya is full of things to keep you busy during your trip. Naciones Unidas National Park is located on the outskirts of Guatemala City, overlooking Pacaya Volcano and Lake Amatitlán. As one of the capital's last green spaces, it provides a unique area for visitors to explore and admire.
Mount Teide
Tenerife
Mount Teide is an active volcano on Tenerife, one of the Canary Islands and is the highest point in Spain. The volcano majestically stands inside Teide National Park and visitors can enjoy a cable car ride during an excursion to Spain's highest volcano, which at 12,200ft is the third highest volcanic structure in the world. The volcano last erupted during the early 1900s, so it certainly isn't the most active volcano to admire, but it's imposing structure against the rocky backdrop of the park is undoubtedly impressive.
Keeley from Phat Cupcake visited the volcano during a family holiday: "The summit of Mount Teide can be seen from most places in the south of the island but up close and personal it is truly spectacular."
Tenerife is also known for sandy beaches and diverse flora and fauna making it a nature lover's paradise. Keely suggests visiting some of the island's hidden gems to enjoy a traditional take of local life: "Whilst on the island I would recommend a visit to El Medano, near the South Airport. El Medano is a small surfing village with moon-like craters by the sea to sunbathe on and beautiful views of the Montana Roja, best enjoyed with a glass of local sangria in hand. There are regular markets and lots of cute shops to keep you busy for hours."
Eating in Tenerife is a wonderful experience filled with fresh fish, colourful salads and delightful tapas dishes which are ideal for sharing. Perhaps one of the most popular delicacies to get your taste buds tingling are papas arrugadas, otherwise known as wrinkled potatoes. This dish can be found in restaurants across the Canary Islands and is usually served with a chilli pepper and garlic sauce called mojo rojo.
The hot climates of the Canary Islands make it the perfect wine growing location and Tenerife includes abundant microclimates, partially due to the altitude difference between Mount Teide and the sea level. Tenerife has five separate wine appellations and grapes grown on these islands create a variety of wines which complement sweet or savoury dishes.
Mount Etna
Sicily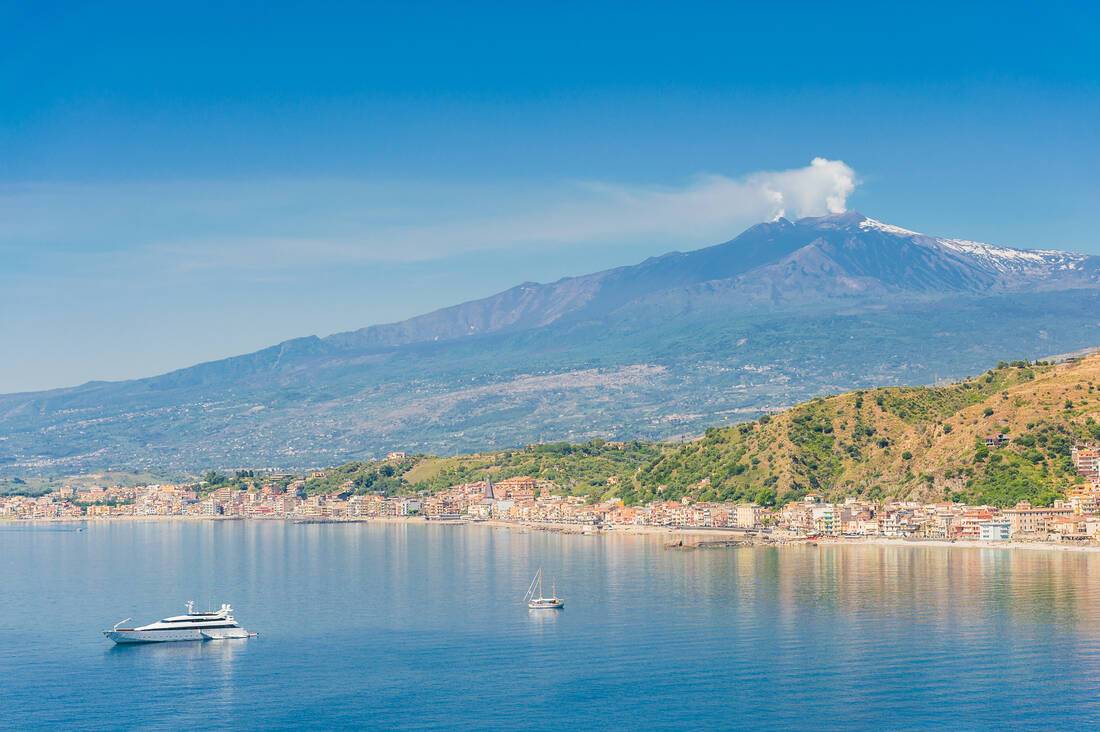 Sicily is home to Europe's most active volcano, Mount Etna; standing tall at 10,912ft, it is the highest peak in Italy south of the Alps. Italy is known for being a volcanically active country, three of its volcanos, Mount Etna, Stromboli and Mount Vesuvius, have erupted in the last 100 years.
Mount Etna lies on the east coast of the Italian island of Sicily and has experienced frequent eruptions over the last 2,700 years. The eruptions over the years have meant that the mineral-rich soil provides an ideal place for orchards and vineyards to thrive on the lower slopes.
Izzy and Phil from The Gap Decaders enjoyed a trip to Mount Etna and ticked off one of their bucket-list 'musts': "We went up Mount Etna in Sicily on a perfect day in April. We hiked above the clouds and looked with awe into the rumbling abyss of the main crater, which was spewing gas and sparks of magma, like an angry dragon. The terrain is fascinating; snow, ice, volcanic ash and everywhere you look, clouds of sulphur gas and steam creep along the landscape, wrapping around your ankles and warming your feet like underfloor heating."
The couple also told us that after stopping for lunch, they took one last look to admire the grandeur of the volcano: "We looked across the wispy clouds to mainland Italy, silenced by the incredible views but also the sheer mass of Mount Etna, spreading herself across the region like a huge, but strangely beautiful, carbuncle. This was the stuff holiday bucket list dreams are made of."
There are plenty of things to enjoy during a trip to Sicily, as well as marvelling at Mount Etna. Palermo is Sicily's capital and has a unique character making it a great place to explore for first timers to the island or more accustomed visitors. Its varied landscape offers something for everyone, with a range of cafés, restaurants, bars, theatres and museums to enjoy, you are sure to have a packed itinerary.
Taormina is another tourist hot spot that many travellers enjoy whilst visiting Sicily. Visitors expect a charming atmosphere as well plenty of ancient architecture to marvel at. The picturesque town is perched on a slope high above the Ionian Sea on the eastern coast of Sicily and boasts many quaint cafes and restaurants to enjoy some traditional Sicilian cuisine.
Eyjafjallajökull
Iceland
Iceland is home to Eyjafjallajökull, a towering glacier-capped volcano, which last erupted in 2010. The mountain itself stands at 5,417ft at its highest point and has a crater of 3-4 kilometres in diameter. The volcano had been dormant for 180 years before its activity on March 20th, 2010 with the ash plume visible from miles away. The London Volcanic Ash Advisory Commission declared the eruption had ceased on May 23rd, 2010.
The country boasts more than 130 active volcanoes and the alluring natural phenomena can be seen from almost anywhere. Extreme Iceland says that Icelandic nature is unique and since the island is so small, you can experience a lot in short time frames.
A Northern Lights Cruise will take you to Iceland where you can see this volcano as well as a possible glimpse of the wonderous Aurora Borealis in all its glory. The city of Reykjavik is a popular place for visitors to try and see the glowing lights blazed in an otherwise silent sky.
Volcano tourism is not a new phenomenon, people have travelled to marvel at active and dormant volcanoes for years. No matter which volcano you decide to visit you are sure to have an unforgettable experience.